Report: Seahawks G John Moffitt allegedly urinated in public
Seahawks guard John Mofffitt had to miss an OTA this week while dealing with police charges, stemming from an alleged public urination.
• 1 min read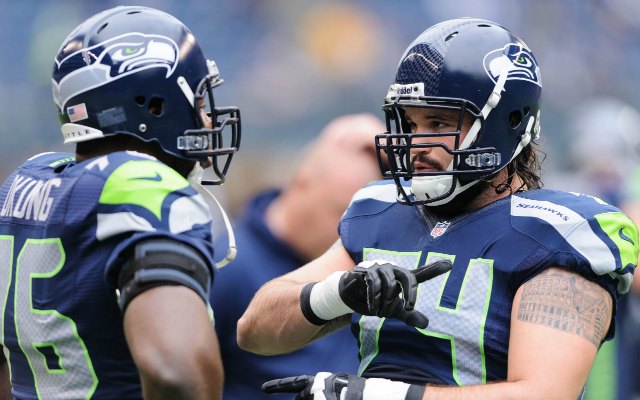 The Seahawks have had their share of problems recently -- mostly with PED suspensions -- and now guard John Moffitt, who is trying to win back a starting job, has had to miss practice to deal with the fallout of charges of trespassing and obstruction of justice.
He missed an OTA Tuesday because of a court hearing, and, according to the Seattle Post Intelligencer, it stems from a June 2012 incident in which police caught Moffitt allegedly urinating in a mall parking lot.
More from the P-I:
According to police, Moffitt had been banned from Bellevue Square mall -- and all Kemper Freeman properties -- for a year starting on Jan. 21, 2012. But Moffitt returned to the mall on June 14, and was spotted by Bellevue Square security allegedly urinating near a vehicle parked near Paddy Coyne's bar, according to an incident report.

Security called police, and officers looked for Moffitt near the Washington Square condos, where he was known to often hang out, according to the report. Police found two "very large males" running along the street, and one officer yelled for Moffitt to stop, the report states. Moffitt allegedly looked directly at one of the pursuing officers, then ran into the building.
Police identified Moffitt the next week, and they charged him with the two crimes, both misdemeanors. Police also say they caught Moffitt trespassing at another mall on August 25 and took him into custody without incident. It should also be noted that police needed to use two sets of handcuffs, "due to his large size and a recent shoulder injury."
Moffitt has another court hearing scheduled for June 14.
The Clemson coach believes his former quarterback has that 'it' factor

The Cardinals quarterback thinks he has more velocity than in years past

The Cowboys owner and GM insists that there isn't a lack of leadership in his team's locker...
The star cornerback says that he and Wilson have a 'professional' relationship

The Giants wide receiver went out of his way to visit young Jayro Ponce

The rookie receiver says he is 'good' and won't need to have back surgery