Report: Sean Payton testifies that Jimmy Graham is TE, not WR
If it's up to Saints coach Sean Payton, Jimmy Graham will be tagged as a tight end.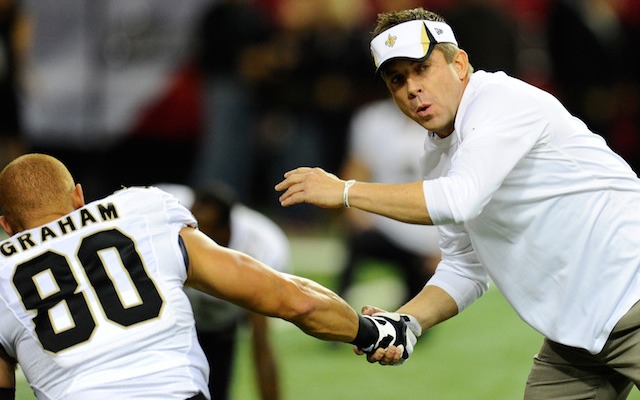 The next time Saints coach Sean Payton runs into Jimmy Graham, he might want to avoid a conversation about money. According to ProFootballTalk.com, Payton was one of several people who testified at Graham's grievance hearing last week and Payton's testimony revolved around the fact that he believes Graham is a tight end, not a wide receiver. 
That testimony could end costing Graham almost $5.3 million if the arbitrator takes it into account. A tight end hit with the franchise tag will make $7.035 million in 2014, while a receiver will earn $12.312 million -- a $5.277 million difference.
Graham lined up in the slot or as a wideout on 67 percent of the snaps he played in last season, a number that might sound like a lot, but it didn't lead the league. According to ESPN.com, there were at least five NFL tight ends who topped 67 percent with Ravens tight end Dennis Pitta leading the way at 74 percent.
Graham was tagged as a tight end back in March and later filed a grievance in May. The hearing began on June 17. 
Besides Payton, PFT reports that Saints general manager Mickey Loomis and former NFL general manager Bill Polian also testified that Graham should be tagged as a tight end. Former NFL head coach Butch Davis and Steelers receiver Lance Moore -- a former teammate of Graham's -- both testified that Graham should be tagged as a wide receiver. 
As for Payton, he was actually asked about the subject back in March when our very own Will Brinson caught up with him. At the time, Payton seemed to be on Graham's side somewhat, calling the franchise tag system 'antiquated.'
BRINSON: Are you surprised that a player playing the tight end position would possibly be interested in receiving wide receiver money?
PAYTON: No. I think that is a byproduct of a little bit of an antiquated system with regards to franchise numbers. I think those will be, I'm sure, over the years revisited and adjusted... He's an important part to what we do. Players always appreciate direct upfront honesty. They know it's a process. Jimmy has great representation. 
You can see the entire interview below. The question about Graham comes up around the 30-second mark. 
Show Comments
Hide Comments
Plus Seahawks eschew needs on the line and Rams seek help for Goff as we hand out NFC West...

Plus Saints and Falcons load up on defense as NFC South gets a massive boost in talent

Lions draft for now, Packers run down their checklist and Vikings find a runner in our NFC...
Plus Giants do a lot with a little and Eagles and Redskins face durability concerns in our...

Plus Broncos and Chargers help their QBs while Raiders gamble big in our AFC West grades

Texans pin hopes to Watson, new Jaguars must focus and Titans help Mariota in our AFC South...