Report: Steelers' Plaxico Burress tears rotator cuff, career in jeopardy
Although he felt he could make an impact on the Steelers this year, receiver Plaxico Burress' season might very well be over.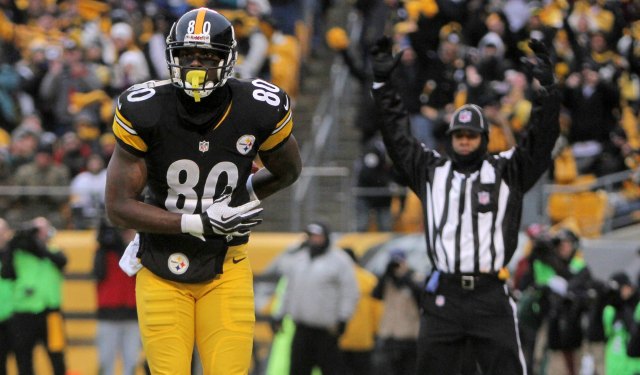 When Plaxico Burress re-signed with the Steelers this offseason, he figured he could make a positive impact on the squad.
"I know I can still play, I know I can dominate in the red zone," Burress said in June, and he probably wasn't completely incorrect.
Unfortunately for Pittsburgh, the Steelers won't get to know exactly what he can do after he suffered a torn rotator cuff in practice Thursday, according to ESPN. The reported injury probably is season-ending, and considering Burress is about to turn 36, it could spell the end of his career as well.
Obviously, this injury, along with the free agent departure of Mike Wallace, will thin out some of the depth in the Pittsburgh receiving corps. Antonio Brown and Emmanuel Sanders are slated to start and Jerricho Cotchery will play a backup role, but after that, there aren't many recognizable names.
Burress injured himself after landing on his shoulder while trying to make a deep catch Thursday. He was carted off the practice field and later was seen with his arm in a sling.


Follow Josh Katzowitz on Google+
Show Comments
Hide Comments
Move over, Beast Mode, the best running back in 'Madden' is now Aaron Rodgers

The Vikings can still run the ball and play some defense, so this team still has a chance to...

With mounting injuries and partially filled stadiums, more joint practices and less games could...
240 members of the military will be on the field before Thursday's Chargers-49ers game

The former Nevada quarterback remains a controversial figure after his protest against racial...

The NFL Draft is headed to the city of Brotherly Love