Report: Terrelle Pryor fires agent who spoke out against Raiders
Raiders quarterback Terrelle Pryor no longer has an agent. It's not difficult to understand why.
• 1 min read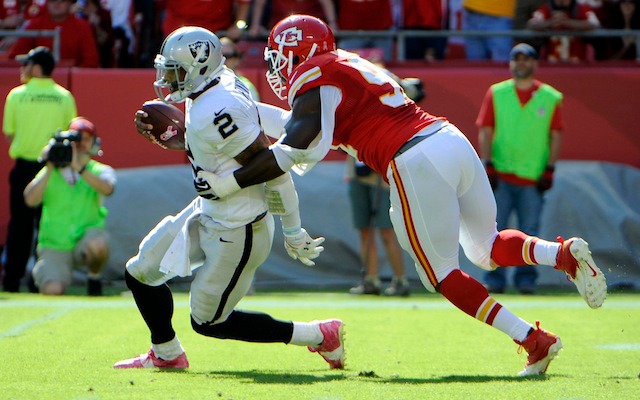 Jerome Stanley probably didn't help quarterback Terrelle Pryor's standing in the organization when he accused the Raiders of giving Pryor a Week 17 start so the organization could set Pryor up to fail.
The fact that Stanley was Pryor's agent at the time caused a bit of a problem when Pryor had to apologize for Stanley's words, and coach Dennis Allen calling Stanley's remarks "the stupidest thing I've ever heard."
 Turns out Stanley's thoughts cost him his job with Pryor, as Fox Sports reports that Pryor has dropped Stanley as his agent.
Here are the Stanley remarks that started this firestorm in the first place.
"I think they're putting him in hopes that he fails. That's what I think coach is doing. I think they're putting him in hopes that he has a bad game, so he can then justify the Matt McGloin situation. I think that's what's going on, I do and it's ridiculous. ...
"You have to understand the [situation] Coach is putting him in, he doesn't want him to look good. And you can write that. He doesn't want him to look good because, if he looks good this week, it makes the past five weeks look like a bad decision. [ Allen] doesn't want [Pryor] to look good, he wants him to look bad. That is what is going on."
Later, Pryor had to meet with Allen to make sure the coach knew the player didn't have anything to do with those comments.
Said Allen: "This is a time where you have to separate player from agent."
And now the player has separated himself from the agent.
Follow Josh Katzowitz on Google+
Show Comments
Hide Comments
The quarterback missed the 2016 season because of a torn ACL and dislocated left knee

It's reportedly a five-year deal that has a clause to turn it into an eight-year deal

Though Gronk has dealt with injuries, he's the Patriots' most important weapon when health...
The Bengals coach says he doesn't understand why the NFL wants to give in to individual ce...

It's possible the Patriots could push their quarterback squeeze to 2019, but Garoppolo must...

Another offseason, another suspension for the Cowboys