Report: The Packers are interested in adding ex-Bears RB Matt Forte
Former Bears running back Matt Forte could end up playing for a division rival.
The Bears' decision to let running back Matt Forte walk away in free agency could end up backfiring on them.
According to ESPN.com, Forte is drawing interest from the last team that Bears fans want to see him sign with: the Green Bay Packers.  
Packers general manager Ted Thompson usually tries to avoid bringing in outside free agents, but it appears that he might be willing to make an exception with Forte, if the two sides can agree on a price.
Although the sight of Forte in a Packers uniform would probably make any Bears fan cringe, it would likely bring a smile to the face of Aaron Rodgers.
During his eight years as the starting quarterback in Green Bay, Rodgers has had a lot of weapons, but he has never had a running back like Forte who easily catch passes out of the backfield. 
Since Rodgers' first year as a starter in 2008, no Packers running back has caught more than 43 passes in a season. Forte has caught 44 or more passes in each of his eight NFL seasons. 
The obvious upside for the Packers here is that they would get to add a proven player to a backfield that's full of question marks. For one, the Packers have no idea what they're going to get out of starting back Eddie Lacy.
Lacy spent most of the 2015 season out of shape and the Packers want to see him cut some weight before the 2016 starts. Although Lacy has been on a roll with his workouts lately, the team has no idea if that motivation will last all offseason. 
Behind Lacy, there's not much right now because the Packers are expected to lose backup running back James Starks, who's set to become a free agent Wednesday.
For Forte, the upside of a potential deal is that he would finally get to play for a contender. During Forte's eight seasons in Chicago, the Bears only made the playoffs once. 
If Forte does make the jump to Green Bay, one of his good friends in Chicago has some advice for Bears fans: Don't hate the running back. 
Whatever happens in free agency I hope people understand there are really tough decisions being made. Don't hate the player hate the game

— Kyle (@Ky1eLong) March 8, 2016
Remember, it was the Bears' decision to get rid of Forte, not the other way around. 
So how likely is it that Forte would end up in Green Bay? 
The two sides seem like a good fit and the fact that Thompson doesn't like to sign other teams' free agents probably wouldn't matter in this case. The last time Thompson signed a big-name free agent was in 2014, when the Packers added Julius Peppers from, you guessed it, the Bears.
Peppers has reportedly spent the past couple of weeks trying to recruit Forte to Green Bay.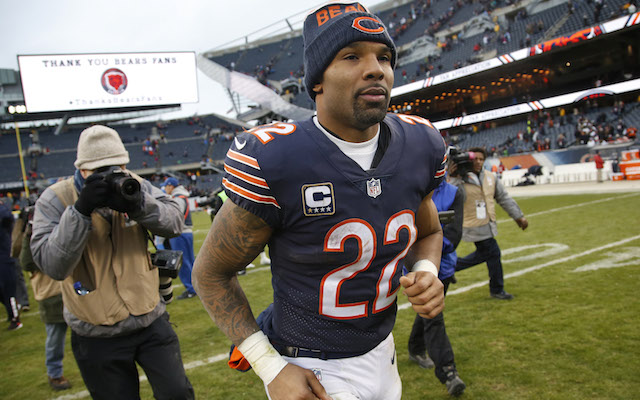 Show Comments
Hide Comments
Our Latest Stories
Jackson said the team is "moving on" from the talented wideout

Are rookie quarterbacks Carson Wentz and Dak Prescott as good as the numbers suggest?

The Bills' 2014 first-round pick is battling a foot injury that could linger for some time
Bo knows that head injuries are enough to make him reconsider his career path

A look back at Watt's incredible reign, Siemian's success, and the Seahawks' super weird t...

The Texans quarterback hasn't been much of an upgrade over his predecessors