Report: Titans QB Jake Locker likely out for season with foot injury
Titans quarterback Jake Locker will likely miss the rest of the 2013 season after suffering a Lisfranc injury in his right foot.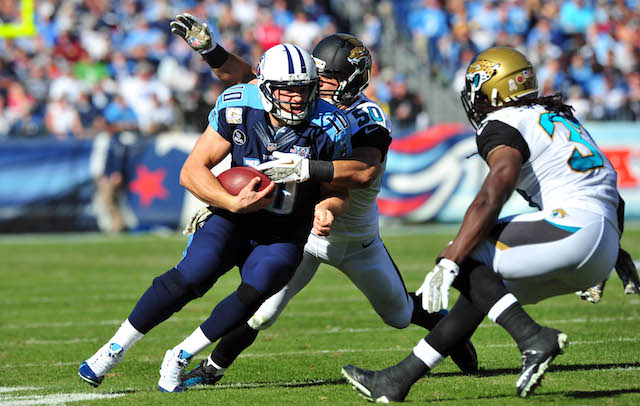 Jake Locker's season could be over. The Titans quarterback suffered a right foot injury in Tennessee's 29-27 loss to Jacksonville on Sunday and that injury will most likely sideline Locker for the rest of the season, according to the Tennessean. 
According to the Tennessean's report, Locker suffered a Lisfranc injury that could end up needing surgery. Locker missed two games earlier this season after suffering a hip injury in Week 4 against the Jets. 
Locker was injured in the second quarter against the Jaguars on an option play where he was hit by Jacksonville linebacker Russell Allen. "I don't know exactly how it happened, but when I got up from that run, I could feel it," Locker said. 
Locker tried to run one more play after the hit, but he appeared to have trouble putting weight on his foot and he ended up fumbling an attempted handoff to Chris Johnson. You can see the handoff below. When Locker left the game, the Titans were trailing 13-0. 
With Locker out, Ryan Fitzpatrick will most likely be the team's starting quarterback going forward. Fitzpatrick had a solid game against Jacksonville, finishing 22 of 33 for 264 yards and two touchdowns. However, the Titans are 0-2 this season when Fitzpatrick starts. 
Show Comments
Hide Comments
Our Latest Stories
Bradshaw seems to be a big fan of Dak Prescott

The bye week looks like it's going pretty well for Carson Wentz, but not so well for this...

The Redskins corner is probably going to want to get out his checkbook
The Stanford star could stay in the Bay Area and would add another dimension to the Oakland...

There's an ugly downside to joining Colin Kaepernick's cause

With Jimmy Garoppolo and Jacoby Brissett dealing with injuries, the Pats' QB situation has...