Reports: Bears agree to terms on one-year deal with James Anderson
The Chicago Bears reportedly agreed to terms Sunday on a one-year deal with former Panthers linebacker James Anderson. The move comes two days after the Bears added former Broncos middle linebacker D.J. Williams. Despite the additions, the Bears could still look to get younger at the position.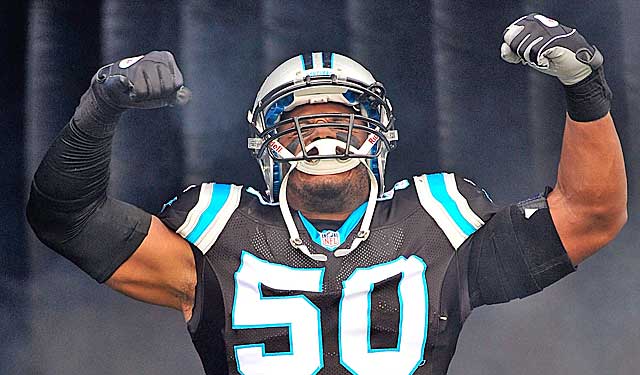 As part of a continued upheaval of its corps of linebackers, the Chicago Bears have agreed to terms on a one-year contract with former Panthers linebacker James Anderson, according to multiple reports.
Anderson, a third-round pick of the Panthers in 2006, is expected to replace Nick Roach at strongside linebacker. The move comes two days after the Bears agreed to terms with D.J. Williams to fill the void at middle linebacker created by the expected departure of Brian Urlacher. Roach, a seven-year veteran, signed with the Raiders earlier this month.
Though Anderson entered free agency as the No. 27 ranked outside linebacker by WalterFootball.com, he has been a tackling machine in recent seasons. In a two-year span from 2010 to 2011, Anderson recorded 275 tackles, including a team-high 145 in 2011. Last season, Anderson (6-2, 235) set a franchise record for tackles in a single-game with 20 in a Week 3 loss to the Giants.
The Bears could still pursue a linebacker with a mid-round pick in the NFL Draft. Williams will be entering his 10th season in the league, while Anderson will turn 30 in September. Nearly a dozen linebackers have received at least a second-round grade in CBSSports.com's latest Draft projections.
Chicago has ranked in the Top 15 in the NFL against the run in each of the last three seasons.
Keep your eye on everything NFL by following Matt Rybaltowski on Twitter: @mattrybaltowski.
Show Comments
Hide Comments
Bryant will have his progress reviewed again before the coming season

From Jadeveon Clowney to Odell Beckham, here's the option year prognosis for each 2014 first-round...

Gruden's team took Cadillac Williams instead of Rodgers in the 2005 NFL Draft
Agent claims Smokin' Jay Cutler's 'skill set is as good as any quarterback' in the NFL

A 23-year old woman alleges that Conley raped her in a Cleveland hotel room, and he strongly...

The Bengals are setting a sky-high asking price for their backup quarterback