Retiring after NFL season: Do these 30-somethings have anything left?
Tick, tick, tick. Time is not on the side of several decorated veterans who are determined to make sure 2014 won't be their final season.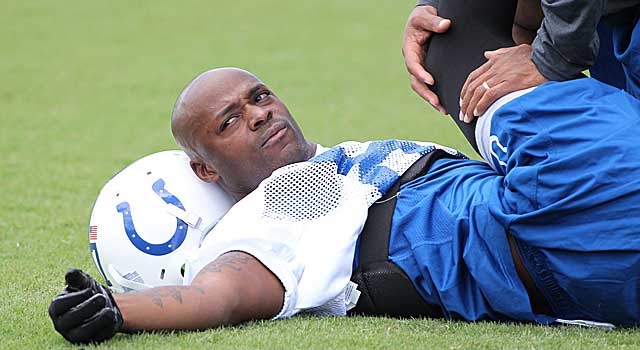 More NFL: Photos | Videos & GIFs | Training Camp updates | Manziel watch
The NFL has a natural turnover mechanism headed up by Father Time. Simply stated, it's very hard to stay on the field as age trumps speed and power. Most players know Father Time is undefeated but they still try to defy the odds as long as they can. Quarterbacks and kickers seem to do the best job of holding off the inevitable, but for all the other positions, the clock is always ticking loudly.
Enjoy the following group of players in 2014 as they near the end of what is considered in NFL circles very long careers. A few might have enough gas left in the tank to play into the 2015 season, but that wave of 22-year-old athletes pour into the league every year 256 strong, and older guys get pushed out.
Older players with big contracts are even more vulnerable, and if speed is a big part of their position, things can be even tougher. Right now, none of the players below believe this is the last go-around but we all know careers in this game don't last forever. We all just witnessed the retirement of 32-year-old Chris Snee because he couldn't overcome the injuries starting to pile up on his body. There will be more men to follow.
AGES 35 AND UP
Charles Woodson , 37: Played 17 years and a HOF candidate for sure, but offenses will attempt to isolate him on speed receivers and constantly check out his ability to burst, change direction and close on deep balls.
Champ Bailey , 36: Played 16 seasons and is still a leader. I have witnessed HOF players late in their careers lose the explosiveness and get by with FBI (football intelligence). The New Orleans Saints score lots of points; that means guys like Matt Ryan and other passers will be putting the ball in the air, and Bailey will get his share of targets.
Reggie Wayne , 35: Wayne missed most of 2013 with an injury and returns with the attitude of a guy who can play for years. This is probably not the end for Wayne, but you never know if he incurs another injury.
Steve Smith , 35: Smith is one of the most passionate and physical receivers in the NFL, and now joins the Baltimore Ravens after a long career with the Carolina Panthers . Smith has played in over 180 games and he rarely misses a start but his production plummeted in 2013 (11.6 yards per catch; four touchdowns). Being with Joe Flacco could get him back up to his career average of 14.6 yards per catch and buy him another year or two.
Santana Moss , 35: No longer a starter (only two starts in the past two years) but he still can hold down a third-receiver spot. If the Washington Redskins cut him at the end of camp, does he really want to be a "rental" player bouncing from team to team? In 2013, he gained 10.8 yards per catch with only two touchdowns, and his longest reception was 28 yards.
Dominic Raiola , 35: Raiola is the heart and soul of the Detroit Lions offensive line and played well in 2013, but the drafting of Travis Swanson in the third round indicates the Lions are preparing for Raiola's eventual retirement.
Roberto Garza , 35: Garza hasn't missed a start since 2010 and has given up only four sacks in three years. He looks like a guy capable of holding off Father Time but the signing of Brian de la Puente on a one-year deal has to be considered something to look at -- he's six years younger and a 16-game starter the past two years with New Orleans.
Terrence Newman, 35: Newman's career was revived when he got to Cincinnati in 2012 but he will turn 36 in September, he missed three games last year and the Cincinnati Bengals have real depth in the corner position. Keep an eye on him to see if his production starts to fall off. He's looking at Bailey and Woodson and thinking he can keep going as well.
AGES 33-34 YEARS
Larry Foote , 34: Foote is a 14-year linebacker who now moves from an insurance policy as a backup for the Arizona Cardinals into a starting role because of Daryl Washington 's suspension. This could be a very physical season considering the Seattle Seahawks and San Francisco 49ers are in the division.
Dwight Freeney , 34: The former Colt with 184 games and 117 sacks in his career (regular and postseason) broke down last year as a Charger and suited up for only four games. It could be time to start the clock on the road to Canton. Freeney has played in 17 postseason games, which adds an extra year to his 13 years of service.
Kevin Williams , 33: Williams will always be known as a Viking but he is attempting to extend his career as a Seahawk after 177 games in Minnesota. The Seahawks have 'taken a look' at many older veterans during camp in previous years only to release them at the last cut. I'm not sure that's what's in store for Williams, but he is closing in on the end of a great career.
Keep them on the radar screen: Calvin Pace (33), Charles Tillman (33), Ike Taylor (34), Leon Washington (31).
Show Comments
Hide Comments
Our Latest Stories
Chicago's quarterback plan is an interesting one

Michael Irvin says no way is Tony Romo is walking away from football

It sure sounds like Oakland's football team is headed to Sin City
Plus, prospects at Utah, Missouri and San Diego State look to make their mark on a busy Th...

The league won't let people hold the other team on purpose to melt the clock

The Redskins want to reward kickers for accuracy on kickoffs