RG3 leaves an inspirational note in likely his last day with Redskins
Robert Griffin III likely played (or not played to be accurate) his final game with the Redskins on Sunday.
Imagine going back in time and telling someone in 2012 three years from now Robert Griffin III would be cleaning out his Redskins' locker, likely for the last time -- While Kirk Cousins debates how many millions Washington will pay him on his next deal, no less. 
RG3 probably spent his (likely) last game with the Redskins on Sunday, with expectations being the team will release him quickly after Washington's playoff loss to the Packers on Sunday.
NFL.com reports Griffin's release is "a matter of timing" now and it "was important" for Dan Snyder to have Griffin on the roster throughout the season.
As chronicled by Jason Reid of ESPN, Griffin's last game with Washington was a quiet, emotional one. The former Rookie of the Year took a "farewell lap" before the game, signing things, posing for pictures and talking with fans on Sunday.
He was, at one point, one of the most famous players in the NFL and clearly the future of the franchise for Washington. Or as Santana Moss put it, a "rock star."
"That first year, man, Robert was a rock star. Then different things happened," Moss told Reid. "But he can take all those things, learn from them and get better. If Robert is like any of the best people in the history of this game, then he'll use it all as motivation. But you look at a lot of these quarterbacks out there, and you mean to tell me Robert ain't gonna get another chance?"
Griffin will land somewhere else -- one rumor has speculated him landing in Dallas with Jerry World and the Cowboys behind Tony Romo (and with Johnny Manziel, oh the humanity) -- and get another shot. It's likely his year on the bench and out of the spotlight humbled him and allowed him time to learn the game.
It went from his city to what former Redskins great Clinton Portis called "Kirk's team." 
"We all know one thing about this game: Things change fast," Portis told Reid. "Robert did great things for the franchise and the city in 2012. But it's Kirk's team now. That's just the way it is."
One minute you're "
All in for Week 1
" after suffering an ACL injury in a home playoff loss. The next minute you're cleaning out your locker after not being active for a home playoff loss and leaving inspirational messages to whoever comes next.
The only two items left in RGIII's locker #Redskins pic.twitter.com/00BFgciRiG

— Master Tesfatsion (@MasterTes) January 11, 2016
How did we get here? (This is not my beautiful house. This is not my beautiful wife.)
RG3 cleaning out his locker is one of the sadder, more surreal scenes I've seen in DC sports https://t.co/kYXfogNAvb pic.twitter.com/6faKUx8w4B

— Keely Diven (@keelydivenCSN) January 11, 2016
It really is only a matter of time until Griffin is set into the wild by the Redskins. They gave up a bounty to land him but can't afford to keep him on into the new league year, with a $15 million salary attached if he's still on the roster.
The Redskins will move on, bring back Cousins for an insane amount of money and we'll end up discussing the next steps in RG3's career for a long portion of the coming year. 
Life comes at you pretty fast.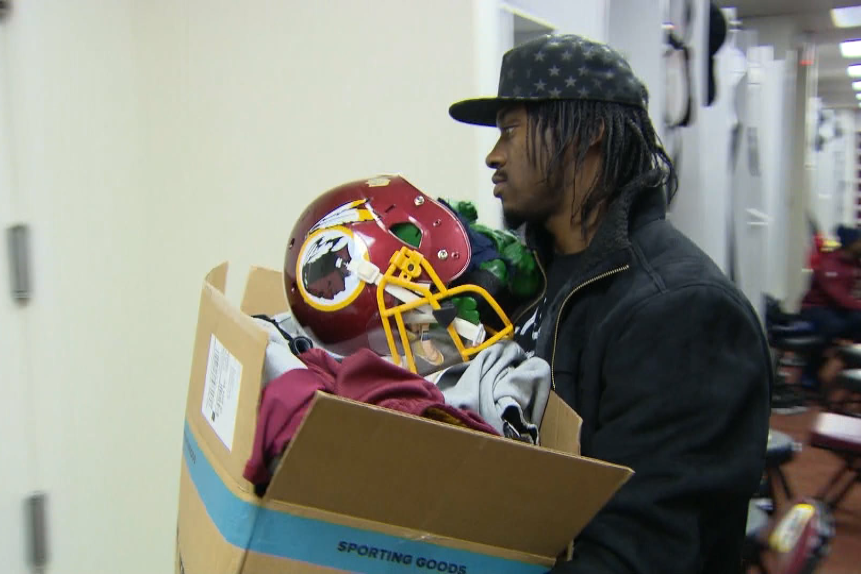 Show Comments
Hide Comments
Our Latest Stories
J.J. Watt's dad reveals that his son's injury might've been worse than we thought

President Obama encourages both sides to listen to the opponents' viewpoint

The stats are lying -- the Vikings don't have Eli Manning's number
Dolphins-Bengals will not be streamed live on Twitter this week, but here's how to watch

Burfict returns to the lineup with the Bengals on a two-game losing streak

Can the Cowboys win without Romo and Bryant in the lineup? That will likely be answered Su...