Rich Gannon: Jon Gruden has desire to get back into coaching
Former NFL MVP Rich Gannon thinks that Jon Gruden 'still has the desire' to coach and would like 'to get back and do it at some point.'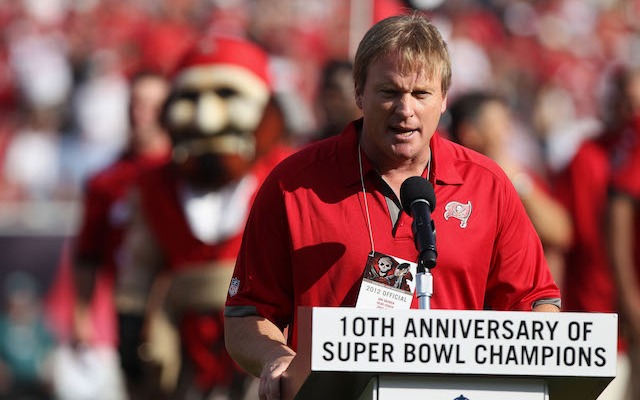 If there's coaching vacancy somewhere in America, there's a 95 percent chance that Jon Gruden is going to be listed as one of the candidates. The Houston Texans job? Gruden's name popped up. The University of Texas job? Gruden's open to hearing from the Longhorns. The USC job that was open earlier this year? Gruden was on the list of candidates. 
The real question though is, does Gruden want to return to coaching?
Former NFL MVP Rich Gannon, who played under Gruden for three seasons in Oakland, thinks that the ex-Raiders and Buccaneers coach will eventually return to coaching. 
"I've had conversations with Jon in the past. I don't think it's outside the realm of possibilities," Gannon told KGMZ-FM in the Bay Area when the subject of Gruden returning to Oakland came up. CBS Sports NFL Insider Jason La Canfora also mentioned the possibilty of Gruden returning to Oakland in November. 
If Gruden doesn't land in Oakland, Gannon thinks he could land somewhere else because Gruden "still has the desire to get back and do [coach] at some point."
Although Gannon thinks Gruden will return to coaching, he made it clear he doesn't have any details on any potential move. 
"I don't know when. I don't know where, but I know this, that he had two bad experiences as a head coach with some owners that he just had a tough time with," Gannon said. "And you know I think it's pretty clear that he didn't necessarily see eye to eye with Mr. Davis and I think he was really disappointed at what happened with the Glazers [In Tampa Bay]... and I think he wants to go somewhere where he's got an owner that's not gonna, you know, try and pick the roster and try and call the plays, and just a guy that he can just come in and work for and hire a staff and get the thing turned around."
Of course, even if Gruden returns to coaching, that may not be the best thing for your favorite team. Gruden was fired from his last job as head coach of the Buccaneers in 2008 and at this point, CBSSports.com columinst Gregg Doyel writes that Gruden might not be the home run hire everyone thinks he'd be, "He's the Loch Ness Monster of coaching, a distorted image assumed to be something fantastical, something it probably isn't."
If Gruden doesn't want to return to coaching, he can always keep his lucrative side job running Hoot camp. 
Show Comments
Hide Comments
Don't blame Norman -- he's 10 inches shorter than the Knicks' Kyle O'Quinn

The Cowboys owner offers an interesting take on what's bringing future fans to the game

The Seahawks cornerback told a student last year that he'd pay for a scholarship if she raised...
Romo is set to call games for CBS Sports this fall, but the Cowboys are keeping the door o...

Can Roberto Aguayo, the Bucs' maligned second-round pick, beat out Nick Folk?

John Mara says Colin Kaepernick's protest led to a ton of letters from emotional fans