Richard Sherman taunts Michael Crabtree in autographed photo
Seahawks cornerback Richard Sherman can't stop himself from going after 49ers receiver Michael Crabtree.
• 1 min read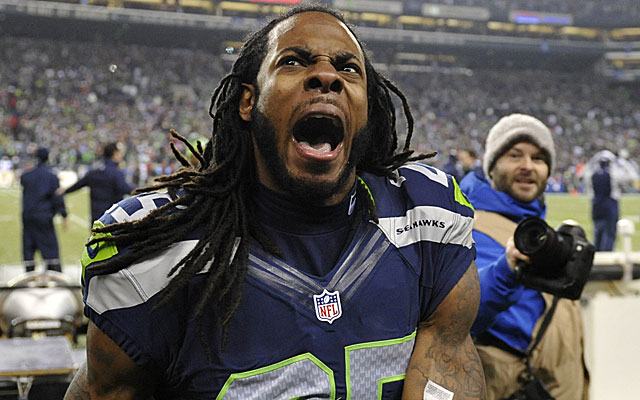 After the Seahawks knocked off the 49ers in the NFC title game, Seattle cornerback Richard Sherman, fresh off tipping a last-second pass that was intercepted by teammate Malcolm Smith, went crazy on Michael Crabtree in a postgame interview.
You probably remember this, but just in case ...
Though Sherman later said his mind was boggled by the reaction to his rant, that doesn't mean he's stopped making light of the situation.
Thus, we bring you to this tweet produced by Steiner Sports, a sports marketing and memorabilia company.
#SorryCrabtree @richardsherman_25 pic.twitter.com/mo0IXy0nT8

— Steiner Sports (@SteinerSports) April 6, 2014
We're not sure when this photo was signed, or if Sherman meant "Sorry Crabtree" as "Hey man, I'm sorry about all the controversy I created by calling into question your abilities as a professional receiver" or "Hey Crabtree, you're still a sorry receiver."
But either way, the relationship between Sherman and Crabtree likely hasn't warmed up much in the offseason if items like this are being put up for sale.
Show Comments
Hide Comments
The versatile safety will get plenty of reps with the Browns, but he's a questionable fit in...

Pete Prisco grades every first-round pick of the 2017 NFL Draft

Conley's stock took a hit just before the draft due to off-field concerns but he lands in...
Garett Bolles' young son is awesome

Engram is going to be a matchup nightmare for NFC East defenses

Harris brings an excellent pass-rush skill and should become a mainstay in opposing backfi...