Richie Incognito agrees to paid suspension that will end his season
Richie Incognito and the Dolphins have agreed to a deal that will keep Incognito suspended until the NFL completes its investigation. The investigation's not likely to be finished until 2014 at the earliest.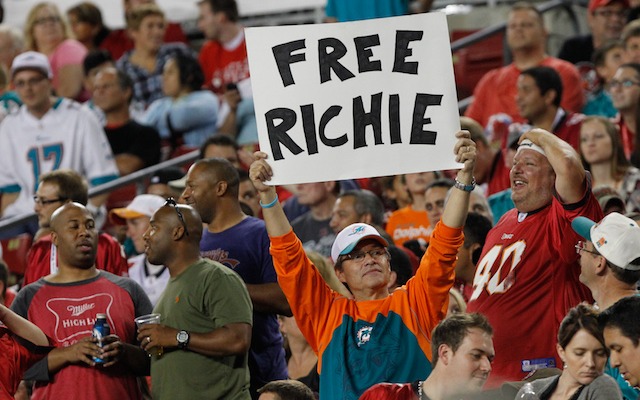 Richie Incognito won't play again this season, but he will be paid. The Dolphins and Incognito agreed on Monday to a deal that will keep Incognito suspended until independent investigator Ted Wells finishes his investigation into the allegations that Incognito bullied teammate Jonathan Martin. 
Wells' investigation isn't expected to be finished before the end of the calendar year. 
"The Miami Dolphins and Richie Incognito have agreed to maintain his suspension during the ongoing NFL investigation," the team said in a statement. 
Incognito was originally suspended on Nov. 3. Under CBA rules, the Dolphins were allowed to suspend Incognito for four weeks without pay. However, before the four-week suspension was up, Incognito and the team came to an agreement that allowed the Dolphins to keep Incognito suspended, but with pay. Even though Incognito has been suspended for six weeks, he's only missed out on a total of two $235,000 weekly paychecks. 
The original agreement to keep Incognito suspended expired on Monday, necessitating an extension of the agreement. If the Dolphins and Incognito had not agreed on an extension, Miami would have had to cut Incognito or reinstate him to the team.
Incognito's suspension could mean he's definitely done in Miami. The suspended offensive lineman is in the final year of his contract with the Dolphins. 
Show Comments
Hide Comments
Here's a recap of Round 2 and Round 3 in the 2017 NFL Draft

Here are the 25 best prospects still available after three rounds of the 2017 draft have w...

The fans in Philadelphia did their best to make the 2017 NFL Draft more fun
Beathard averaged 6.4 YPA and completed 56.5 percent in his final season at Iowa

This is probably an NFL Draft first

Conner was first-team All-ACC in 2016 and now he'll share a backfield with Le'Veon Bell