Robert Griffin III one step closer to being released by Redskins
The Redskins are one day closer to closing the book on the Robert Griffin III era.
The Redskins are one day closer to closing the book on the Robert Griffin III era. The second overall pick in the 2012 NFL Draft has passed his exit physical, according to NFL.com's Albert Breer, which means that nothing has changed in terms of RG3's future. Namely, he will be released in the coming weeks (or, perhaps, days) and he'll be free to sign with any of the 31 other teams.
FWIW, Redskins QB Robert Griffin III did pass his exit physical, which clears the way for his impending release (matter of when, not if).

— Albert Breer (@AlbertBreer) February 12, 2016
Griffin's next landing spot will be a topic of conversation right up until he ends up there. The Cowboys remain the early favorite, if for no other reason than owner and general manager Jerry Jones hasn't hidden the fact that he's a huge Griffin supporter.
"I'm a fan of RG3," Jones said in November 2014. "Right on this [Dallas] field two years ago, or maybe it was three seasons ago, he put on a show and had a great game that just floored me. And [the Redskins] won -- and they won in large part because of his play at quarterback. I thought, 'My goodness, we're going to have to be playing this guy for years and years.' So he's got it. Once you see a player do it, especially if you see him do it two or three times, you know he can do it. And of course he's a driven young man. I'm a big admirer of RG3."
Jones has also professed his love for Johnny Manziel, but with Manziel's NFL future as uncertain as ever, Griffin would appear to move to the front of the line of young quarterbacks Jones could target in free agency.
And the feeling appears to be mutual; a report last month from Yahoo Sports indicated that Dallas is atop Griffin's "preferred destinations should he become available."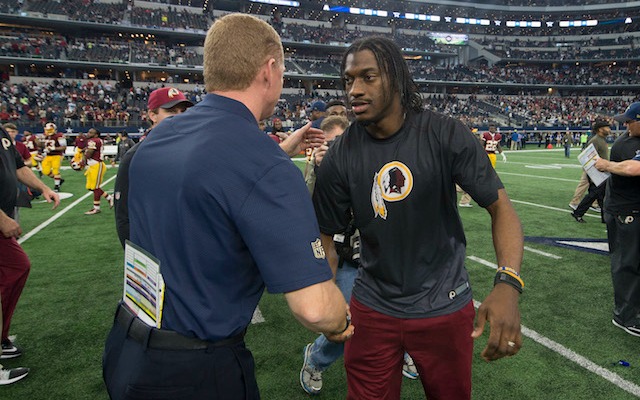 Meanwhile, plenty of people are all in on the RG3-to-Dallas talk.
Former Cowboys running back Hershel Walker went on record last October asking the Redskins to send RG3 to the Cowboys. And Griffin's coach at Baylor, Art Briles, said several weeks ago that Dallas "would be a great place for him." Around that time, Cowboys great and Hall of Fame quarterback Troy Aikman told SI.com, "I believe as I sit here today that either Johnny Manziel or Robert Griffin III will be in Dallas as a backup [next year]."
And now that the Redskins have given Griffin a clean bill of health, all that's left is the waiting.
Show Comments
Hide Comments
Our Latest Stories
DeAngelo Williams and Jonathan Stewart pulled off a feat that no other combo has managed s...

The QBs have the star matchup, but plenty of prospects are worth watching closely this wee...

Thomas Rawls is dealing with an injury, so the Seahawks need depth at running back
Eric Mangini said he hasn't spoken to Bill Belichick in 10 years

The tight end's absence is reportedly nearing its end, however

Decker aggravated his shoulder injury during the team's loss to the Chiefs on Sunday