Robert Griffin III to San Francisco? 49ers GM doesn't rule it out
Colin Kaepernick and Blaine Gabbert could be facing some competition for the starting QB job in San Francisco.
Although 49ers general manager Trent Baalke promised that Colin Kaepernick would be on team's roster in 2016, he definitely didn't make any promises about who the 49ers starting quarterback would be for the upcoming season.
It could be Kaepernick, it could be Blaine Gabbert, or it could turn out to be someone who's not even on the roster yet.
Baalke admitted on Wednesday at the NFL combine that the 49ers will be exploring "every avenue" when it comes to adding a quarterback.
"We're always looking. And we're certainly going to scour this draft and the free agency market that's out there," Baalke said. "There's obviously not a lot of quarterbacks that make it to free agency, as we know. But, we're going to look at every avenue."
One of those quarterbacks who could make it to free agency is Robert Griffin III. Unless Washington pulls off a last minute trade, the Redskins quarterback is expected to be cut by the time free agency begins on March 9.
Baalke was asked specifically at the combine if the 49ers would be interested in adding Griffin and he didn't exactly rule it out.
"Well, you're going to kick the tires of everybody that's available," Baalke said. "To say interested or not, there's no competitive advantage to me giving that an answer. But, everybody that's available you're going to kick the tires on. That's the job that we do."
Of course, draft season is also smokescreen season, so there's a chance that Baalke and the 49ers might not be interested at all. However, if that was the case, you'd think Baalke would've just said, "We love our quarterbacks and won't be adding anyone," especially since the quarterback situation in San Francisco is so tenuous.
No one seems to know how new coach Chip Kelly feels about Kaepernick, and it's probably not going to help Kaepernick's confidence if the 49ers are out looking for other quarterbacks, especially a quarerback like RG3, who could potentially thrive in Kelly's system.
That being said, even if the 49ers do want RG3, they're likely going to face some stiff competition. According to NFL Network, the Chiefs, Broncos, Eagles and Cowboys might all potentially be interested in adding RG3.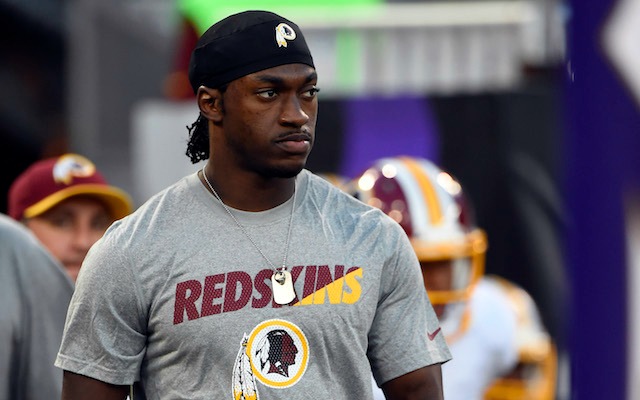 Show Comments
Hide Comments
Our Latest Stories
Credit Mike McIntyre for developing the talent needed to catch scouts' attention in this t...

The Browns quarterback took to Twitter to discuss his personal life

Broncos GM John Elway doesn't sound like he has any regrets about letting Brock Osweiler get...
The Division-III left tackle transfer is quickly proving he has a future in the NFL

Clay Matthews and Morgan Burnett join Sam Shields as out, while two others are now doubtfu...

The former NFL wide receiver has some strong opinions on the commissioner