Roddy White paying up NCAA bet with Super Bowl and season tickets
Roddy White said he'd give a fan Falcons season tickets if Mercer beat Duke in the NCAA tournament. Now he's decided to give the fan a little something extra.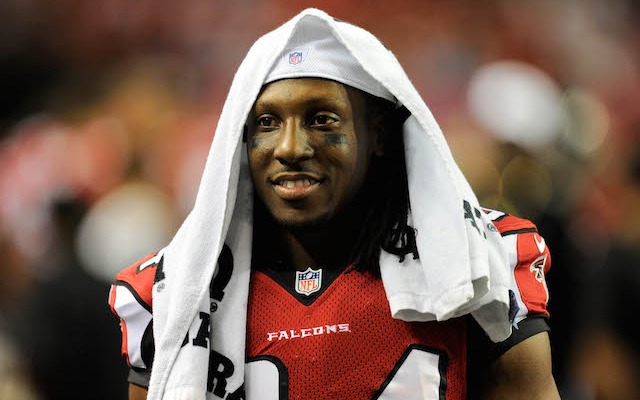 After five days of mulling things over, it looks like Roddy White has had a change of heart. On March 18, the Falcons wide receiver told a fan on Twitter that he'd give the fan Falcons season tickets on the 50-yard line if Mercer beat Duke in the NCAA tournament. 
@DHoyt77 if mercer beat duke I will give you season tickets 50 yard line first row

— Roddy White (@roddywhiteTV) March 18, 2014
Well, Mercer did beat Duke, but instead of season tickets, White said he'd give the fan one ticket, to one game. 
I lost a bet and I will give him tickets to the bears game since he is a bears fan done with this bet

— Roddy White (@roddywhiteTV) March 21, 2014
The fan, Dylan Hoyt, never complained about White backtracking on his promise, but the rest of Twitter did. For almost five straight days, White has been receiving tweets like the one below, tweets telling him to pay up on the bet. Sidenote: Most tweets to White used words we're not allowed to publish on this web site. 
@roddywhiteTV BOOOOOO! Own up, Roddy. You said season tix, give 'em season tix.

— WFAN Audio (@WFANAudio) March 21, 2014
Apparently, White has decided that paying up is the right thing to do. The Falcons receiver tweeted on Thursday that he'll not only be giving Hoyt season-tickets, but a little something else:
@DHoyt77 2 season tickets, 2 SB tix, pregame sideline passes to game and a day at camp as my guest. How does that sound

— Roddy White (@roddywhiteTV) March 27, 2014
Thanks to Mercer's win, Hoyt will now have two Falcons season-tickets for next season and two tickets to next year's Super Bowl. I'd say he should share them with the Mercer players, but that's probably against NCAA rules.   
Now we just need Bills linebacker Brandon Spikes to pay up on his bet. 
The Chiefs were one of the league's winningest teams during Dorsey's tenure as GM

Aaron Rodgers, Matt Ryan, Kirk Cousins and others have new deals on the horizon

The star receiver said he would put his collection up against anyone in any sport.
Newton has already been named league MVP and he wants to add a Lombardi Trophy

Pryor worked out with Brown a couple years ago and now he's back at it again

The first-round QB from Clemson impresses Texans coaches with the way he's picking up the...