Roger Goodell doesn't rule out medical marijuana use by players
Will NFL players be able to use marijuana for medical purposes in the future? Commissioner Roger Goodell says the league will 'support the evolution of medicine.'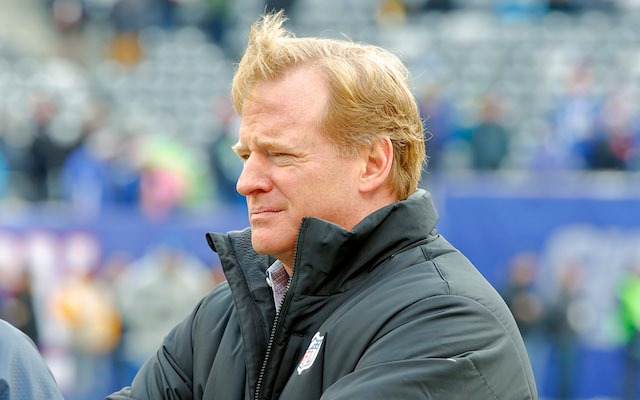 Since Jan. 1, it's been legal to purchase and use marijuana in the state of Colorado. However, that doesn't mean NFL players in Colorado can start lighting up. Despite marijuna being legal in the state, it's still illegal under the NFL's collective bargaining agreement. 
Under the CBA, a player who tests positive for marijuana can be suspended, but that could change sometime down the road. NFL commissioner Roger Goodell left the door open for medical marijuana use when he was asked about the subject on Tuesday.
Specifically, Goodell was asked if there would ever be a time where players would be permitted to use medical marijuana in states where it's legal. Instead of saying no, Goodell offered the following,  "I don't know what's going to develop as far as the next opportunity for medicine to evolve and to help either deal with pain or help deal with injuries, but we will continue to support the evolution of medicine," the commissioner said, via ESPN.com.
That's the NFL's first comments about marijuana since November 2012 when Colorado and Washington voted to legalize pot. Back then, NFL spokesman Greg Aiello told USA Today that the legalization of pot wouldn't change anything. 
"The NFL's policy is collectively bargained and will continue to apply in the same manner it has for decades," Aiello said in November 2012. "Marijuana remains prohibited under the NFL substance abuse program."
However, as Pro Football Talk has pointed out, the CBA only outlaws the 'illegal use' of marijuana. And beginning later this year, marijuana will be legal in not only Colorado, but the state of Washington as well, although it's still against federal law.
If the use of marijuana has to be worked into the CBA, the players will have to wait awhile. The players and owners are only three seasons into the 10-year CBA that was agreed upon in 2011. 
Show Comments
Hide Comments
The NFL coach of 20 years will reportedly work for the football operations department

Ryan Fitzpatrick's name is not supposed to be uttered by players

Our countdown of the top programs for NFL prospects continues
Patriots coach makes it clear: Tom Brady is the starter when he comes back from his suspen...

The Patriots wide receiver was spotted walking with the Brazilian supermodel

The 'little' brother of Panthers' Star is a 6-2, 310-pound run stuffer.