Roger Staubach: I'd take Johnny Manziel over Jadeveon Clowney
Former Cowboys quarterback Roger Staubach thinks the Texans should take Johnny Manziel over Jadeveon Clowney with the No. 1 overall pick in the 2014 NFL Draft.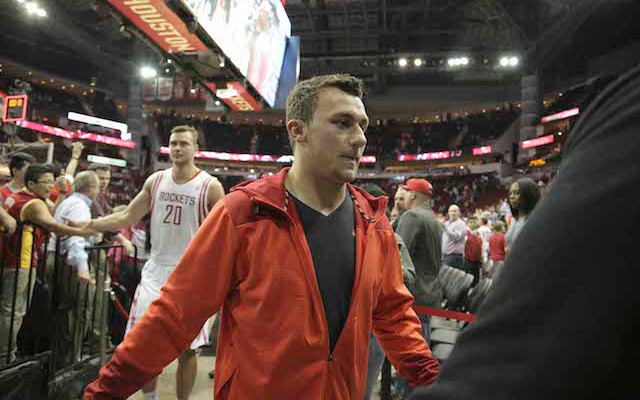 More NFL offseason: Mock Drafts | Prospect Rankings | Pro days | Top free agents
Jerry Rice isn't the only Pro Football Hall of Famer who thinks the Texans should take Johnny Manziel with the No. 1 overall pick in the 2014 NFL Draft, Roger Staubach thinks the same thing. 
The former Cowboys quarterback, who won two Super Bowls in Dallas, was asked by NFL Network on Wednesday who should go No. 1 out of Manziel and Jadeveon Clowney.
"I think there's something about this kid," Staubach said of Johnny Football. "I think Manziel's going to be a valuable player in the NFL. Clowney's also going to be a great player, but you need a quarterback. I'd go for Manziel."
Staubach, who was inducted into the Pro Football Hall of Fame in 1985, says that Manziel reminds him of a certain Super Bowl-winning quarterback who currently plays for the Seahawks. "I think Manziel is a Russell Wilson-type player," Staubach said. "He doesn't have the height, but he has a strong arm and he throws with accuracy." 
Apparently Manziel also has the smarts too. 
I've been told Johnny Football had the highest wonderlic test of all the top QB's in this years draft

— John Middlekauff (@JohnMiddlekauff) April 10, 2014
So not only is Manziel smart, but he has the endorsement of Staubach and Rice. Rice said in March that Manziel reminds him of Steve Young and that picking Manziel should be a no-brainer for the Texans.
"He reminds me a little bit of Steve Young because Steve Young, when he first came in, he wanted to run the football," Rice said. "Now, with Johnny Manziel, if he can just relax, stay in the pocket, deliver the ball down the field with accuracy and get the ball in the hands of his playmakers, I think it's a no-brainer for the Houston Texans to take this guy." 
In our latest round of 2014 NFL Mock Drafts here at CBSSports.com, none of our five writers have Manziel going to Houston at No. 1. However, three of our writers -- Dane Brugler, Pat Kirwan and Will Brinson -- have the Texans taking Clowney with the top pick. 
Show Comments
Hide Comments
The Cowboys' draft picks since 2002 have been to 17 more Pro Bowls than the next closest t...

The Cardinals, however, don't sound enthused about his return

According to NFL Network's Michael Silver, the Browns might want to trade up to draft a franchise...
The projected top-20 pick could fall out of the draft with teams having little time to gather...

Bryant will have his progress reviewed again before the coming season

From Jadeveon Clowney to Odell Beckham, here's the option year prognosis for each 2014 first-round...