Ron Rivera: Cam Newton's critics need to understand that he's a millennial
Cam Newton is one of the NFL's best young players. He's also extremely divisive. Coach Ron Rivera thinks he can explain why.
Cam Newton is one of the NFL's best young players. He's also extremely divisive because, among other things, some people think he celebrates too much when things are going well and sulks too much when things aren't.
It all came to a head at the Super Bowl, when the Panthers were manhandled by a tenacious Broncos defense, and Newton was accused "making a business decision" when he opted to not dive on a fumble late in the game. Exacerbating matters: Newton pouting his way through an abbreviated postgame press conference.
THIS is why Cam walked out (listen to what's being said in the background). pic.twitter.com/6LdLFwv8tj

— Brian (@bmweezy13) February 8, 2016
So here we are, nearly two months later, and Newton remains a hot topic. Coach Ron Rivera answered more questions about his quarterback at the NFL owners' meeting on Wednesday and those answers are likely to only stoke the flames of discontent.
"What do you expect? He's 25," Rivera told reporters, according to FOXSports.com's Mike Garafolo. "Everything he's ever wanted to be, he had that opportunity and he didn't get it [when the Panthers lost the Super Bowl]. And he's so hurt by it, he's crushed by it. I mean, he put it all on himself. He took it for 52 other guys and coaches. And that's a huge burden to bear because everything he wants to be is that winner, that guy that helps us get it. That, to me, is really the way I looked at it."
Rivera compared Newton to stars from other sports who have also struggled to publicly handle adversity. Kobe Bryant and LeBron James got name-checks, as did NBA legend Jerry West.
"Think about Jerry West and the way he was and how much of a bad loser he was. I mean, Mr. West was one of the most tremendous athletes ever but yet he struggled with losing," Rivera said. "So let's all take a second to really think about this is not a unique set of circumstances. This is the true raw emotion of who he is. Let's celebrate that, too. Let's not pile on."
Rivera also made the case that today's athletes are different than those that preceded them, and skeptics should take that into consideration.
"These are millennials, these are young men and women athletes that are being brought up in a different way and we need to learn to adapt to the way they are," the coach said. "These are young people that express themselves. When he's happy, he's going to express himself, when he's sad he's going to express himself too. So I think we just need to accept, understand or at least anticipate we're not going to get him at his best."
While Rivera's intentions were to deflect criticism away from his franchise quarterback, the appearance that he's enabling Newton (he's a millennial ... we need to accept his mood swings, etc.) will only make things worse.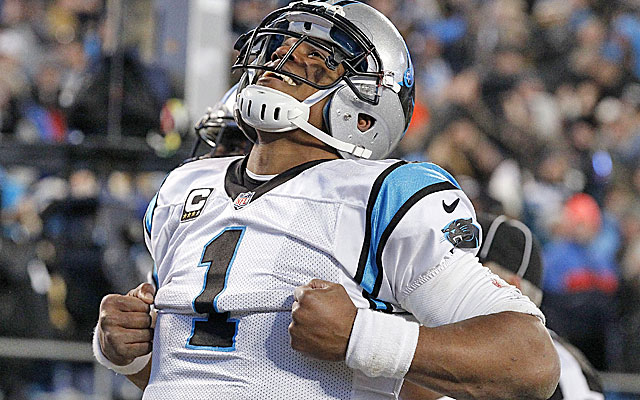 Of course, none of this changes the fact that Newton seems to engender more hostility than other players in his position, and that hostility shouldn't overshadow the good that he does.
"Now I've been around him for five-and-a-half years," Rivera continued. ... "I got to see that, I got to spend time at his house with his parents and his brothers and just see the type of young man he is -- who he really is. I've gone to those charity events and watched him interact with young men and women and thought, 'What a great example he is to people.'
"And yet, something like this happens and everybody wants to blow him up. I mean, that's so unfair because they don't know the guy."
Show Comments
Hide Comments
Our Latest Stories
Washington's John Ross outshines Christian McCaffrey, and the Huskies' defense shows its t...

Here's the latest update on all the Week 4 lines in the NFL

The Bills receiver is going to miss at least eight weeks and possibly the rest of the seas...
The best wide receiver in the game is paying homage to The King

The running back is supposed to get his first action against the Steelers

The Cowboys are going to play it safe with their star receiver, who's dealing with a knee...