Ronnie Hillman: Letting Brock Osweiler go 'would not be too smart'
The Broncos' running back weighed in on the team's quarterback dilemma.
• 1 min read
It sounds weird to say this about a Super Bowl winning team, but the Denver Broncos are currently in quarterback limbo. If Peyton Manning wants to return for yet another season, do the Broncos stick with an overpaid middle-aged game manager or do they potentially hand a fresh paycheck to the younger Brock Osweiler, who flashed signs of potential this past season?
It's a question that John Elway will have to answer soon, even if he reportedly isn't negotiating with Osweiler until Manning makes his decision regarding his future. Further complicating the matter is the abundance of free agents on the defensive side of the ball like Von Miller, Malik Jackson, and Danny Trevathan.
So, what should Elway do? Well, if you ask running back Ronnie Hillman, the answer does not involve letting Osweiler walk.
Should Brock Osweiler be the Broncos' QB next year? @MrHillman2U "It's not my decision, but letting him go would not be too smart!"

— SiriusXM NFL Radio (@SiriusXMNFL) February 14, 2016
(Of note: Hillman is actually scheduled to become a free agent this offseason too, so he might not be around for the Osweiler era in Denver, if it happens.)
In eight games, Osweiler completed nearly 62 percent of his passes for nearly 2,000 yards, 10 touchdowns and six picks, compiling a passer rating of 86.4. By now, the Broncos ought to be more than familiar with Osweiler and what they'd be getting by re-signing him, since they drafted him way back in 2012.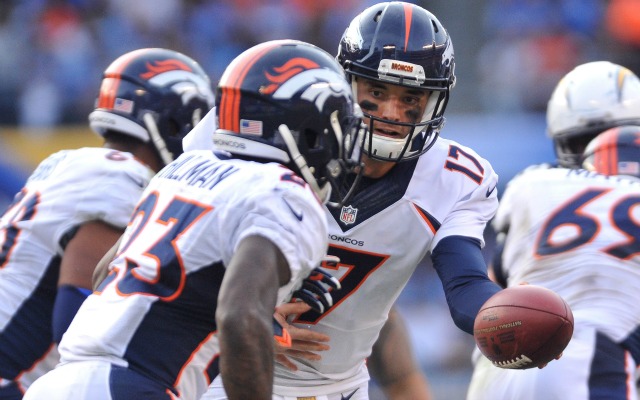 Despite their unsettled quarterback situation, the Broncos can rest easy knowing they don't necessarily need a star under center. Assuming they can maintain their defensive success, the Broncos are set up for success even if their quarterback is reduced to the role of managing the game without turning the ball over.
Osweiler proved to be capable of filling that role this past season, but whether or not that justifies a defense-oriented team giving him a raise remains to be seen.
Show Comments
Hide Comments
Everybody whiffs in the draft. Here's the worst pick for each franchise since 1995

Smith missed all of last season recovering but could be close to a return

The Saints have four of the first 76 picks in this week's draft
Players can now sell their data as the NFLPA looks to advance player safety

Ross looks like the perfect replacement for Brandin Cooks in the Big Easy

The former Bucs and Raiders star only sees 'splash plays' with the Texas A&M defensive end