Russell Wilson: Seahawks QBs are nicknamed the 'Jackson 5'
Meet Seattle's 'Jackson 5.'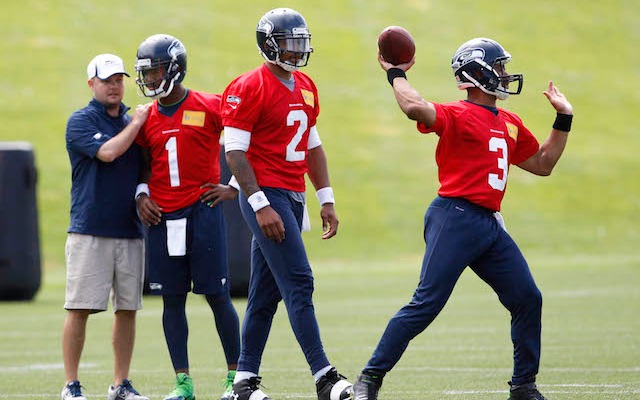 When the Seahawks won the Super Bowl in February, Russell Wilson became just the second African-American starting quarterback in NFL history to win a Lombardi Trophy. That led to Wilson writing a piece for MMQB.com on Wednesday about his place in league history. 
One of the things that makes Wilson proud is that he's on a team that went into OTAs this offseason with five African-American quarterbacks on the roster. Don't think those five quarterbacks weren't aware of it either, because they were -- and they even gave themselves a nickname. 
Here's what Wilson had to say about the nickname on MMQB.com: 
We call ourselves 'The Jackson 5.' I play the role of Michael Jackson. It's not that Coach [Pete] Carroll and John Schneider purposely did that. They put the best guys they could find on the roster to help the Seahawks win. But really, considering the history of the league and the quarterback position, how crazy is it that one team has five quarterbacks in camp, and all are African-American?
The Jackson 5 has since been trimmed down to the Jackson 4 though with Keith Price playing the part of Randy. Price 'left' the group in mid-June when he was cut by the Seahawks. The Jackson 4 should be together at least a few more months though with Seattle looking like it will take four quarterbacks into training camp who are all African-American with Wilson, Tarvaris Jackson, Terrelle Pryor and B.J. Daniels. 
Show Comments
Hide Comments
Our Latest Stories
It sounds like the Cowboys are eventually going to make a move

The NFL commissioner might be the least popular person in New England

The Raiders might not be spending the next three seasons in Oakland
The Ravens coach believes that Colin Kaepernick will eventually sign with a team

'Never say never,' the Giants coach said about Peterson potentially joining the team

The Falcons' Super Bowl loss has turned March 28 into the best day of the year