Ryan Tannehill: Jonathan Martin and Incognito were best friends
Dolphins quarterback Ryan Tannehill said he wasn't aware of any situation involving Jonathan Martin and Richie Incognito. Tannehill also said he would welcome both players back.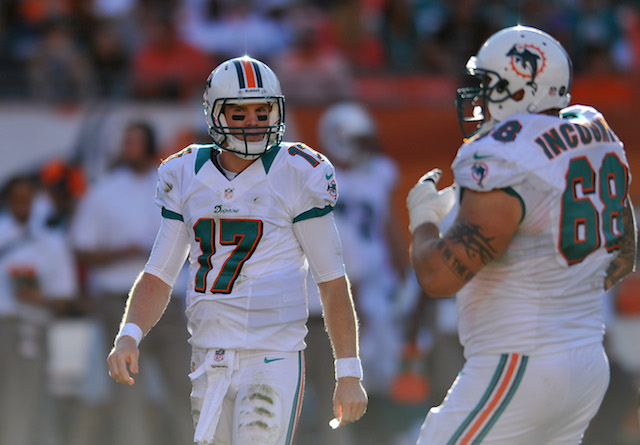 Miami Dolphin players were advised by the team on Monday to not comment on the situation involving suspended offensive lineman Richie Incognito and teammate Jonathan Martin. However, some members of the team decided on their own to talk about the situation on Wednesday, including quarterback Ryan Tannehill. 
According to Tannehill, Martin would've admitted to being Incognito's best friend as recently as two weeks ago.
"I think if you would have asked Jon Martin [before he left Miami] who his best friend on the team was, he would've said Richie Incognito," Tannehill said. "The first guy to stand for Jonathan when anything went down on the field -- any kind of tussle -- Richie was the first guy there. When they wanted to hang out outside of football -- who was together? Richie and Jonathan."
The Dolphins quarterback even described Incognito's relationship with Martin as a brotherly one at one point during his press conference on Wednesday.  
"Jonathan's like Richie's little brother," Tannehill said. "He gave him a hard time and he messed with him, but he was the first one there to have his back in any situation. It's a big surprise what's going on."
Asked why he didn't help the situation, Tannehill said he couldn't because he didn't know it was happening, "Just to have no idea that this is going on is tough for me," Tannehill said. "You can't help a situation that you didn't know existed, that no one on this team knew existed. We have a bunch of good guys in this locker room."
As for the racially charged voice mail that Incognito left for Martin, Tannehill said he's never heard Incognito talk like that in the locker room.
"It's really tough for us to sit here and hear all that," Tannehill said. "We have each others backs. Richie didn't use that type of language that was on the voice mail in the locker room. He didn't talk to other guys that way." 
Despite everything that's happened, Tannehill said he'd be open to welcoming one or both of his teammates back. 
"Both guys at this point have their rights and wrongs," Tannehill said. "If they were allowed to come back, if they chose to come back, I'm big on forgiving people. Forgiving people for what they've done. Getting passed that, not crucifying people for their past, moving forward ... At this point, I'd accept either one of them back."
Tannehill's comments are good news for Incognito. The quarterback is generally the leader of the team and it sounds like Tannehill is trying to be in Incognito's corner without alienating Martin. 
The facts of this situation will eventually come out, NFL commissioner Roger Goodell appointed attorney Ted Wells to lead an independent investigation on the matter. Once Wells' investigation is complete, his findings will be  made public.  
Show Comments
Hide Comments
The Cowboys' draft picks since 2002 have been to 17 more Pro Bowls than the next closest t...

The Cardinals, however, don't sound enthused about his return

According to NFL Network's Michael Silver, the Browns might want to trade up to draft a franchise...
The projected top-20 pick could fall out of the draft with teams having little time to gather...

Bryant will have his progress reviewed again before the coming season

From Jadeveon Clowney to Odell Beckham, here's the option year prognosis for each 2014 first-round...