Saints fans rock Rob Ryan, Joker Halloween costumes
Saint fans are creative as hell when it comes to Halloween costumes.
Not the real Rob Ryan and Sean Payton, but the hair is spot-on: pic.twitter.com/XHlha1XoUU

— BuzzFeed Sports (@BuzzFeedSports) October 27, 2013
New Orleans is a weird place, man. If you want to get nuts -- let's get nuts -- NOLA's your spot. A prime example are the superbly done costumes that Saints fans wore to the game on Sunday.
My favorite are the Rob Ryan-Sean Payton combo rocked by the two guys above.
But you gotta give dap to the  fella who dressed up as The Joker (Heath Ledger version) with the "WHO DAT" written in red on his forehead: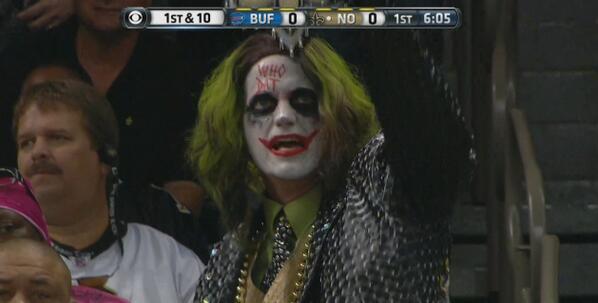 Now someone just needs to combine the two for a Rob Ryan-Joker amalgamation. 
Show Comments
Hide Comments
NFL teams find out their schedule on the same day you do

There probably weren't too many complaints in Kansas City after the schedule was released

Glen Coffee is hoping to make an improbable NFL comeback
Geography can be hard sometimes

Hernandez appears to have left suicide notes for at least three different people

Beast Mode and the Raiders apparently don't see eye to eye on this one thing