Saints WR Marques Colston makes last-second blunder vs. Seahawks
The Saints-Seahawks game ended on a bizarre play when Saints wide receiver Marques Colston decided to throw an illegal forward pass. A penalty that called for a 10-second runoff and ended the game.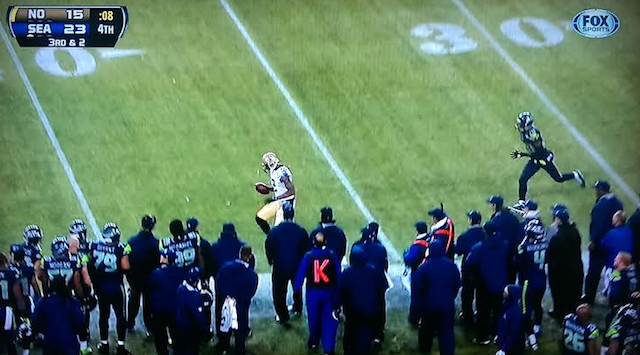 It's going to be a long offseason for Saints wide receiver Marques Colston, mainly because people are probably going to ask him the same thing every day, "What were you thinking?"
Why would they ask him that? Because Colston made one of the most bizarre game-ending decisions in NFL postseason history in a game where the Saints lost to Seattle 23-15. 
With eight seconds left against the Seahawks, Colston caught a 13-yard pass from quarterback Drew Brees near the sideline at the Seattle 37. The Saints were out of timeouts, so the only way they could stop the clock was if Colston stepped out of bounds. Only Colston didn't step out of bounds, instead, he did this. 
What Colston did was throw a blatantly illegal forward pass. The penalty resulted in a 10-second runoff and since there was less than 10 seconds left in the game, it meant the game was over. 
If Colston had stepped out of bounds, the Saints would have had the ball at the Seahawks 37- or 38-yard line with a chance to run one or two plays. New Orleans could have decided to try and run a quick 5-10 yard play to put themselves closer for a final shot at the end zone -- or the Saints could've just tried a 37-yard Hail Mary. Either way, they would have had at least one more play if Colston had stepped out of bounds.
Even if this was a called play on the Saints part, Colston still made a huge mistake by throwing the ball illegally forward and effectively ending the game. Saints coach Sean Payton wasn't in the mood to talk about the play in his postgame press conference.
Payton on the Colston lateral: "We'll look at the tape. Next question."

— Larry Holder (@LarryHolder) January 12, 2014
Colston's decision was a tough blow for the Saints, who almost pulled off an improbable comeback. New Orleans was trailing 23-8 with under 30 seconds left when Brees hit Colston for a nine-yard score on fourth down that trimmed Seattle's lead to 23-15. 
The Saints then recovered the onside kick after it bounced off of Seahawks receiver Golden Tate. New Orleans then drove to its own 49-yard line when Brees hit Colston, who then decided he wanted to play quarterback. That decision ended the game and any hope the Saints had of winning. 
(Wink of the CBS Eye to GIFDSports)
Meet Isaiah Crowell, one of the game's best backs who is stuck on the Browns

Welker played 12 seasons and suffered at least six concussions

Hardy was found in a river in his hometown of Fort Wayne, Indiana last month
Police say they haven't been able to contact the victim

The coach refused to comment, however, on the latest incident involving Elliott

Williams was the seventh overall pick in this year's draft