Santonio Holmes won't play this week, doesn't enjoy media scrum
Santonio Holmes blamed the media for hampering his rehab from a hamstring injury. He also won't play Sunday.
• 1 min read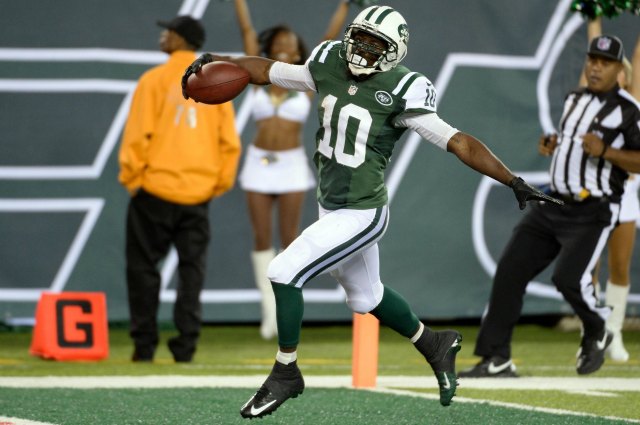 Jets receiver Santonio Holmes hasn't played the past two weeks as he tries to recover from a bad hamstring injury, and as New York gets set to face New England this weekend, the Jets will again be missing their top receiver.
Holmes has been so busy rehabbing that hamstring that he hasn't practiced with his teammates in three weeks. And dammit, he's got no time for the media either.
He doesn't have time for questions. He has rehabbing to do, for Pete's sake!
"How am I feeling right now? Like you guys are interrupting my treatment time right now," Holmes said Thursday, via the NY Daily News, after he was summoned to conduct interviews.
Then, Holmes was asked if he REALLY felt like participating in interviews was hampering his rehab efforts.
"I was just on the rehab table and I had to get taken off the table to come do interviews, so yes I do," Holmes said.
Of course, Holmes' theory is ludicrious, but whatever. 
And as ESPN New York writes, "Of course, Holmes chooses to conduct the interviews late in the afternoon; the other players speaking during the locker-room period immediately after practice."
Making matters even worse for reporters is that Holmes declined to talk about his progress in rehab or whether he'd have a chance to play this week.
Apparently, the answer to the second question is negative.
@BrianCoz On injury report: Holmes (media).

— Dennis Waszak Jr. (@DWAZ73) October 18, 2013
Show Comments
Hide Comments
This much is certain: The Browns desperately need a quarterback

The man who signed Romo is happy to see him move on from playing the game

Roger Goodell typically announces all the first-round picks, but he'll make an exception this...
NFL teams find out their schedule on the same day you do

There probably weren't too many complaints in Kansas City after the schedule was released

Glen Coffee is hoping to make an improbable NFL comeback