Seahawks scheme well against Broncos, make all the right calls
Seattle's plans to get aggressive on defense and repurpose Percy Harvin in the offense work wonders in a Super Bowl XLVIII romp.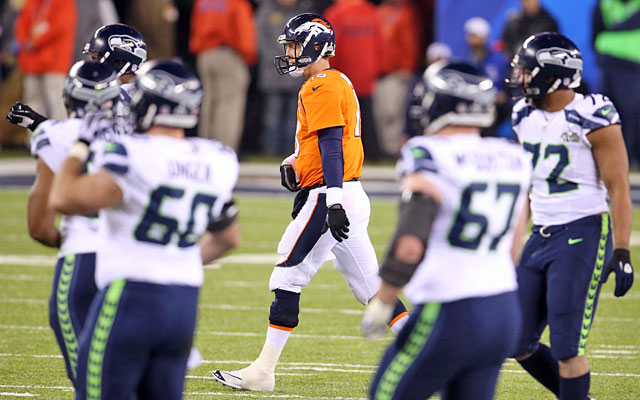 More SB coverage: Seahawks win 43-8 | Photos | Numbers | More news
EAST RUTHERFORD, NJ -- The Seattle Seahawks are the champions despite the wind being 4 mph and the temperature 49 degrees at kickoff. Most analysts thought those conditions favored the Denver Broncos.
However, Seattle had a number of things in its favor before the game even started, and they all showed up on the field. The Seahawks knew they wouldn't have to worry about defending against the deep pass or a power run attack. Seattle came into this game with a plan to feature its nickel defense and to jump on all of Denver's short routes, and it did just that.
Seahawks defensive coordinator Dan Quinn told me after the game they were going to be very aggressive against the screens, draws and bubble screens. When Peyton Manning felt the pass rush, he went to that short game and Seattle was ready for it.
Michael Bennett was excited to let me know the defensive linemen did the hustling to tackle the running backs on the screens and draws, and they were dead plays. Bennett also pointed out that the Seattle three-man rush was as effective as its four-man rush and the pressure calls.
It was clear the Seahawks' defense was wired to the Broncos offense and showed the football world that defense can still beat a great offense.
Red Bryant, the Seahawks defensive lineman who couldn't crack the starting lineup in the first two years of his career, couldn't stop talking about why Malcolm Smith is the essence of the team. Smith was a seventh-round pick who wasn't even a starter in this game but wound up being the MVP. Bryant made it clear Seahawks defenders don't necessarily play with a chip on their shoulder but rather they play for each other, compete every day and that no one feels like a backup.
Seahawks corner Byron Maxwell affirmed Bryant's feeling about this team. Maxwell came into the season as a backup but after the team lost Brandon Browner, he stepped up. As he said to me, "I knew Manning was coming after me with Sherman on the other side." Maxwell was challenged but held up well.
Before the game ended, the Seahawks needed Walter Thurmond and Jeremy Lane to line up, once again demonstrating the depth on this roster.
I talked to Seattle offensive coordinator Darrell Bevell and offensive line coach Tom Cable about Russell Wilson. Cable said, "When we break down opponents, we feel we can do whatever is available because of Wilson."
He felt the offensive linemen knew how to build the escape lanes, which he used three times for 26 yards. Bevell talked about Wilson's ability to make "checks" at the line of scrimmage in the Super Bowl and constantly get the team into the right play.
Both coaches couldn't say enough about the use of Percy Harvin. The coaches didn't bother putting Harvin into the passing game, and instead used him in the speed (jet) sweep game and the bubble screens. Next season they can get him up to par with the downfield passing game.
Finally, I got a chance to sit down with Pete Carroll a few times during Super Bowl week. I was convinced he had his players and coaches in the proper state of mind for this game and he had a roster that could match up with Denver and not change what they do on either side of the ball. I was glad I changed my pick to the Seahawks and got a chance to sit back and watch the plan he shared with me unveil itself on the field.
Seattle has a young roster (average age of 26) and a star quarterback still on his rookie contract. The Seahawks could be around for a number of years.
Show Comments
Hide Comments
Our Latest Stories
Broncos GM John Elway doesn't sound like he has any regrets about letting Brock Osweiler get...

The Division-III left tackle transfer is quickly proving he has a future in the NFL

Clay Matthews and Morgan Burnett join Sam Shields as out, while two others are now doubtfu...
The former NFL wide receiver has some strong opinions on the commissioner

Gurley rushed for 1,106 yards as a rookie, now he's averaging 2.7 yards per carry

Everything you need to know for the Vikings vs. Panthers on Sunday