Seahawks WR Doug Baldwin: Seattle has best WR corps in NFL
Seahawks wide receiver Doug Baldwin thinks Seattle's wide receiving corps might be the best one in the NFL.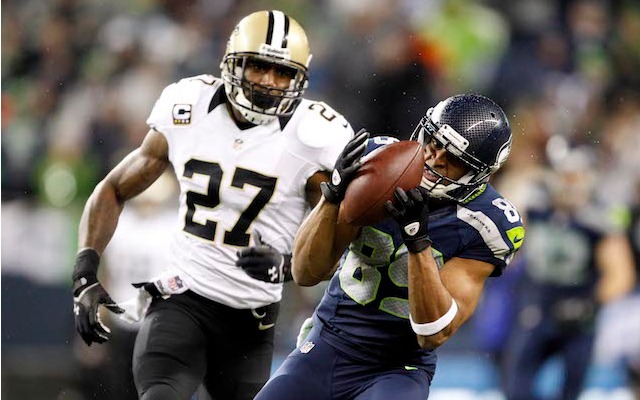 Statisically speaking, the Seattle Seahawks wide receivers aren't putting up glamorous numbers this season. Doug Baldwin leads the team in receiving yards with 663, a number that's not even in the top-30 in the NFL. 
Golden Tate leads the team in receptions with 46, a number that ranks 45th in the NFL and a number that's barely half of Antonio Brown's league-leading 85 receptions. Despite those numbers, Baldwin thinks the Seahawks have one of the best receiving corps in the NFL, if not the best one overall. 
"I would have to tell you, honestly, that this is probably the best receiving corps in the NFL from the top down," Baldwin said, via the Seahawks official website. "Some would probably look at me like I'm crazy, because nobody has 1,000 yards, but if you look at the efficiency of the receivers from the top down, it's unreal."
Baldwin then decided to give a short scouting report on a few of the Seahawks receivers. "You've got Golden Tate, who is probably one of the most electrifying receivers in the game when he gets the ball in his hands," Baldwin said. "Then you have the most efficient guy in the league in Jermaine Kearse. Every ball that's thrown to him, it's pretty much caught."
The Seahawks receivers aren't putting up Calvin Johnson-like numbers, but that's by design. Seattle's only thrown the ball 316 times this season, the second lowest total in the league, ahead of only the 49ers, who have thrown 304 passes. 
"We have elite receivers -- and yes, I said elite receivers -- on this roster that are capable of doing so much more," Baldwin said.
According to Baldwin, none of the receivers are worried about their numbers, "We're winning games, and that's all that matters," Baldwin said. 
If the Seahawks win one more game -- specifically the one on Sunday in San Francisco -- they'll clinch the NFC West title and a first-round bye in the playoffs. 
Show Comments
Hide Comments
Our Latest Stories
No days off? Belichick one of two coaches to miss group photo

The 39-year-old quarterback doesn't plan on retiring anytime soon

Lamp's performance continues the momentum he's created for himself throughout his senior s...
Not everyone was on board with the Raiders' move

'I want to make it as terrible and horrible for Mark Davis as possible,' says one former Raiders...

This what the Raiders' new stadium might look like