Season has exceeded expectations for Broncos DE Shaun Phillips
The Chargers thought they could do better. The Broncos had a need. So Shaun Phillips packed up for Denver and fulfilled a major need.
• 6 min read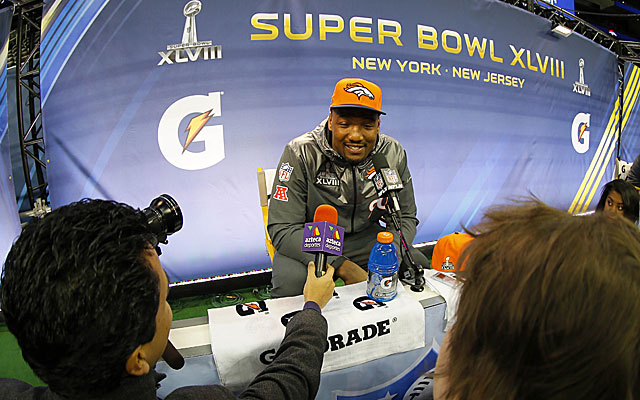 More SB coverage: XLVIII odds | Expert picks | Super Bowl news
NEW YORK -- If Shaun Phillips had to find out he was no longer wanted by the only NFL team he had ever played for, then the events of the past 12 months have only served to cushion the initially jarring revelation that he'd be leaving San Diego.
Had Phillips known he would end up in Denver at a time the contenders were desperate for pass-rush help, that he would post another double-digit sack season, go on to knock the Chargers out of the playoffs and be playing in a Super Bowl in New Jersey, he would have gladly signed up for that scenario.
Now, he's living it.
Phillips, one of the best bargains in football in 2013 with a $1 million salary, is on the cusp of what would be the greatest accomplishment of his 10-year career. He also stands to profit substantially more individually as well, with free agency looming for him again and his market value strong. The Broncos, with limited pass rushing options and Von Miller's health and off-field decision-making still in question, will be proactive to retain his services, and at age 32, still view him as a player they need on the field as much as possible.
"I really wanted to stay in San Diego, but they asked me come back as a backup," said Phillips, who was taken in the fourth round of the 2004 draft. "For me, that wasn't in my mind-set. I would have loved to stay in San Diego, but I'm happy with my situation here so I can't complain."
The Chargers, it should be noted, had a new regime in place on the coaching staff and front office, were interested in bringing in veteran pass rusher Dwight Freeney (as they eventually did) and were hoping to begin showcasing young pass rushers like Melvin Ingram more. As it turned out, Freeney and Ingram suffered major injuries, but none of that prevented San Diego from exceeding all expectations, reaching the Divisional playoffs and giving the top-seeded Broncos another strong test before losing.
For Phillips, however, the idea of now being a part-time contributor to a defense he had helped lead for so long was not appealing, and it became clear that he would be moving on. He thought about the Eagles, and there was some interest there. But the idea of playing that close to home and fielding 50 or more ticket requests a game gave him pause, and in the end it came down to Houston (a team that looked like a Super Bowl contender a year ago only to go on and lose 14 straight games in 2013) and Denver. Suffice to say, Phillips made the right choice, and his hot streak was only beginning.
Opting not to join JJ Watt in Houston turned out to be a good choice, and as it worked out, Phillips nearly doubled his salary anyway but hitting some big incentives in his contract for sacks. 
"My plan was Houston," he said. "Houston really wanted me and they showed a lot of interest. In my mind, the two best teams in the AFC were Houston and Denver. Obviously Houston had a bad year but they're a really good team. It was between these two teams and luckily I made the right choice."
While the move to Denver required a position change and some rethinking -- he was moving from a linebacker in a 3-4 defense to a defensive end in a 4-3 -- it ended up being a tremendous fit. Miller, who was a sack machine in his first two seasons, ended up suspended for the first six games, never truly got his feet under him, and then suffered a season ending injury. Elvis Dumervil, the other pass-rushing bookend, wound up not agreeing to a restructured deal due to a fax machine snafu, and Dumervil ended up signing in Baltimore for less money then Denver's last offer.
"It probably is the reason that I'm here," Phillips said of the Dumervil contract fax saga. "I sit back and think about it sometimes, but everything happens for a reason and it was meant for me to be here."
To say that Phillips was needed would be an understatement. He provided the bulk of the pass-rushing thrust for the team, helping to sustain a defense that was maligned much of the season. Phillips is undoubtedly one of the key players in this Super Bowl, with the Broncos hopeful of pressuring young quarterback Russell Wilson.
"Fans and people around said, 'Can you fill this void?'" Phillips said. "My mind said it was a no-brainer. Of course I can fill this void. I can play football and I believe in my ability. That's why I love Coach Fox and Mr. John Elway, they believed in me. That's the first thing they told me when I got here, that they wanted me to play. I couldn't be happier ...
"I went from linebacker to defensive end. It's a complete change. Even the scheme of defense is a lot different than we did in San Diego. I was worried about it. Honestly, I was nervous because I didn't pick up the defense until training camp. All OTAs I didn't have a grasp on understanding the defense. I knew my responsibility, but my technique was completely different and I was questioning if I could play. Once we got in game situations it all came natural."
Fox said: "Shaun was a guy that we knew pretty well from competing against. He was with the Chargers. He kind of had been a thorn in our side for some time. So he came over, and I think when you see people in a jersey and you don't really know them, you know how they play football, and you watch plenty of video on that, but he's been a great addition as a leader. He's been really good for defensive line room. He's a fun guy to be around. He brings energy to the building every day, so I've been nothing but impressed with him and pleased for him because he's had a heck of a season."
After a career in which Phillips has almost always been under the radar, finally he is in the spotlight. Since entering the NFL only eight men have amassed more sacks than Phillips (who has 79.5), only three fewer than Terrell Suggs by comparison and just 4.5 fewer than Freeney. Now, for his first season in Denver to culminate like this is something of a dream.
Phillips was born in Philadelphia but raised in New Jersey, and this is as close as he could get to a home game. For the first time ever there is a cold-weather, outdoor Super Bowl, and it happens to be in his backyard and he happens to be playing in it. That he ended the Chargers' season makes it even sweeter.
"It definitely fueled me," Phillips said. "Being a competitor and the type of guy that I am, that's how I made it this far in my career. They doubted me, so I used it as motivation."
And now he is just a few hours from playing in the biggest game of his life.
Lest you wonder, win or lose he has no plans to hang up the cleats after this game.
"I'm going to play until the wheels fall off," Phillips said. "I'm not ready to call it quits" or, as some teammates have threatened, to walk back to his childhood home with his uniform still on should the Broncos win the title. But he is clearly savoring every moment of this week and the series of quirks that helped re-ignite his career, and as excited as could be to play this game on Sunday.
"It's amazing," Phillips said. "This is where I started playing football. I didn't even touch a football until I was in ninth grade. I grew up in Philadelphia and when I moved to Jersey that's when I first tried football. It's pretty much where it all started for me."
Show Comments
Hide Comments
Conley, a first-round talent, has denied rape allegations that came to light this week

Lamps Plus and Charmin' are to the rescue for some smart endorsement money

Here's everything you need to know about the 2017 NFL Draft
Will Garoppolo be Tom Brady's backup in 2017 or will he be dealt Thursday?

Ben Roethlisberger, Alex Smith and Carson Palmer get youngsters to mentor in Prisco's final...

Plus Jonathan Allen falls further than expected and the Saints double dip in the secondary