Seattle might make bid to host future Super Bowl
A Super Bowl in Seattle? The executive director of the Seattle Sports Commission says the city is trying to position itself to put in a Super Bowl bid when the time is right.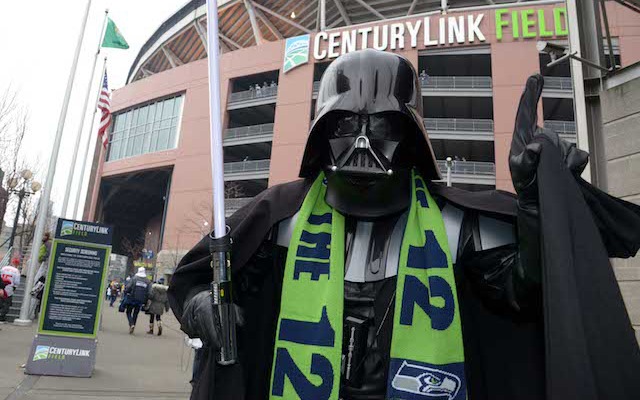 There are a lot of people in Seattle who will be watching the Super Bowl closely Feb. 2, and that group includes Ralph Morton, the executive director of the Seattle Sports Commission. Morton won't just be watching the game to root on the Seahawks though, he'll be watching it with hopes of one day bringing a Super Bowl to the city of Seattle. 
The city isn't formally preparing a Super Bowl bid right now, but it's definite possibility in the near future, "We are trying to position ourselves so we can put it in when the time is right," Morton said this week, via the Tacoma New Tribune. 
When the Seahawks played in the Kingdome (1976-99), the city of Seattle regularly put in bids to host the Super Bowl, but the Seattle gave up after being rejected fives times over 12 years. 
"Everything needs to align just right," Morton says of a Super Bowl bid. "It's going to come down to the Seahawks and (owner) Paul Allen (wanting to place a bid). And the community will need to step up in a major way. It will be a significant effort, not something to be taken lightly."
The NFL has a few requirements for any city that wants to host a Super Bowl. The league likes the stadium to seat at least 70,000 and the hosting city needs to have at least 25,000 hotel rooms. CenturyLink Field can be expanded to fit 72,000 and King County has 34,000 hotel rooms. Check and check.
The NFL also likes the average February temperature in the Super Bowl city to be above 50 degrees. Obviously, this year's Super Bowl doesn't have that, but this year's Super Bowl is an experiment. Seattle doesn't meet the weather threshold either, the average February temperature in the city is 44 degrees.
"If you decide to put in a bid and you don't meet one requirement then you better knock it out of the park in another area," Morton said. "We have things that are more important (than average temperature). Hotels, destinations, character, food, salmon, crab, microbrews, wine, walkability downtown and light rail that's expanding so we could have events at the University of Washington and Seattle Center. Seventy percent of the seats (at CenturyLink) are covered, and it's a great football experience."
If Seattle does host a Super Bowl, it won't be any time soon. Next year's game will be played in Glendale, Ariz. Super Bowl L will be played at the 49ers new stadium in Santa Clara, Calif., and Super Bowl LI will be Houston. Finalists have also been named for Super Bowl LII -- Miami, Tampa Bay, Minneapolis, Indianapolis and New Orleans. 
There might be some hope for Seattle though: Including this year's game at MetLife Stadium, three of the past four Super Bowls have been in cities that had never hosted a game before. 
Show Comments
Hide Comments
The Cowboys' draft picks since 2002 have been to 17 more Pro Bowls than the next closest t...

The Cardinals, however, don't sound enthused about his return

According to NFL Network's Michael Silver, the Browns might want to trade up to draft a franchise...
The projected top-20 pick could fall out of the draft with teams having little time to gather...

Bryant will have his progress reviewed again before the coming season

From Jadeveon Clowney to Odell Beckham, here's the option year prognosis for each 2014 first-round...