Seattle radio station will refer to 49ers as Santa Clara 49ers
A Seattle radio station has decided to take advantage of that fact that the 49ers new stadium is located in Santa Clara, Calif.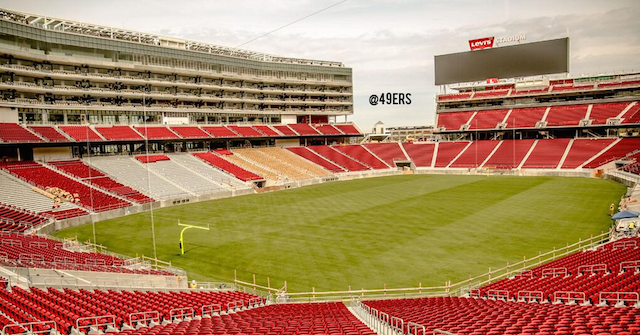 More Draft coverage: Mock Drafts | Prospect Rankings | Big Board | News
When the 49ers kick off their 2014 regular season in September, they'll be doing it in a new stadium. There's one thing small thing about San Francisco's new stadium though: It's actually in Santa Clara, a city about 40 miles south of San Francisco.
Since the 49ers will be playing their home games in Santa Clara, KJR-AM in Seattle has decided that everyone at the station will refer to the team as the Santa Clara 49ers. You know they're serious too because they made a logo and a proclamation. Some people will make one or the other, but they made both.
From now on they will be know as the Santa Clara 49ers.... pic.twitter.com/6up722zq04

— John christensen (@chrstnsnjp) May 6, 2014
KJR isn't the flagship radio station of the Seahawks, but it is a 50,000 watt AM station owned by Clear Channel, so this Santa Clara 49ers thing might actually stick -- at least in Seattle. Plus, Mike Holmgren likes it, so that has to mean something.  
Mike Holmgren is in favor of the Santa Clara 49ers. "It's funny," he said. So there.

— Kevin Shockey (@KevinShockey) May 6, 2014
Show Comments
Hide Comments
Our Latest Stories
Here's the most likely outcome for all three coveted passers

Marshawn Lynch's Beast Mode store in Oakland has some strict rules

Greg Abbott says he was trying to make a point about the NFL's statment on Texas' 'bathroom'...
It's time to play casting director for Hollywood's next big sports movie

The Saints have had a weak pass rush for years

Elliott spoke to police outside a nightclub but says he was not in any type of trouble