Shanahan wants Hall of Fame, but Coughlin's a better fit for Canton
Mike Shanahan's bio reflects how much he wants a place in the Hall of Fame, but Tom Coughlin's body of works is a much better fit in Canton.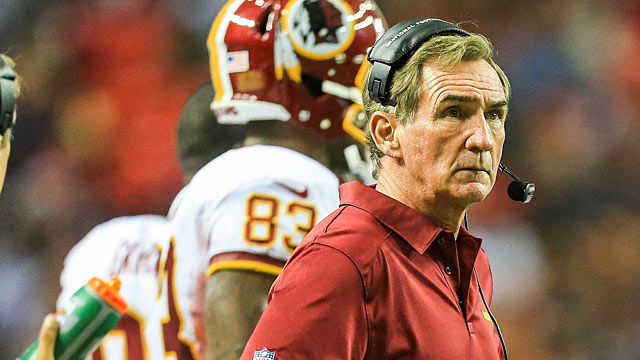 Let's assume Mike Shanahan's time with the Washington Redskins is nearing the end. You could say it basically ended last week when he benched quarterback Robert Griffin III, a thumb in the eye of his star player and the owner who adores him. You could say it basically ended when he sent RG3 onto the field last year with an obviously damaged knee, leading to the catastrophic injury that altered the trajectory of a player, a coach and a franchise. Hell, you could say it basically ended two weeks after Mike Shanahan was hired as coach in January 2010, when he picked his 30-year-old son to be offensive coordinator.
Whenever it basically happened, let's say it officially happens after this season. Not so we can have that on record as a prediction -- because who knows? -- but so we can examine the bigger picture:
Mike Shanahan's legacy. More to the point, his candidacy for the NFL Hall of Fame.
And if Shanahan's time with the Redskins is indeed finished, so is his candidacy for the NFL Hall of Fame.
Before we go farther, let's address this: Mike Shanahan wants to return as Redskins coach. He said as much Monday, and while that statement was greeted with skepticism by some -- considering the way he rebuked owner Dan Snyder by putting Snyder's beloved RG3 toy on the shelf -- I believe him. Shanahan wants to come back, and he wants to come back because he knows what I've already written:
If his time with the Redskins is finished, so is his candidacy for the NFL Hall of Fame.
Shanahan wants Canton. He wants it badly, and that's not something I'm pulling from thin air. I'm pulling it from his official team bio, which you can see for yourself right here. It's 756 words of adoration, as all official bios are, but this one also serves another purpose:
It's Mike Shanahan's campaign for the NFL Hall of Fame.
Twice in the biography, Shanahan whoever wrote it mentions where his various career feats match up with Hall of Fame coaches. The first one comes 150 words into the bio. The second comes less than 300 words into the bio. What I'm saying is, before the biography is halfway finished, Mike Shanahan has made it clear that he thinks he belongs in the Hall of Fame.
When does the bio first mention John Elway? It doesn't. It never mentions the biggest reason Mike Shanahan is in the Hall of Fame conversation in the first place, not even when the bio takes way too much credit for the Broncos' three Super Bowl appearances in the 1980s, noting that Shanahan was a "driving force behind the Broncos' offense for all three of their Super Bowl appearances in the 1980s (following the 1986, 1987 and 1989 seasons)" even though Dan Reeves was the coach and John Elway was the quarterback and Mike Shanahan wasn't even in Denver for half the season the Broncos went to the Super Bowl in 1989. Shanahan started that season as coach of the Raiders, but apparently that's how good he was as the Broncos' offensive coordinator from 1985-87 -- he was a driving force behind Denver's Super Bowl appearance in 1989.
(The bio also talks about Shanahan's three years as offensive coordinator with the 49ers from 1992-94, pointing out that "the 49ers' offense reached unprecedented levels under his leadership." When does the bio mention Steve Young, Jerry Rice, Ricky Watters, John Taylor or Brent Jones? It doesn't.)
The man's ego knows no bounds, but I give him credit for knowing this: His Hall of Fame candidacy, pretty much a sure thing when he left Denver after the 2008 season, is now very much in doubt.
It's in doubt because the longer he stays in Washington, the more Mike Shanahan's Hall of Fame candidacy looks like a function of John Elway's greatness, if not an outright figment of Shanahan's imagination. If his time with the Redskins ends like this -- his record in Washington is 24-38, with two games left this season -- his resume will be very clearly divided into two camps: Time with Elway, time without Elway.
With Elway: 47-17 record in four years (.734 winning percentage), two Super Bowl titles in four years. Without Elway: 123-119 record (.508), four playoff appearances in 16 years, one playoff victory.
With Elway, Mike Shanahan was a Hall of Fame coach. But he spent just four seasons with Elway, and that's not enough, not when Shanahan was a mediocre coach without him. Shanahan lost in Los Angeles, he's losing in Washington, and even though he was pretty good in Denver after Elway retired following the 1998 season -- going 91-69 over the next decade -- we're talking about Canton. Immortals only. Shanahan was pretty good in Denver without Elway, but it's not the Hall of Pretty Good.
Thing is, Shanahan would've had us fooled had he simply retired after being fired by the Broncos in 2008. At that point his career coaching record was 146-98 (.575) with those two Super Bowls, and that probably gets him into the Hall of Fame. That's enough wins, enough Super Bowls, enough winning percentage -- and without enough negatives. The short stint with the Raiders? An anomaly. Typically antsy Al Davis. That's how it could have looked in 2008.
That's not how it looks now. Now Shanahan looks like a guy -- is a guy -- who has been a head coach in three NFL cities and flopped at two of them. Compare that to another two-time Super Bowl-winning coach, Tom Coughlin, who led the expansion Jaguars to the AFC championship game in their second season and had a better winning percentage in eight years with an expansion team (.531) than Shanahan has had in 20 years without Elway (.508). And then Coughlin went to the Giants and won two Super Bowls, winning them with a quarterback (Eli Manning) who is very obviously good but just as obviously not in the same class as John Elway.
If both coaches are finished after this season and only one of them gets into the Hall of Fame, the choice is obvious, and the choice is Tom Coughlin.
Even if Mike Shanahan did, as his bio points out, start his career "as an offensive assistant at Oklahoma from 1975-76. The Sooners won the national championship in his first year on its staff."
Show Comments
Hide Comments
Remember when the Falcons blew a 28-3 lead in the Super Bowl? The Bucs do

Wearing a No. 1 jersey, Jackson was unmistakable when running deep routes one-on-one on Tu...

The quarterback missed the 2016 season because of a torn ACL and dislocated left knee
It's reportedly a five-year deal that has a clause to turn it into an eight-year deal

Though Gronk has dealt with injuries, he's the Patriots' most important weapon when health...

The Bengals coach says he doesn't understand why the NFL wants to give in to individual ce...