Six for Sunday: Backup QBs aren't acting like backups; can that last?
We're deep into the NFL season and Nick Foles, Case Keenum, Jason Campbell and Josh McCown are keeping it together for their teams.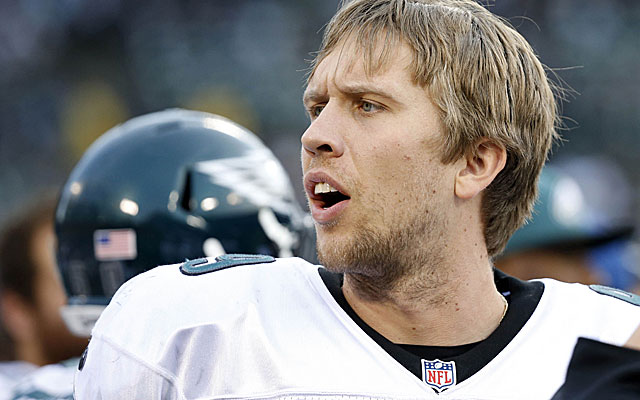 We're getting to the nitty-gritty of the NFL season and a few things are starting to stand out -- and surprise.
They don't throw like backups
If I had told you that Nick Foles ( Philadelphia Eagles ), Case Keenum ( Houston Texans ), Jason Campbell ( Cleveland Browns ) and Josh McCown ( Chicago Bears ) would all be starters in the NFL and by mid-November wouldn't even have thrown a single interception you would have challenged me.
Well, the four guys are starting and they have combined for 383 passes with 32 touchdowns and zero interceptions. Keep in mind, they got very few reps all summer and in the case of McCown, Keenum and Campbell were running the scout team. Can they keep their good decision-making and accurate passing going this weekend and lead their teams to victories?
Can they stop their road woes?
It's hard to win on the road in the NFL and after a while teams that really struggle find it difficult to even get on the plane for the trip.
The Oakland Raiders , Atlanta Falcons and Minnesota Vikings are a combined 0-12 on the road and will be on planes again Saturday. I wouldn't be surprised if they have an 0-15 record by Sunday night or at best 1-14. Can you figure out which team has the best chance to win?
Always defending their home
Four teams with perfect home records will be defending their turf this weekend. The Seattle Seahawks are not only 5-0 at home but have won 13 straight in Seattle, averaging 30 points per home game and giving up just 13. Good luck to Vikings, who have to go into CenturyLink Field.
New Orleans Saints is 5-0 at home, averaging 35 points a game and giving up 15 points. Good luck, San Francisco.
Denver Broncos is another 5-0 home team and 12-1 at home since Peyton Manning arrived, averaging 37 points a game. Can the undefeated Chiefs stop the Broncos?
Finally, the Cincinnati Bengals may be 2-4 on the road but they are 4-0 at home and giving up just 14 points a game. The Browns come to town and have to do better than the Bengals' first four victims: Pittsburgh, Green Bay, New England and the Jets.
When top 10 meets top 10
What has happened so far this season when a top-10 defensive team meets a top-10 offensive team? Much to my surprise the defensive teams have trumped the offensive teams by almost a 2-1 margin. This weekend three of the top 10 defensive teams go head to head with top-10 offensive teams.
Kansas City takes on the Denver offensive machine, San Francisco goes head to head with the Saints offense, and Cleveland's top-10 defense tries to stop the Bengals' offense. I have a feeling the tables will turn as the offenses try and close the gap on those defenses.
Sweep vs. split
Unlike in college, NFL division rivals play home-and-home series with each other. This weekend there are four rematch games. The Jets travel to Buffalo, a team they beat 27-20 at home. The Browns travel to Cincinnati, a team they beat 17-6. Atlanta travels to Tampa Bay, a team it beat 31-23 and the Redskins head into Philadelphia after losing to the Eagles in the season opener 33-27.
I wouldn't be surprised to see three of the losers of the first game win the rematch and split the series. There are more splits than sweeps every year in the NFL.
Protect the most important guy
Most would agree that the quarterback is the most important player on the field (the possible exception being a kicker in OT). Where would the New England Patriots be without Tom Brady ? Well, the answer is nowhere and if the team doesn't clean up its pass protection against the Carolina Panthers this weekend he could be in trouble.
Brady has been sacked once every 14 pass plays this season, as compared to last year (one in 25) and for his career (one in 21). The Panthers have 29 sacks from 12 different players and they are at home. Watch out, Tom Brady.
The same could be said for Peyton Manning, who faces the Chiefs and isn't at 100 percent mobility. Kansas City leads the NFL in sacks with 36. Kansas City's defense records a sack once every 10 pass plays and Manning likes to throw 40 times a game. That could work out to four sacks and Manning's career record when being sacked four times is 5-9.
Show Comments
Hide Comments
Jon Robinson has been responsible for five trades since he was hired in January 2016

Four defensive backs are picked in the final five spots of the first round in Rob Rang's final...

The last version of Will Brinson's 2017 NFL Mock Draft sees the Chiefs land their new franchise...
Character has become such a concern for draft prospects that scouts spend a majority of their...

Also, expect Haason Reddick to go higher than expected and Reuben Foster to be taken on Th...

Plus the Cowboys and Steelers find new cornerbacks late in the first round in Dane Brugler's...