Six for Sunday: There is no fear in these Panthers
It's a make-or-break week in the NFL, especially in the NFC South where Carolina visits New Orleans with first place on the line. Elsewhere, QB sacks continue to pile up in historic numbers.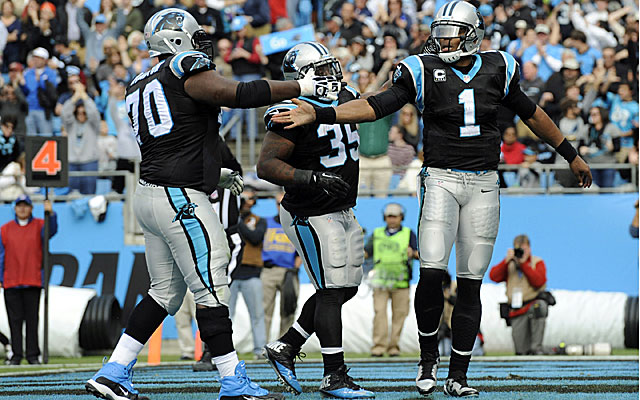 Week 14 in the NFL has a make-or-break feeling for several teams. For some the division title is on the line, others are focused on staying alive in the wild-card race and for many it's down to winning just to keep their jobs. The pressure is on for sure, and how teams handle themselves right now is critical.
1. History says
Not only did the New Orleans Saints take a beating out in Seattle but their plane was delayed coming home on a short week to prepare for a division showdown with the Carolina Panthers (with the division lead on the line). Two strong piece of history are working against the Saints this weekend. The Panthers don't fear the Saints and actually don't fear going into the Superdome, where Carolina is 4-3 since Drew Brees arrived. The other big piece of 2013 history staring down the Saints is the record of teams the week after playing Seattle. Teams coming off a game against the Seattle Seahawks are 2-8-1 and average just 17 points win, lose or tie.
2. Lions, Eagles piling up sacks
The Detroit Lions head into Philadelphia for a game that will have playoff implications, and both defenses really have been getting after quarterbacks lately. In the last two weeks Detroit's defense has recorded 11 sacks, while the Philadelphia Eagles got to the QB nine times. Matt Stafford and Nick Foles had better be ready for a rough day if they don't get rid of the ball. It looks like young Foles, who has been sacked eight times in his last two games as compared to Stafford's three, is the guy in the most jeopardy.
3. We just hit 1,000
NFL quarterbacks finished Week 13 with 1,000 sacks, and Thursday night's game added four more. There are a lot of reasons 57 quarterbacks have thrown at least one pass in games this year and why so many teams have used multiple starters at QB. Injuries come from hits, and all the rules in the world aren't going to protect quarterbacks from sacks, which lead to injuries. Back in 2000 NFL quarterbacks were sacked 1,232 times, which was the highest total in 13 seasons. There are 63 games to go in the regular season. If each game averages just under four sacks we will see a new high for this century. I fully expect this year to be the worst year for quarterbacks. Keep an eye on the total number of sacks in Week 14. This weekend we will see 10 quarterbacks who weren't opening day starters getting the nod for medical reasons.
4. How good are the Hawks?
The Seahawks have made a strong impression on most football fans. They have all but locked up home field advantage for the playoffs and look unbeatable in their building. Not only have they beaten San Francisco, Carolina and New Orleans this season -- the three other NFC teams with the best records -- but they held them to a combined 17 points, or 5.6 points a game. A year ago the story was that the Seahawks weren't a very good road team, but this year no team in the NFL has more road wins. This week they march into San Francisco for the rematch of the 29-3 win back in September. Another win by Seattle combined with wins from the Eagles and Dallas and the Niners will be on the outside looking in during the playoff race. An Arizona win at home over St. Louis and the plot thickens even more. San Francisco is in a must-win situation. San Francisco has scored just 16 points on Seattle in their last two meetings while giving up 71. Something better change!
5. Did you know?
Ben Roethlisberger has just gone two straight games without being sacked for the first time in his career, and he has only been sacked once in his last 124 throws. … Josh Gordon is on fire. The young Cleveland Browns wide receiver has more than 200 yards receiving in each of the past two games but now faces a Bill Belichick defense that has never given up 200 yards to any receiver, plus the Browns' QB situation is up in the air. … Atlanta Falcons QB Matt Ryan is on the road this week, where he has thrown 11 interceptions to just one at home. … St. Louis has discovered a run game over the last five weeks with 161 carries, 842 yards and six touchdowns. That may all come to an end this weekend in Arizona. In the last five games the Arizona Cardinals run defense has held teams to 64 yards rushing a game, at 3.2 per rush. … Adrian Peterson is coming off a 211-yard rushing day last week and heads into Baltimore carrying his team on his back. The Baltimore Ravens run defense has given up two rushing touchdowns all year and just one at home. No running back has ever come into Baltimore and rushed for 200 yards. … How bad is the Chicago Bears run defense? They gave up 504 yards in 69 carries in the last two games, and here comes Dallas, which ran for 144 yards last week.
6. Luck and Dalton
It sounds like a law firm but it is a story of two young quarterbacks facing one another this weekend while trying to hold onto division leads … and they have issues. Andrew Luck and his Indianapolis Colts will hold off the weak AFC South but a big question is how far can they go without Reggie Wayne ? The Colts haven't scored a touchdown in the first half of their last five games and are constantly playing catch-up football. Luck has only thrown two touchdown passes in his last four games with six interceptions and 10 sacks. Andy Dalton has the Ravens breathing down his neck and he has 10 turnovers in the last four games.
Show Comments
Hide Comments
The Cowboys' draft picks since 2002 have been to 17 more Pro Bowls than the next closest t...

The Cardinals, however, don't sound enthused about his return

According to NFL Network's Michael Silver, the Browns might want to trade up to draft a franchise...
The projected top-20 pick could fall out of the draft with teams having little time to gather...

Bryant will have his progress reviewed again before the coming season

From Jadeveon Clowney to Odell Beckham, here's the option year prognosis for each 2014 first-round...