Six from Sunday: 5-0 means good start; finish might be different story
Well done, Saints, Chiefs, Broncos. But 5-0 means little, especially now that foes have more information to use in preparation.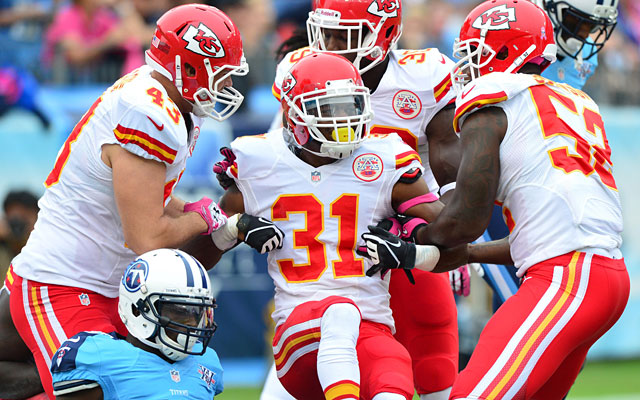 1. And then there were three
The teams that are 5-0 (New Orleans Saints, Kansas City Chiefs, Denver Broncos) have put themselves in a great statistical area. Since 1990, 90 percent of the teams to achieve this record have made the playoffs.
But here's a look at 5-0 teams over the past five seasons for a reality check:
2012: Texans and Falcons; made playoffs, didn't reach Super Bowl
2011: Packers and Lions; made playoffs, didn't reach Super Bowl
2010: No team was 5-0
2009: Colts, Broncos, Giants, Vikings and Saints; Giants and Broncos didn't make the playoffs; Saints beat Colts in Super Bowl
2008: Titans; made playoffs, didn't reach Super Bowl
Put it all together and the past 10 teams to be flying high at 5-0 produced one Super Bowl champion. There's a lot of work still to be done for the 2013 undefeated teams.
2. Scouting reports, breakdowns changing things
This was the first week teams had four-game scouting reports on their opponents. These reports are the usual choice by most head coaches to get a solid picture of what they have to defend or attack.
Real scouting reports this time of year -- breaking down personnel groups, formations, protection schemes, motion landmarks, audibles, play calls by down and distance, stunts, fronts, pressure calls, coverages and field position tendencies -- give teams something concrete to work with as they prepare.
As one linebacker I spoke with Sunday after a victory said, "We were wired to those guys and the tip sheet the coaches gave us was right on target."
It was clear the Cowboys and Broncos had a very good feel for the opposing defense. The Green Bay-Detroit game was a good example of a contest where teams looked like the scouting reports were in play and the defenses appeared to benefit. Green Bay came in averaging 32 points and finished the game with 22. The Lions came in averaging 30.5 and finished with 9. Both Chicago and New Orleans didn't hit their season averages in points.
Although some teams scored above their season average, the effectiveness of four-game scouting reports was evident to me. These scouting reports are being driven by information that isn't based on last season, preseason or just plain conjecture. Every team in the NFL needs to really pay attention to their own self-scouting this week and for the rest of the season because they all need to know what their opponents are learning about them.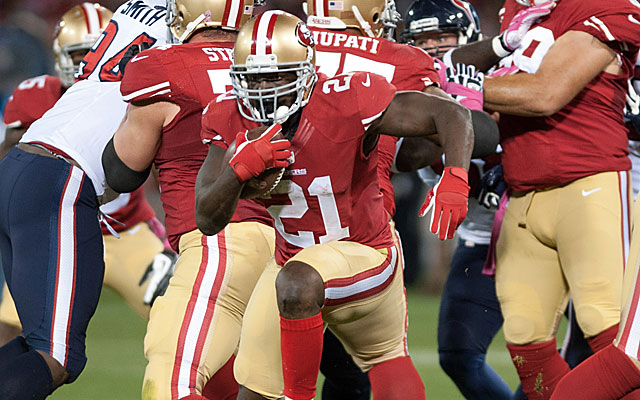 3. Harbaugh plan works again
The 49ers were on a two-game slide after losses at Seattle and home against Indianapolis. Jim Harbaugh's prescription was to run the ball 40 times against the Rams and re-establish the true foundation of the San Francisco offense.
John Harbaugh was confronted with the same situation after a bad loss to the Bills last week when the Ravens ran the ball nine times. In the middle of the third quarter of that Bills game the Ravens were down by one score and ran the ball just two times the rest of the day. This week John turned to Jim's formula for success and ran the ball, you guessed it, 40 times.
I don't expect either Harbaugh to drift too far from their run schemes as the season goes on.
4. Young tackles
Last week the struggling Jaguars had Eugene Monroe and Luke Joeckel as their starting tackles. With all the problems Jacksonville is facing as the NFL's worst team, offensive tackles were at the bottom of the list. The Jags traded Monroe for draft picks and lost Joeckel for the season Sunday.
Now two former undrafted players with very little NFL experience, Austin Pasztor and Cameron Bradfield, are the starting offensive tackles. Next Sunday the Jaguars visit the Broncos. I don't think the Jacksonville QBs will be getting much sleep this week.
Maybe the Jaguars can call the Ravens, who acquired Monroe, and find out if Bryant McKinnie is available?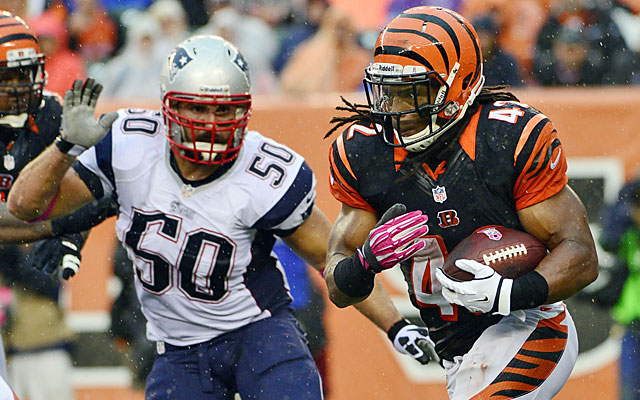 5. First game without Wilfork
The Patriots lost their defensive leader and the defensive line's most imposing figure, Vince Wilfork, in Week 4. On Sunday, the Bengals wasted little time going right at the spot Wilfork would have been.
Cincinnati came into the game averaging just under 25 runs a game at 3.4 yards a carry. Cincinnati beat the Patriots by running the ball 39 times for 162 yards -- 4.2 per rush. It was the most rushing yards the Patriots have given up this year and the most rushing yardage the Bengals have had this season.
Next week the Patriots play the Saints, which is hard enough, but if New Orleans finds a groove running the ball it could be a tough game for New England.
6. Back from suspension
It was great to see players back from their four-game suspensions play well. It is important to note that suspended players are allowed to stay at the facility during the suspension and train. They can't practice but they can attend meetings and workout.
That training was evident for three players coming off suspension:
• Cardinals linebacker Darryl Washington looked like he never left, leading Arizona with nine tackles, two sacks, three tackles for a loss, two hits on the quarterback and an interception.
• Bruce Irvin rejoined the Seahawks and had a solid day with four tackles, a sack, a tackle for loss and a hit on the quarterback.
• Justin Blackmon rejoined the Jaguars and led the team with five receptions for 136 yards and a 67-yard touchdown.
Show Comments
Hide Comments
Our Latest Stories
No days off? Belichick one of two coaches to miss group photo

The 39-year-old quarterback doesn't plan on retiring anytime soon

Lamp's performance continues the momentum he's created for himself throughout his senior s...
Not everyone was on board with the Raiders' move

'I want to make it as terrible and horrible for Mark Davis as possible,' says one former Raiders...

This what the Raiders' new stadium might look like