Six from Sunday: With playoff lives on line, winners keep it on ground
The NFL is a passing league now, right? But when there are playoff games to win, the victorious teams are keeping it on the ground.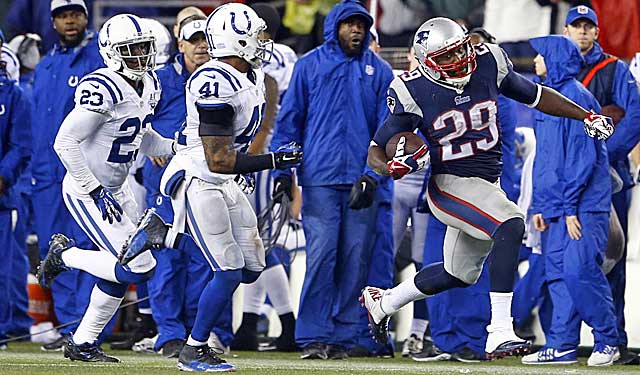 Prisco: Bring on title games | La Canfora: Playoff chameleons | Playoff Bracket
We're down to the final four teams, and some tried and true formulas are once again in play. The ground game is back in fashion. The philosophical differences between conferences make things interesting, penalties are back to normal and there are some trends to examine closely.
1: Run your way to the Super Bowl
Rushing offense exploded in the opening round of the playoffs when the Chargers, Colts, San Francisco 49ers and Saints each rushed for more than 100 yards on their way to wins -- averaging 162 yards per team.
In the Divisional round, teams came out running and again all four winning teams exploded on the ground, and it wasn't only a matter of running out the clock to defend a lead. The four winners -- Denver Broncos , New England Patriots , 49ers and Seattle Seahawks -- averaged 167 yards on the ground.
During the regular season, NFL teams ran 42 percent of the time and passed 58 percent of the time. In the divisional round of the playoffs, the winning teams flipped the regular-season ratio, going 57 percent run and 43 percent pass. All four winning teams this week increased their rushing to passing ratios.
NFL playoffs: Take it on the run
Playoff team
Reg. season Rushing/Passing
Div. Round Rush/Pass
Patriots
41.3 percent/58.7 percent
63 percent/37 percent
Broncos
39.9 percent/60.1 percent
48.5 percent/51.5 percent
Seahawks
52.3 percent/47.7 percent
62.5 percent/37.5 percent
49ers
52.5 percent/47.5 percent
54 percent/46 percent
2: What were the Bucs thinking?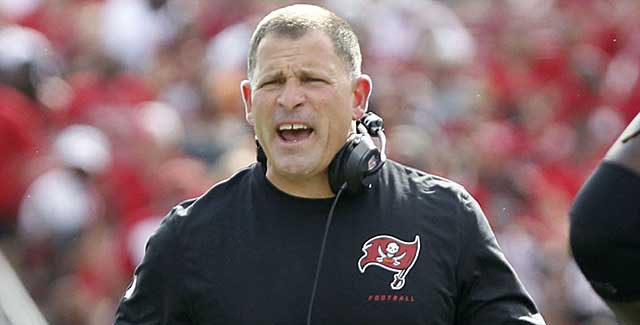 As I watched the Patriots win another playoff game in the Bill Belichick Era, and with Belichick's sixth Super Bowl appearance only a game away, I couldn't help but scratch my head at how the Tampa Bay Bucs enhanced the Patriots.
Greg Schiano lasted only two seasons as the Tampa Bay's coach and was shown the door after an 11-21 record. On his watch, the Bucs surrendered three players who manned critical roles in the Pats' win over Indianapolis.
Running back LeGarrette Blount was a beast 166 yards and four touchdowns on 24 carries. Cornerback Aqib Talib is the Patriots' best lockdown corner. And least known former Buc is defensive tackle Chris Jones , who the Patriots picked up on waivers back in September. All Jones did vs. Indy was collect four tackles, a sack, a tackle for a loss and two hits on the quarterback.
Some would say New England raked Tampa Bay over the coals, but the truth is the Bucs simply didn't want these guys anymore. I learned years ago you replace talent with talent or you don't get rid of the talent.
3: Impact of playoff rookies, for Pats, anyway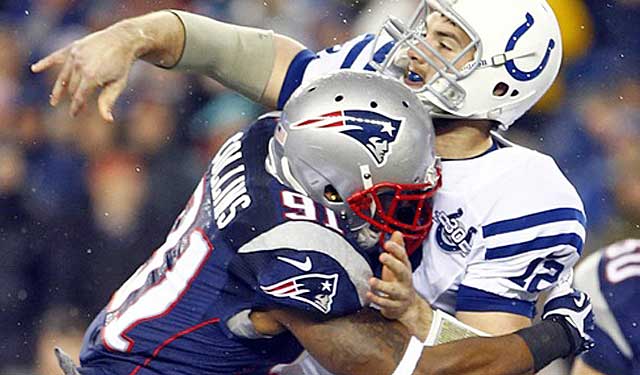 There is always so much excitement around the NFL Draft, as if these young men with no professional experience will save the day for clubs selecting them.
In Week 1, there are usually 20 to 30 rookies starting, which constitutes about 4 percent of the starters. The number of rookie starters balloons to somewhere closer to 60 rookies by December because of injuries, but when you take a look at the four teams left in the playoffs it is a reality check on rookie impact, except for the Patriots.
Among the other three teams, the Broncos had one rookie starter this week -- DT Sylvester Williams . Running back Montee Ball was a solid backup but that's it for contributions from Denver's rookies. For the 49ers' lineup, only first-year safety Eric Reid cracked the lineup. The Seahawks really had no rookies contribute as starters or important backups.
But the Patriots are quite a different story.
Jamie Collins , the second-round linebacker, emerged Saturday after Belichick put Brandon Spikes on IR. And Collins stole the show, supported by four more impact rookies. I watched Collins at the Senior Bowl last year (after a career at Southern Miss) and he was versatile and hungry; he could really play most defensive positions. And he was spectacular vs. the Colts: Six tackles, a sack, two tackles for a loss, three hits on the QB, an interception and another pass defended. All of that production from a guy that played on a 0-11 college team the year before.
The Pats' two defensive tackles were undrafted rookies ( Joe Vellano , Chris Jones) and they combined for nine tackles, two sacks, two tackles for a loss, and two hits on Andrew Luck . Throw in two more undrafted rookies in WR Kenbrell Thompkins and punter Ryan Allen , both hurt in the game, and once again Belichick is doing a remarkable job.
4: Colliding conference styles remain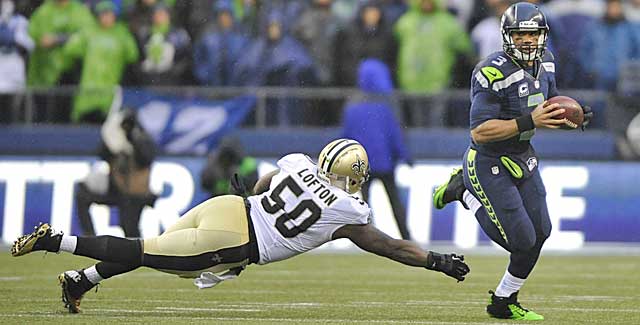 As the AFC and NFC continue toward their showdown in the Super Bowl, they couldn't be more different.
The AFC features two Hall of Fame quarterbacks in their late 30s who stand in the pocket and deliver the ball in a classic style. Tom Brady and Peyton Manning don't even consider running. Brady has 33 yards in 17 rushing attempts this season -- and one carry was for 11 yards. Manning isn't even that good as a ball-carrier. Manning also has 33 carries for minus-32 yards, and his longest run is for zero yards.
In the NFC are the two "new wave" quarterbacks. Russell Wilson and Colin Kaepernick reached this point in the season because of their feet. Combined they have 1,192 yards and 66 first downs running with the ball.
Will an old, reliable pocket passer win yet another Super Bowl or is it time for an explosive, athletic runner under center to take home the trophy?
5: Penalties back in order
Compared to the regular season, the average number of penalties was cut in half over the four first-round games as compared to the regular season. During the 17-week schedule, NFL games averaged 14 penalties a game. The first round of the playoffs saw the average penalties called drop to 7.7 per game in what appeared to be a let-them-play attitude.
The league warned teams that postseason games would be called just like regular-season games, indicating that the divisional games likely would go right back to 14 penalties per contest.
A few coaches told me they were aware of the relaxed attitude toward throwing the flag in wild-card games, but were reluctant to tell their players it was a postseason trend. Good idea, because two divisional games hit 14 penalties right on the head and the four games averaged 12.2 penalties per game.
No game was more strange than the AFC game at Denver, with five neutral-zone infractions by five different Chargers. Teams averaged 10 of those calls over a 16-game regular-season schedule, and the Chargers were only called for it 10 times all season. Rest assured that the Patriots will look very closely at those five calls to see if Peyton Manning's hard count or sudden movements were drawing the players over the line of scrimmage. The Patriots were only called for defensive off-sides three times during the regular season.
6: Remaining coaches and schemes
Owners and GMs study and follow trends, and the remaining teams may provide some clues as to what's around the corner for teams looking to emulate the final four teams.
Three of the four head coaches are from the defensive side of the ball. Pete Carroll, Bill Belichick and John Fox all came up as defensive coordinators. The only offensive-minded head coach left is Jim Harbaugh. When it comes to which defensive schemes got teams to the final four, the 4-3 defense won out 3-1, with San Francisco as the only 3-4 package left.
Show Comments
Hide Comments
The Notre Dame coach clarifies his earlier comments about his former quarterback

The Cowboys owner says he's better now than ever

Sometimes it's hard to figure out what the Bills are doing
Peterson would join a formidable backfield that includes Mark Ingram and, of course, Drew...

John Schneider has a simple rule: He doesn't like lying to people

Kizer, the former Notre Dame standout, is one of the top QBs in the draft class