Sorting the Preseason Pile: Rodgers is releasing the football really quickly
The Packers are running no huddle and Aaron Rodgers is passing at a ridiculously quick pace. That plus much, much more in Sorting the Preseason Pile, Week 2.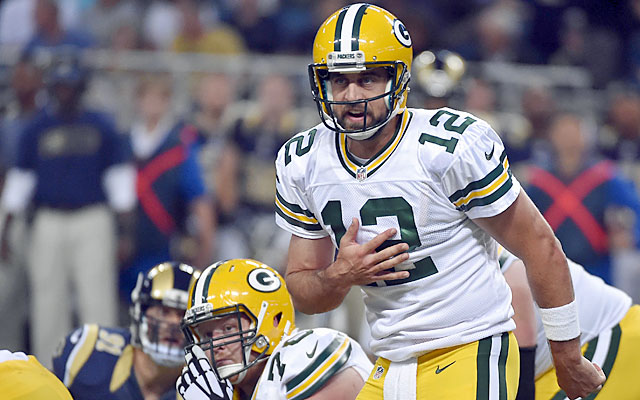 Hot sports take alert: The Green Bay Packers will be good on offense in 2014. It's a pretty commonly accepted viewpoint, assuming Aaron Rodgers is healthy, but what we don't know is just how good they'll be overall.
If Week 2's tiny little slice of preseason was any indication, there's no ceiling.
It's a small sample size, but during the first two series against the St. Louis Rams , Rodgers and Green Bay's offense looked virtually unstoppable. Eddie Lacy ran well.
Week 2 -- at least the first two series anyway -- offering a tiny glimpse into what Aaron Rodgers and this offense look like when operating at peak efficiency. In those two series, Rodgers and Mike McCarthy used a quick-strike, no-huddle passing game to completely neuter the vaunted Rams pressure.
Using the highly scientific method of pressing "Start" and "Stop" on my phone's stopwatch, I clocked how long Rodgers was holding the rock during his two drives.
Aaron Rodgers' time holding the ball
Down & Distance
Release Time(s)
Result

1st & 10

1.98

4-yard dump pass to Eddie Lacy

2nd & 6

4.28

14-yard scramble by Rodgers

1st & 10

0.80

7-yard pass to Jarrett Boykin

2nd & 3

1.68

6-yard pass to Jarrett Boykin

1st & 10

1.17

9-yard pass to Randall Cobb

2nd & 1

2.88

18-yard dump pass to Eddie Lacy

2nd & 3

4.00

3-yard TD pass to Cobb, roll right

1st & 10

1.88

INC deep left to Jarrett Boykin

2nd & 10

2.30

22-yard pass to Randall Cobb

1st & 10

1.37

9-yard pass to Brandon Bostick

1st & 10

2.33

INC short right to James Starks

3rd & 5

1.21

8-yard pass to Jarrett Boykin

1st & 10

4.78

35-yard pass to Andrew Quarless

3rd & 8

3.57

TD Nullified (10-yard to Jordy Nelson )

3rd & 18

1.08

7-yard pass to Andrew Quarless
The average of those pass attempts, timed from snap of the ball to the ball leaving Rodgers' hand was a crisp 2.36 seconds.
It's worth noting a couple things. One, you want to get the ball out quick against a pass rush like the Rams. Two, a lot of the bigger gains (like the ones under the two-second range) were on quick outs to his receivers.
But those quick outs are precisely why we can expect big things from this offense in 2014.
Rodgers and his wideouts looked on the same page, and the trio of Jordy Nelson, Randall Cobb and Jarrett Boykin are adept at getting open quickly and then turning upfield. (They can also serve as deep threats, all in different sorts of ways.)
When you throw Eddie Lacy and his receiving skills into the mix, you get a truly dynamic offense, especially when everyone -- including the line -- looks this comfortable running the no-huddle offense.
"It felt natural. It's definitely becoming second nature to me," Lacy said of catching passes.
In his second season, Lacy's more in tune with the complete playbook and it's a huge boost for the offense. If he's capable of being in the game for every scenario on all three downs, Green Bay becomes flat-out dangerous.
"I'm able to play a lot faster and not second guess as much," Lacy said.
That knowledge and ability means the entire offense will operate faster. Nothing's hotter than tempo and pace in the NFL these days, but with good reason. It gives the offense the edge, as Oregon coach -- and former OC under Chip Kelly -- Mark Helfrich noted last year.
"Through our formations and adjustment, we want the defense to show us how they are adjusting and playing us. We may go unbalanced or use motion to make the defense adjust," Helfrich said at a coaching clinic in 2013. "Early in a game we want to show things we saw on film and watch the defensive adjustments. Defenses do not have time to adjust too much when you push the tempo. What the quarterback sees is what he generally gets."
Rodgers, per my times, averaged 2.36 seconds getting the ball out in his 15 plays. Pro Football Focus charted him with a similar time, 2.33 seconds on 14 plays (they likely didn't account for the nullified touchdown).
This would be an increase for Rodgers from 2013 when he averaged 2.43 "seconds to attempt" (the time from the ball was snapped to his pass attempt) over the course of the season per PFF's database.
Laugh at 0.1 seconds and the small sample size all you want: It appears to be a trend: PFF timed Rodgers at 2.63 seconds in 2012.
If the Packers are putting an emphasis on Rodgers becoming even quicker with his delivery from the pocket and ratcheting up the pace of their offense at the same time, good luck to defenses trying to keep up.
The Regression Bowl
Sunday night's "marquee" matchup between the Carolina Panthers and Kansas City Chiefs , dubbed the "Regression Bowl" by colleague Pete Prisco, wasn't always pretty. Cam Newton , in particular, struggled with accuracy early in his first game back from a surgically-repaired ankle.
The Panthers weren't doing the best job protecting him during the first two drives against KC's first-team offense, but Newton eventually found a groove and started hitting his wideouts. If the line can hold up, this will be a better receiving corps than Carolina had last year.
Pressure was a problem for the Chiefs too, notably with left tackle Eric Fisher . He looked in over his head most of the game and definitely wasn't up to handling Greg Hardy by himself. With the offensive line losses for the Chiefs this offseason, they've got to be nervous about protecting Alex Smith .
Don't sleep on Marshawn
The
San Diego Chargers
-
Seattle Seahawks
matchup this week was a good one to watch. Unless you're a Chargers fan anyway. As always: it's the preseason. Not everything that happens matters.
But the Seahawks devastated San Diego and two massive red flags emerged for the Bolts. First, the offensive line. Playing the Seahawks defense is never easy, even in an exhibition affair. But D.J. Fluker struggled with Cliff Avril 's speed multiple times and the Chargers generally couldn't keep pressure off their quarterbacks.
The defense is a massive red flag too. Seattle had their way, especially on the ground. Christine Michael averaged 5.6 yards per carry, a beefed-up-but-still-slim Robert Turbin averaged 6.8 and we didn't even see Marshawn Lynch .
Of note: CBS Sports' own Pat Kirwan, who knows Pete Carroll's crew well, said in our Seahawks season preview Lynch looks "ridiculously good" in practice.
"It's too early for me to say this. But he was ridiculously good in practice," Kirwan said. "Scary good. Their defense couldn't stop him."
He was actually talking about the Seahawks defense. If Lynch was playing the Chargers he might've run for 100 yards in the first quarter alone.
Jadeveon Clowney does it again
It wouldn't be our weekly preseason recap without a nasty hit from Houston Texans rookie Jadeveon Clowney right?
The Atlanta Falcons tried to pull a guard toward Clowney with Sam Baker (who's now out for the year) stepping up to block at the next level. Bad idea jeans and Antone Smith paid the price.
Clowney also had a sick sack of Matt Ryan , and while he and J.J. Watt are quite good at putting pressure on opponents, the Falcons have to be worried about whether or not they can protect him all season.
Jake Matthews has to play the left side of the line with Baker out of the season and it's going to mean more and more struggles for this offensive line. Major concern.
Smith, by the way, called Clowney "just a guy." That's pretty funny from a "you got knocked the [bleep] out" kind of way.
Rated rookies
This rookie quarterback class is getting plenty of run this preseason. Each one of them might warrant a separate discussion but it's early yet. Let's catch you up on their goings-on in rapid-fire format.
Teddy Bridgewater : After struggling through the first week of action, Teddy Bridgewater put on a show Saturday night for the Minnesota Vikings . He finished 16/20 for 177 yards and two touchdowns, including this dime of a fade to Rodney Smith with 18 seconds left to win the game.
Bridgewater didn't steal the starting job from Matt Cassel but he's making things interesting.
Blake Bortles : I covered most of Bortles' performance during our Thursday night takeaways piece but the gist is similar to Teddy: he looks better than anyone expected and he's gonna make the Jags' decision to start Chad Henne tough. Especially if he keeps doing stuff like this:
Bortles looked off the safety, ran through his progressions and dropped a dime to Kerry Taylor , one of many good passes en route to an 11/17, 160-yard day.
Zach Mettenberger : Maybe the biggest blow-up week of all the youngsters, Mettenberger finished 20/25 for 269 yards, a pair of touchdowns and a pick against the New Orleans Saints . Included in that was him stepping up and making a big boy throw to Justin Hunter  for a long touchdown.
Jake Locker is the guy for the Tennessee Titans but Mett stealing the starting job at some point -- he fits the Ken Whisenhunt mold -- wouldn't be surprising at all.
Aaron Murray : Everyone was all like "What about Alex Smith's contract?" And before the second "blah" of "blah blah blah" could get out … BAM. Murray hits Travis Kelce for the long score.
Derek Carr : The Oakland Raiders rookie put in a solid effort (9/16, 109 yards, 1 TD) before exiting late in the fourth quarter with a concussion and a rib injury. Not a good look to have the future of your franchise get devastated late in a meaningless preseason game. Matt Schaub 's still the clear-cut favorite here.
The good and bad of Hakeem Nicks
It's only one game and it was against his old team (revenge factor) but Hakeem Nicks looks like yet another reason the Indianapolis Colts should open up their offense and let Andrew Luck wing it around.
Nicks caught five passes for 53 yards and appeared to flash the sort of potential that made him a first-round pick.
Of course, he also flashed a little bit of bonehead behavior, waving at his old teammates in a taunting fashion and drawing a flag for it.
"Coach [Chuck] Pagano definitely talked to me," Nicks said of the 15-yard flag. "He knew I knew better. He talked to me. ... I got caught up in the moment."
The good part of Nicks -- how well he played -- makes you wonder why more teams weren't chasing him as a cheap option in free agency.
The other 70 percent
The stated goal for  Eli Manning this season under Ben McAdoo is a 70 percent completion percentage. It's asinine to suggest he'll end up meeting such a lofty goal. First of all, Eli's career completion percentage isn't even above 60 percent. Second of all, here's a list of quarterbacks with over 400 passing attempts and a 70 percent completion percentage since 1920.
 
Games
Passing
Rk
Player
Year
Age
Tm
GS
Cmp
Att
Cmp%
Yds
TD
Int
Rate
Y/A
1
Drew Brees
2011
32
NOR
16
468
657
71.23%
5476
46
14
110.6
8.33
2
Drew Brees
2009
30
NOR
15
363
514
70.62%
4388
34
11
109.6
8.54
3
Steve Young*
1994
33
SFO
16
324
461
70.28%
3969
35
10
112.8
8.61
In other words, not happening.
Double down on the slow manner in which the Giants have adjusted to Ben McAdoo's new offense -- Manning is 1/9 for 6 yards passing in the last two preseason games -- and it's inconceivable he's going to end up completing 70 percent.
Show Comments
Hide Comments
The top three-technique prospect in the draft could see his name not called at all

The former Florida football player was expected to be a second-round pick in the NFL Draft

This much is certain: The Browns desperately need a quarterback
The man who signed Romo is happy to see him move on from playing the game

Roger Goodell typically announces all the first-round picks, but he'll make an exception this...

NFL teams find out their schedule on the same day you do