Sorting the Sunday Pile: Manuel's mysterious injury puts Bills in limbo
Sorting the Sunday Pile looks at the week's biggest NFL storylines.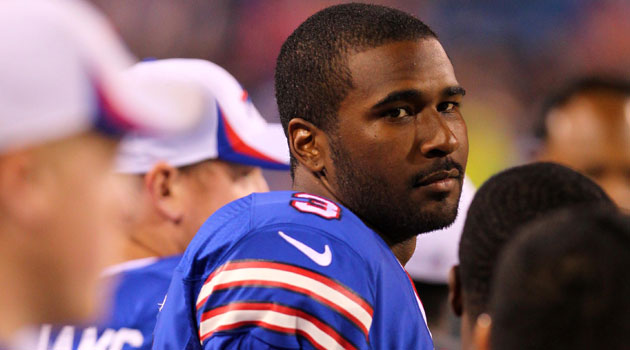 Sorting the Sunday Pile takes all of the week's NFL action and figures out the most important storylines for you to digest. Excuse us while we kick off the offseason rust with a little preseason pile. Send your complaints, questions and comments to Will Brinson on Twitter. For more NFL chatter, listen to the Eye on Football podcast below and subscribe via iTunes.
EJ Manuel will probably be fine. But it certainly looks like he won't make an impact early in the 2013 season. Or maybe he'll get back from his injury in time for Week 1. Doug Marrone didn't rule that out Sunday when describing this mysterious injury that no one knows anything about.
When did it happen? No one knows, except maybe Kevin Kolb . (Which might be the weirdest thing about it.) What is actually being done to Manuel's knee? I'm not sure and I don't know why no one asked Marrone about that. We know it's "minor" and we know it's a "procedure," but that's about it.
Perhaps Marrone is just simply being secretive with a preseason knee injury to a rookie. (How can Manuel suddenly become "day-to-day" just because the preseason ends?) But the problem is Manuel is supposed to be Buffalo's Week 1 starter. Ignore all that "competition" chatter you heard before. It was just that: chatter. Marrone and the coaching staff won't stop pumping up Kolb and rookie Jeff Tuel now, as they need both to step up in a big way if Manuel's injury lingers at all.
And that's the thing with where Manuel stands too. He needs to play for the Buffalo Bills to win now, because he's their best option. But he's also the face of a franchise with a first-year head coach and a first-year general manager. They're trying to win but they don't want to sacrifice their "guy" by forcing him into the lineup.
Maybe his knee is fine and this is all overblown. Or maybe they're forced to trot Kolb out there for a few weeks and find their season lost before it can ever begin.
Overblown offseason
Tom Brady lost a lot of weapons this offseason and plenty of people went about writing him off. That sure seems silly now and it'll probably look even sillier once the season begins. For all the details on that, just check out his statline or read this.
Brady's playing angry and when Tom Brady is angry the New England Patriots score a lot of points. They won't be the 2007-level Pats offense but they're going to be a lot better than people think, particularly if Danny Amendola stays healthy and Rob Gronkowski comes back sooner than expected.
One interesting idea with Gronk: why not wait on him? The Pats should cruise to double-digit wins regardless of who's healthy as long as Brady's under center. Having Gronk healthy for the stretch run is way more important than having Gronk healthy for the start of the season.
NFL 'strike zone' 
I referred to D.J. Swearinger 's hit on Dustin Keller as "controversial." That might be the wrong word for it ... at least for now. Swearinger's hit was totally legal. Unfortunately it ended Keller's season and basically shattered every muscle in the Miami Dolphins ' tight end's knee.
Those sort of hits are a result of defenders avoiding going helmet-to-helmet -- or at least that was Swearinger's excuse -- and if hard-hitting players keep striking knees with helmets the NFL might face a major issue with player safety.
Would it be that shocking to see the league develop a "strike zone" for where defenders can hit? Essentially they'd mark off anything above the shoulders and anything below the thighs on defenseless players in order to avoid career-altering injuries.
Fans wouldn't like it and defensive players would like it even less, but let's not pretend the NFL's been too concerned with those opinions in recent years.
Super preview
How cool was Seattle Seahawks - Denver Broncos on Saturday night? The third game of the NFL Network triple header, it featured Russell Wilson versus Peyton Manning and a ROWDY crowd in Seattle that gave that preseason game a postseason feel. Or at least a regular-season feel anyway.
The teams played as if the matchup mattered and it might have; Manning wanted to get practice in the loud home of the 12th Man and Seattle probably had something to prove.
It's not possible to make all preseason games that interesting, but the early part of that game was exceptionally captivating. No one should worry about Seattle's defense -- and Manning & Co. will probably be fine as well.
In fact, we could end up seeing these two teams square off once the Super Bowl rolls around next February. I'd bet that if you're tallying up professional predictions and could put a percentage next to the picks, I'd bet a majority of folks would have at least one of these teams, and I think a large number of people would have both playing in the Super Bowl.
Cards too cute with Pat P?
I love, love, love the idea of the Arizona Cardinals putting Patrick Peterson on offense. He's an incredible athlete and while I certainly don't think he could be a "top-five" wide receiver, I wouldn't question Peterson's ability to make a difference on the offensive end of things.
But it seems like kind of a silly thing to do right? Arizona has Larry Fitzgerald , Andre Robert and Michael Floyd on the depth chart at wideout -- there's plenty of talent there to help out Carson Palmer . What good does forcing Peterson in there really do?
All due respect to Pat P but there's a reason why defensive backs aren't wide receivers. And playing two ways in today's NFL doesn't make a ton of sense from the perspective of maximizing value at one position. Peterson can do special things with the ball in his hands -- just look at his ability to return punts -- but the possibility of him suffering an injury and/or diminishing his play on the defensive end of the ball should outweigh the benefit of lining him up on offense.
Welcome to the GioWagon
Hope you know I'm driving the bandwagon for Giovani Bernard . I've been doing so since the draft and I'll keep reminding you about it until you tell me to stop (and even then after that). But the bandwagon is, rightfully so, getting full. And it's not just Cincinnati Bengals fans who are on Gio -- although clearly folks in Cincinnati are quite fond of the youngster out of UNC.
Here's my prediction for the undersized back: Gio will end up taking the starting job from Benjarvus Green-Ellis, he will be a monster in the rushing and passing game and he will startle people by being an every-down back in today's modern NFL.
I've been leaning for a while towards picking Gio as my preseason Rookie of the Year. He's not leaving me much reason not to do so.
Meanwhile on the Tundra
Although ... Eddie Lacy 's gonna give me reason for pause. After all the chatter about him being too fat (it was a bad camera angle apparently?) Lacy got on the field in Week 2 and dominated the preseason against the St. Louis Rams .
The Green Bay Packers rookie was violent and impressive against St. Louis, busting through tackles and using his not-quite-trademark-but-maybe-it-kind-of-is spin move to work his way around defenders. For all the talk about different running backs stealing the job, it's hard to imagine anyone other than Lacy landing the starting gig in the Packers backfield.
Tack onto his impressive running some very nice pass protection -- take a look at Lacy doing work when Robert Quinn beat David Bahktiari to sack Aaron Rodgers from the other side.
Additionally, Lacy drew rave reviews around Green Bay -- Bob McGinn of the Milawaukee Journel-Sentinel quoted a scout and a personnel man after the performance who had nothing but impressive things to say about the rookie running back.
"I've not seen a running back like that in Green Bay since Ahman Green," an NFL personnel executive told McGinn. "It's a scrimmage, but he looked good. He did what I thought he could do."
"They got a steal getting him where they got him," a scout told McGinn. "I thought he was going to go earlier. He's as advertised."
Colts wideouts
I remain kind of convinced that Andrew Luck will take a small step back this season -- in the form of counting stats only. In other words, he'll be a better real-life quarterback but not quite as good a fantasy quarterback. The Colts will certainly be fine with this.
But any concern about Luck should be quickly dismissed when watching the work his receivers did. Reggie Wayne , who's pretty old at this point, snagged this incredible one-handed catch against the New York Giants on Sunday night.
And then he did this:
Thanks Aaron Ross !
Wayne slowed down late last year and he can't remain an elite wideout forever, but let's not pretend he won't put up big stats again. The guy is on the same page as Luck.
Meanwhile, would the Colts really start Darrius Heyward-Bey over T.Y. Hilton ? That seems impossible. But it's currently the way things are set up. However, Hilton's unbelievable catch -- on an unbelievable throw by Luck as well -- should point out exactly why the youngster needs to be starting.
DHB actually led the Colts wideouts in receiving yards on Sunday night, but Hilton's the more dynamic talent. He needs to get the reps and if that means lining up across from Wayne (assuming Pep Hamilton's offense features more two tight-end sets and power formations) then so be it.
What if ...

Tim Tebow had never gone from Denver to New York? Would Drew Stanton be the current starter for the New York Jets ? That's a serious question. Stanton threw a bad interception against the Dallas Cowboys on Saturday afternoon but he largely looked pretty competent for the Cardinals in their second preseason game.
If it was me and I needed to go out and win this year, I'm pretty sure I'd rather have Stanton than any quarterback on the roster of the Jets, Jacksonville Jaguars and Oakland Raiders .
Speaking of the Cardinals ...
No points allowed by Arizona through the first seven quarters of preseason action for the Cards. It's the preseason so it doesn't count, but it at least warrants mentioning. They could surprise some people this year.
It just won't be with the running game, where they're going to struggle. Don't blame that on

Jonathan Cooper

, whose footwork is amazing for a man his size.
How happy is Larry Fitzgerald at this point? It's not like Carson Palmer is some superstar. He's just not a miserably awful quarterback and that's somehow a positive thing.
Hot reads
'Tis the season for good football writin'. I'll try and drop some articles I'm reading here, but if you've got anything worth linking or reading, lemme know on Twitter @WillBrinson.
Potent quotables
Eddie Lacy is the truth.

— Chris Wesseling (@ChrisWesseling) August 18, 2013
Must admit, Seahawks looking like more of a threat to New England in the AFC than Denver is right now.

— Skip Bayless (@RealSkipBayless) August 18, 2013
Show Comments
Hide Comments
At the rate we're going, Bill Belichick might not ever retire

Plus Louisville prospects look to make their mark in our roundup of Thursday's pro day act...

Sharrif Floyd only played in one game last season
Will Johnny Football end up with the Saints?

The Falcons might need a place to play to start the 2017 NFL season

The Raiders don't seem very welcome in Oakland anymore