Sorting the Sunday Pile: Raiders should roll dice with Terrelle Pryor
Sorting the Sunday Pile breaks down the week's biggest storylines. This week: the Raiders should roll with Terrelle Pryor, the Jets mess, Bills QB problems, Alec Ogletree's big day and Arizona/Denver running back situations.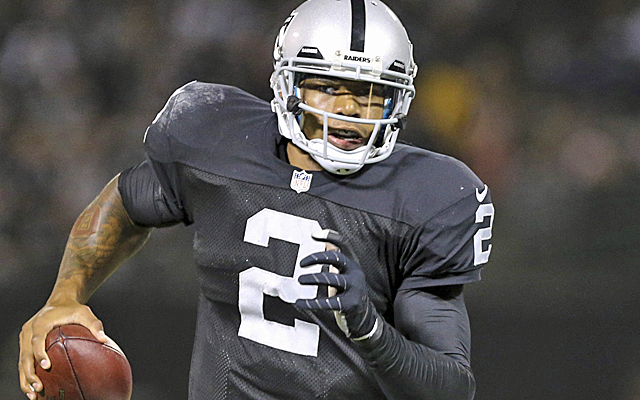 Preseason football is sad. It's even sadder when you watch Matt Flynn throw two interceptions during a blowout game that doesn't count. So if you're the Oakland Raiders and Flynn leaves and the Black Hole is silent and all of a sudden Terrelle Pryor comes in the game and does … things that only Terrelle Pryor can do and the offense is suddenly alive, well, why not roll the dice on the upside? It's what Oakland should do at this point, even at the expense of Reggie McKenzie stuffing Flynn, his former Green Bay Packers player, in a corner for the second year in a row.
There is no upside to Flynn. There's a reason he went from BCS champion to NFL afterthought and there's a reason his former position coach, Joe Philbin, didn't sign him after taking over the Miami Dolphins . There's a reason he was basically free to acquire from the Seattle Seahawks . Pryor, for as good as he might not be, oozes upside. If you want further proof, you only had to suffer through a 20-plus point preseason beatdown from the Chicago Bears , wait for Pryor to take over in the second half and then watch him do weird things like evade the rush, escape a crumbling pocket, roll to his left while trying to throw to his right, escape more tacklers and then somehow jump-throw the ball 20 yards down the field to Rod Streater for a first down.
My description of the play sounds stupid and/or not real, but it actually happened and it's totally worth watching.
Three plays later, Pryor followed that throw up by doing his best "Madden" impression and carving up the defense for a gliding 25-yard touchdown run that energized the Raiders fans and sideline for at least a half hour. It's not that the play itself was so mind blowing, it's the idea of hope at the quarterback position. And it's unfair to Flynn that he doesn't possess as much tantalization as Pryor but that's life in the NFL. What might happen is always much more intriguing than the safe option and Flynn's about as safe as you can get on the borderline startable free agent and trade market for quarterbacks these days.
Flynn was mostly abysmal Friday, going 3-for-6 in the first half of Friday night's game with a pair of picks, including a brutal one on a pass to the sidelines. (Admittedly it could've been on Denarius Moore . Never rule out Denarius Moore for being at fault.) He's led the quarterback battle for most of the offseason and is easily the option that will not eff up the Raiders the most. But what do you gain by playing him? The realization that you're maxing out as a top-five pick team in 2013? That's worth nothing more than Jadeavon Clowney's money is printed on.
You can tell that Dennis Allen's leaning towards gambling with Pryor -- he said as much following Friday's game that he'd consider throwing Pryor out there, mainly because the former Buckeye gave the Raiders "a spark."
"I think obviously we have to look at it. I think when you look at it I don't think Matt [Flynn] played well in this game. Obviously, I thought Terrelle [Pryor] came in and gave us a spark. I thought he played well in the game. I think that's something that we have to go and look at it. I'm not going to make any decisions on anything, obviously, tonight. I want to get a chance to go back and look at the tape and see how things went. But it was obvious that Terrelle gave us a little bit of a spark tonight."
It's not like Pryor was out there in MVP form, but he does offer some tangible upside for Oakland, as shown by the pair of third-quarter plays he pulled off and the general non-corpse-ish way in which he led the Raiders offense the rest of the night. The O.Co Coliseum crowd went nuts, because, even if it was against the Chicago second teamers, at least it was the first sign of life for the Raiders on the night.
Making a quarterback decision based on what the crowd thinks is "awesome" equates to nothing more than "incredibly stupid." But the Raiders literally have nothing to play for in 2013. What's the best case with Flynn? You can look at a bottomless cup and call it "half full" all you want, but that won't put the liquid back in. They're a five-win team and that's the absolute max. Worst case they lob up a goose egg. The best- and worst-case scenarios for the Raiders with Pryor are only slightly more optimistic but at least they'll result in future roster evaluation. Maybe Pryor learns, catches fire and wins six games while stunning the world. Worst case is he's horrible, you roll Flynn out later, accept that No. 1 overall pick and set the burnt-to-a-crisp depth chart on fire some more.
Anything short of going for gusto? It's not worth the time. There's nothing to lose for Oakland and, at the very least, everything to learn about a guy they've heavily invested in during the recent past. Worst case the experiment flames out and Reggie McKenzie gets to start the Teddy Bridgewater clock.
Rex Ryan's Seat Esta Muy Caliente
The good news for the Raiders is that no matter what they do, they cannot occupy the center ring of the 2013 NFL circus. That belongs to Rex Ryan and the New York Jets , who on Saturday night provided a glimpse into the unadulterated, schadenfreude-filled joy that Ryan and his merry band of attention-seeking misfits could provide in the coming 17 weeks.
Ryan made an embarrassing -- if not overhyped -- mistake by plugging Mark Sanchez , his would-be starter, into the game with 11 minutes and change left following Geno Smith 's run with the starter. Theoretically this makes sense; Sanchez, a backup for Saturday night, played with the backups. That's how it works. Practically, however, it didn't pan out well. Sanchez suffered a shoulder injury and the hounds were unleashed on Ryan, who defended his decision by claiming that the Jets were out there "to win" and "to compete."
"We're there to win," he said. "We had our starting offense out there for three quarters -- we're trying to win the game, that's what we wanted to do. … We're trying to compete. Everybody's out there and injuries are part of the game. … We'll see the severity of Mark's injuries. Obviously it didn't work out the way we wanted it to, but we're here to compete."
There's some logic here but the biggest issue for Ryan is that the ends don't justify the means, particularly when he has bar none the biggest quarterback nightmare on his hand in the NFL. (Neither of his guys are great, he's on the hot seat, he's on a different page with his GM, etc.)
Of course, all of this was made entirely moot when Ryan nearly went full Jim Mora on the crowd. It looked like he might scream, it looked like he might cry and he pretty much broke down, telling reporters to ask questions to his back and doing a very weird little dance.
The proverbial poo hasn't even really hit the fan yet, folks. The season hasn't even started yet and already Rex is melting down at the podium over his quarterback situation. It's a clear-cut indication that Ryan's seat is hotter than Sofia Vergara soaked in salsa.
And it's basically a guarantee that the best Big Apple fireworks are yet to come.
Raising Arizona's Pass Attempts
What a nightmare weekend for Bruce Arians and the Arizona Cardinals . Not only did their first-round pick, guard Johnathan Cooper, suffer a broken leg late in the preseason game but they also are dealing with starting running back Rashard Mendenhall undergoing an MRI after feeling some "looseness" in his knee.
Arians says mendenhall felt looseness in his knee. Will be evaluated

— Kent Somers (@kentsomers) August 25, 2013
The Cooper injury, because of his position, because of the issues Arizona has and because of the severity, is absolutely worse. Mendenhall is very much in the air right now. But this has a bad feel to it.
Speaking of air, how many passing attempts will Carson Palmer have in 2013? If Cooper's down and Mendenhall is banged up and Ryan Williams is the backup ... this team is not going to run the ball. Not like they won't try, they literally won't be able to run the ball. Add in one or two obviously-needed comeback attempts and it's possible that Palmer will throw the ball 700 times. Keep your arm loose, Drew Stanton .
Know This
I've been preaching to anyone that will listen: Knowshon Moreno 's going to win the Denver Broncos starting running back gig. He won't win it because the coaching staff loves him (they really seem to hate him) and he won't win it because he's the most talented back in Denver's backfield.
Moreno will win this gig because he's the best combination of running back and, more importantly, pass protector. Running backs have to be good in pass pro with Peyton Manning under center or else his offense is going to have problems.
On Saturday night, neither Montee Ball nor Ronnie Hillman proved they could dominate the carries for Denver. Ball rushed 14 times for 43 yards and Hillman fumbled. Again. Meanwhile Moreno picked up 33 yards on five carries.
If he's keeping Peyton upright he's going to see a ton of reps, at least until Ball is ready to actually play without being a matador in the backfield on pass plays.
Worth Watching
On the play where Hillman lost the ball, Alec Ogletree , the talented/troubled first-round linebacker for the St. Louis Rams , made a heck of a play to steal the ball from Hillman (who said later he thought his progress was stopped), pick up the rock and take it to the house.
Ogletree would also later pick off Peyton, managing to surprise a veteran quarterback who isn't surprised easily.
"I'm not sure I wouldn't have thrown that 99 times out of 100," Manning said of the pick. "That guy made a pretty athletic play. That guy's got long arms, obviously got a pretty wide wingspan. I was surprised he was able to get his hands on the ball."
Tack on six tackles in the game for Ogletree, who said "the game was definitely a lot slower" for him in the third week, and it warrants watching how quickly the rookie can impact an already impressive Rams defense.
This is a scary, scary unit, folks. That front four is straight nasty (Pete Prisco has a great breakdown here of Robert Quinn , Kendall Langford , Michael Brockers and Chris Long ), the secondary is beasty and the linebackers are looking stout as well. Keep your eyes out.
That Really Escalated Quickly
For much of his NFL career -- especially once he was traded from the Philadelphia Eagles to the Cardinals in the infamous "got everyone involved fired" deal for Dominique Rodgers-Cromartie -- Kevin Kolb 's been the punchline for bad-quarterback jokes.
But if he really and truly has his career at risk now because of concussions, there's little to joke about. It looked like at one point that Kolb would be Andy Reid's next great sleeper at quarterback. Thanks to an injury he suffered and the breakout of Michael Vick , Kolb's career was grounded before it ever took off. And now it might be over.
For Buffalo, the quarterback situation is a full-blown disaster right now. Kolb could be out, well, forever. EJ Manuel is up in the air for week one. They just traded for Thaddeus Lewis and signed Matt Leinart.
Think about that for a second.
As I wrote last week, Manuel's injury is putting them in a precarious position, to say the least.
Bird In Hand
For some reason, I'm irrationally high on the Detroit Lions this year. I don't think they'll win the NFC North, but I do think they can contend for the division and also make the playoffs. And when all's said and done, I think we might look back at Reggie Bush as the best free-agent acquisition of the whole offseason.
Bush fits perfectly with what Scott Linehan wants to do with the Detroit offense, he'll be a perfect safety valve for Matthew Stafford and he's going to serve as a perfect, albeit not traditional, complement to Calvin Johnson .
This was obvious on Thursday night when Bush caught five passes for 103 yards. He also put some sickner moves on New England defenders in the open field, flashing the kind of athleticism that shows exactly why Bush will explode in Detroit's offense.
Monster season coming for him.
Hot Reads
GIF O' THE WEEK
Mark Sanchez can catch too!

WORTH 1,000 WORDS

Show Comments
Hide Comments
Don't blame Norman -- he's 10 inches shorter than the Knicks' Kyle O'Quinn

The Cowboys owner offers an interesting take on what's bringing future fans to the game

The Seahawks cornerback told a student last year that he'd pay for a scholarship if she raised...
Romo is set to call games for CBS Sports this fall, but the Cowboys are keeping the door o...

Can Roberto Aguayo, the Bucs' maligned second-round pick, beat out Nick Folk?

John Mara says Colin Kaepernick's protest led to a ton of letters from emotional fans