St. Louis politicians blast NFL, Rams after Los Angeles relocation
St. Louis politicians blasted the NFL and the Rams for relocation to Los Angeles.
The inevitable finally became fact on Tuesday night when the NFL approved relocation for the Rams to Los Angeles beginning in 2016. 
The city of St. Louis is distraught -- fans are understandably quite angry -- and the politicial leaders around St. Louis are pretty infuriated as well, issuing statements that take shots at Stan Kroenke, the NFL and the Rams.
St. Louis Mayor Francis Slay said the NFL "ignored the facts" and "a strong market" in order to move to Los Angeles. 
"The NFL ignored the facts, the loyalty of St. Louis fans, who supported the team through far more downs than ups, and the NFL ignored a strong market and viable plan for a new stadium. I am proud of our effort and what St. Louis was able to accomplish in an extraordinarily short period of time. I thank everyone who worked so diligently on this project, especially the Governor's Task Force."

"In the meantime, we need to increase our focus on the region's hospitality industry—conventions, tourism and amateur sports. These events and the hotels and restaurants that support them put thousands of City and County residents to work in good jobs. St. Louis is great place to live and build a business—with or without NFL football."
Missouri Gov. Jay Nixon called the decision "disappointing" and "a clear deviation from NFL guidelines."
"Tonight's decision is disappointing, and a clear deviation from the NFL's guidelines.  It is troubling that the league would allow for the relocation of a team when a home market has worked in good faith and presented a strong and viable proposal. This sets a terrible precedent not only for St. Louis, but for all communities that have loyally supported their NFL franchises."
St. Louis County Executive Steve Stenger ripped the NFL and Kroenke for showing a "callous disregard" for the St. Louis area.
"As a football fan and a lifetime resident of the St. Louis area, I am bitterly disappointed in tonight's news. This region deserves an NFL team. This region is fully capable of supporting an NFL team. That team should have been the Rams. The NFL and Stan Kroenke have displayed a callous disregard for the St. Louis area and its loyal football fans."
Unfortunately for these politicians, there wasn't anything stopping the NFL-to-LA train. Kroenke bought land, had deep pockets and a vision to make everyone else's pockets deeper and the NFL was set on putting a team in Los Angeles in 2016. 
The Rams were the easiest move, even if the politicians involved believed the city didn't get a fair deal.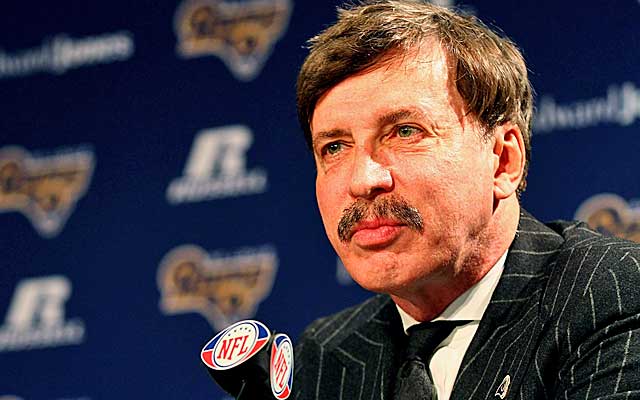 Show Comments
Hide Comments
The versatile safety will get plenty of reps with the Browns, but he's a questionable fit in...

Pete Prisco grades every first-round pick of the 2017 NFL Draft

Conley's stock took a hit just before the draft due to off-field concerns but he lands in...
Garett Bolles' young son is awesome

Engram is going to be a matchup nightmare for NFC East defenses

Harris brings an excellent pass-rush skill and should become a mainstay in opposing backfi...