Steelers LB James Harrison makes huge announcement on Instagram
James Harrison has finally decided whether or not he's going to retire.
After three months of waffling, Steelers linebacker James Harrison has finally made a decision about his future, and to make the announcement, Harrison used a form of communication that didn't even exist when his career started. 
The 37-year-old took to Instagram on Monday to announce that he he'll be returning to play for the Steelers in 2016. Instagram was invented in 2010, Harrison started playing in 2002. 
Harrison had been contemplating retirement because he wasn't sure his body could take another NFL season. 
"I'll be 38 on Wednesday and I'm feeling just like a fine wine. Getting better with age," Harrison wrote in the Instagram post below. 
The Steelers seem pretty excited about the news. 
What he said. pic.twitter.com/RSV0O8qeSf

— Pittsburgh Steelers (@steelers) May 2, 2016
Although they were excited, the team wasn't exactly shocked by Harrison's decision. After the draft on Saturday, Steelers coach Mike Tomlin was asked what he thought Harrison would do in 2016. 
"He's working out awfully hard for a retired guy," Tomlin said, via ESPN.com.
Harrison has been posting videos of his workouts on Instagram pretty much ever week this offseason. 
The 2016 season will be Harrison's 14th in the NFL. The undrafted free agent out of Kent State signed with the Steelers before the 2002 season and has been with the team since, except for one season (2013) that he spent with the Bengals. 
The five-time Pro Bowler and 2008 Defensive Player of the Year played in a total of 15 games for the Steelers last season.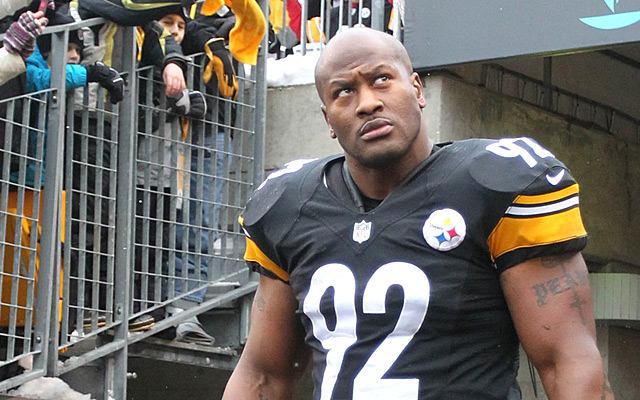 Show Comments
Hide Comments
Floyd claims to have drank four or five bottles of kombucha tea, resulting in a failed alcohol...

Atlanta's new video board wraps around the length of the stadium and looks incredible

Miami wound up turning to Matt Moore, who fared well but couldn't deliver in the playoffs
John Mara says Beckham needs to show more maturity, but he wishes every player worked as hard...

Bennett is transitioning from playing with one all-time great quarterback to another

Carr is the highest-paid player in the NFL, until the next deal for a franchise quarterback...