Steelers WR Antonio Brown: Pro Bowl Draft was 'a little off'
If the NFL decides to hold a Pro Bowl Draft after the 2014 season, the league may want to tweak a few things. Steelers receiver Antonio Brown thinks the first draft was 'a little off.'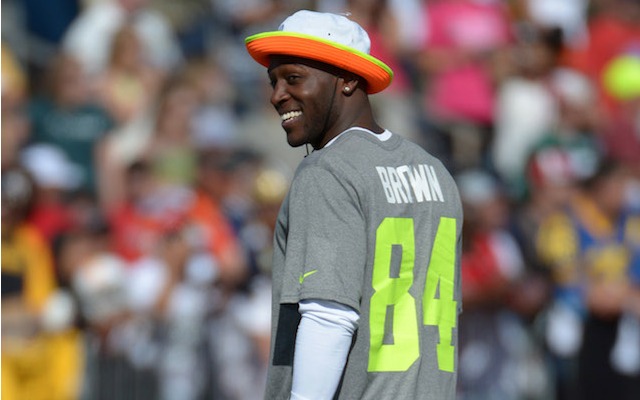 If you didn't watch the Pro Bowl this year -- and we don't blame you if you didn't -- the NFL made a few tweaks to the game. Instead of the usual AFC against NFC format, the league appointed two captains who then picked their teams in a live Pro Bowl Draft that was televised on the NFL Network. 
The two-day event seemed slightly awkward on television. 
I just watched Chris Rose interview Alex Smith. Has the entire Pro Bowl Draft been this awkward?

— John Breech (@johnbreech) January 23, 2014
Apparently, it was just as awkward in person. During an interview on SportsCenter on Monday, Steelers wide receiver Antonio Brown was asked about the NFL's first Pro Bowl Draft, "It was a little bit off," Brown said, via ProFootballTalk.
Brown's biggest problem seemed to be all of the waiting he had to do, "First off, you get there with a lot of great players, they make you wait two and a half hours under a tent for the draft at the Pro Bowl," Brown said. 
The Steelers wide receiver didn't say exactly what changes he would make to the Pro Bowl Draft, but he did say he'd like to "see some tweaks, especially upon the draft. You don't want guys waiting two and a half hours to get picked when we're all Pro Bowl players."
The two captains who picked the Pro Bowl teams were Jerry Rice and Deion Sanders. Brown ended up going to Team Sanders, the losing team. Brown caught one pass for 39 yards in his team's 22-21 loss. 
Show Comments
Hide Comments
Our Latest Stories
Translation: The Browns want to upgrade at the quarterback position

Oher missed the final 13 games of the 2016 season

The new Packers tight end says he was inspired by his brother, Seahawks defensive end Michael...
Brandon Brooks did more than just respond to an invitation

Currently, the rule prevents a team from earning more than just a third challenge

Goodell said the NFL hasn't 'identified a viable solution' to keep the Raiders in Oakland