'Stunned' agent says Martavis Bryant will enter rehab, might be depressed
Martavis Bryant is headed for rehab.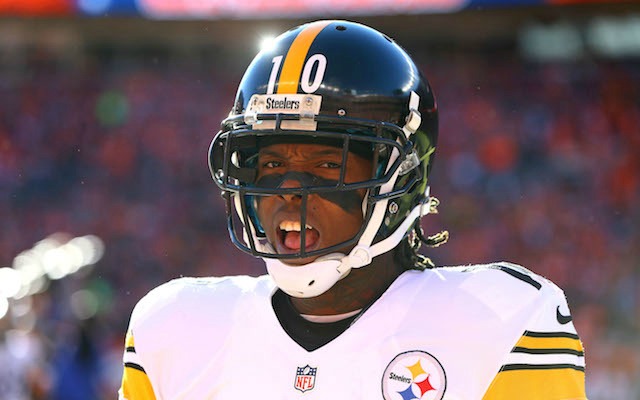 If you were surprised to hear that Steelers wide receiver Martavis Bryant is facing a year-long suspension for violating the NFL's substance abuse policy, you're not the only one.
Bryant's agent, Brian Fettner, didn't even know about the suspension until everyone else did on Saturday morning.
"We're all stunned, me included," Fettner told USA Today Sports. "His isn't a party issue. It's a coping issue and a depression issue, and he's got to take care of it."
This is Bryant's second suspension and everyone in his camp seems to agree that the Steelers wide receiver needs help.
According to Fettner, the plan is for Bryant to enter rehab and get evaluated for depression. "This is the biggest cry for help I've ever seen. And that hurts," Fettner said. "It hurts us to see. He's 24 years old and he's got to get right, whatever it is."
Although Bryant is appealing his suspension, Fettner admits that it won't be easy to win the appeal. Bryant was suspended for missing several drug tests, which is the same as a failed test in the NFL's eyes.
One of the biggest questions regarding the suspension had to do with its length of one year (technically it's an indefinite suspension, and Bryant can apply for reinstatement after one calendar year).
Under terms of the CBA, players like Bryant, who've already been hit with a four-game suspension, are supposed to get a 10-game suspension for their next punishment. However, Bryant got a full year because he missed multiple drug tests.
"This is a long road to earn people's trust back, but honestly, we can't even worry about that right now," Fettner said. "You've got to get him healthy."
In two years with the Steelers, Bryant has put up some huge numbers (76 catches for 1,314 yards and 14 touchdowns), but if he can't stay on the field, it's not likely his NFL career will last much longer.
Show Comments
Hide Comments
Our Latest Stories
What would Gronk look like with a shaved head and earring? Glad you asked

The NFL's international foothold will likely soon be expanding beyond England and Mexico

This is the best thing Affleck and Damon have done together since 'Good Will Hunting.'
If you see a guy who looks like Dak Prescott, it's probably Dak Prescott, even if he says he's...

The Seahawks cornerback has been outspoken on many issues, both social and professional

J.J. Watt's dad reveals that his son's injury might've been worse than we thought