Tavon Austin: Despite his size, he will be an NFL star
Tavon Austin is only 5 feet 8 and weighs 174 pounds, but he can fly, which is why he will be an NFL star.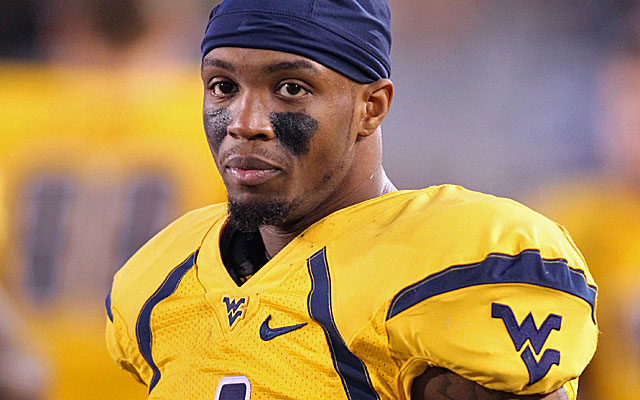 INDIANAPOLIS -- Little guys often have big chips on their shoulders. West Virginia receiver Tavon Austin seems to be one of those guys.
I love that about him.
If I had a nickel for every time some scout or coach told me this week that Austin is "really little," I'd be able to actually buy some of that fancy shrimp cocktail from the steakhouse down the road here. So I can't imagine how many times Austin has heard it.
Austin measured in here at the NFL Scouting Combine at 5 feet 8, and he weighed 174 pounds. By NFL receiver standards, that's small. But don't be fooled -- this kid has a big game.
And he knows it.
"I think I am the all-around best player in the draft," Austin said.
More 2013 NFL Combine
Related links
Austin has a swagger. But more important, he has the speed to back it up. To watch Austin on tape is to see one of the more explosive players I've ever seen in the college ranks. He has breakaway ability as a receiver, returner and even as a running back.
It's too easy to try to fit him neatly into the NFL scouting box, where receivers under 6 feet don't deserve first-round hype. That's a mistake. This kid will prove that wrong.
In West Virginia's fast-paced offense in 2012, Austin caught 114 passes for 1,289 yards and 12 touchdowns, excelled as a returner and also rushed 72 times for 643 yards.  Every time he touched the ball, he was a threat to take it all the way.
"From the start to stop and getting up to full speed, he's as good as I've ever coached," said West Virginia receivers coach/offensive coordinator Shannon Dawson. 
Turn on the tape and you will see Austin taking many short passes and exploding to turn them into big plays.
In a league where spread offenses are the norm and big plays are the way of the league, Austin's value is incredible. But not all see it that way. Several scouts wonder if he can hold up at his size.
"You get banged around a lot in this league," one AFC scout said. "Can he handle it?"
Austin waved that talk off as quickly as he blows by defensive backs.
"It definitely shouldn't be a problem," he said. "I haven't gotten hurt or missed a game in eight years. My durability's pretty good.
For those questioning his ability to handle the pounding, I offer his play against Oklahoma last season. He had 572 all-purpose yards in that game  -- and West Virginia lost. 
Austin had a school-record 344 yards rushing with two touchdowns as the former high-school running back lined up in his old spot a lot in that game. He also caught four passes for 82 yards and had 146 return yards. Watching that game that night, I thought he was special.
Having watched his other games, I know he is.
That's why I had Austin ranked No. 10 in my pre-combine player rankings. That goes against conventional wisdom, but I think you have to look past the size.
The NFL now places a premium on the slot receiver. It used to be he was a third-down luxury. Now he can be an every-down weapon and nightmare in terms of matchup troubles for a defense.
Wes Welker has been a star in the slot for the Patriots. He is a guy who does so with his crafty route running and ability to find soft spots in the zones. Austin said he has studied Welker a lot and compares himself to Welker.
"I think I'm a little quicker and faster than him," Austin said. "So I figure if he can do it, I can do it, too."
There's that confidence again. But he's right. If Welker is a matchup problem inside, can you imagine a guy with Austin's speed?
Austin said he recently ran a 4.29 in the 40-yard dash. That's big-time speed. And he plays to it, which is even more important.
But there's always the size thing. I asked Austin if he gets tired of hearing people say to him that he'd be a high first-round pick if he were two inches taller. 
"I really don't get tired of it," Austin said. "I take it and put it in my baggage. I've been a little guy my whole life. I am a little guy, but I play big. I'd like to be two inches taller. It just ain't happening."
As Austin walked from the podium, I told him he didn't need the two inches.
Even at his size, his game is plenty big enough to make Tavon Austin the most dangerous offensive player in this draft.
The pass rusher thinks he is being misused by Kansas City

The legendary Rams running back wants to see Sean Mannion play instead of the No. 1 pick

A 911 call from the Uber driver sounds pretty terrifying
The Falcons quarterback thinks more checks and balances could have helped Atlanta

The HOF will not stop the Juice from showing up at the ceremony to honor the new inductees

Raiders fans are probably going to be jealous of Tiger's pool table