Team-by-team free agency grades: Bright Bucs top this honor roll
Take a bow, Jason Licht and Lovie Smith. The Bucs earn the only A in free agency, but the Skins, Falcons, Pats and Broncos are among those close behind.
More NFL offseason: Mock Drafts | Prospect Rankings | Pro Days | Top free agents
Last week I wanted to look closer at a couple of free agents, so I put on the Seattle-Tampa Bay tape from late last season.
I watched that game during the season, but came away after watching it a second time thinking Tampa Bay had a lot of talent and pushed the Super Bowl champions to the limit -- at Seattle's place, no less.
Now they have even more talent.
I love what the Bucs have done the past few months. I like the hiring of general manager Jason Licht and coach Lovie Smith. And I like the haul they took away during free agency, while getting rid of a corner in Darrelle Revis who had a huge contract and cap number.
They essentially took his number and added three players. That's a victory.
The Bucs signed a defensive end in Michael Johnson (Bengals) who gives them a pass-rush threat on the outside. They added a starting left tackle in Anthony Collins (Bengals), a starting corner in Alterraun Verner (Titans), a pass-rushing defensive tackle in Clinton McDonald (Seahawks) and a starting center in Evan Dietrich-Smith (Packers). That's quite class for Licht and Smith.
They also landed veteran quarterback Josh McCown , who Smith said is his starter. I am not so enamored with that move because I think it stunts the chance of finding out if Mike Glennon -- who looked good on that Seattle tape -- is the long-term answer. If he isn't, they need to find one.
Stopgap passers like McCown only slow the long-term growth. Aside from that, I love their offseason. This is talented roster with a good coach.
I like where this team is heading.
That's why the Bucs received my only "A" grade for free agency so far among the league's 32 teams. Watch out in 2014 for this young, developing team. Here are the rest of the grades.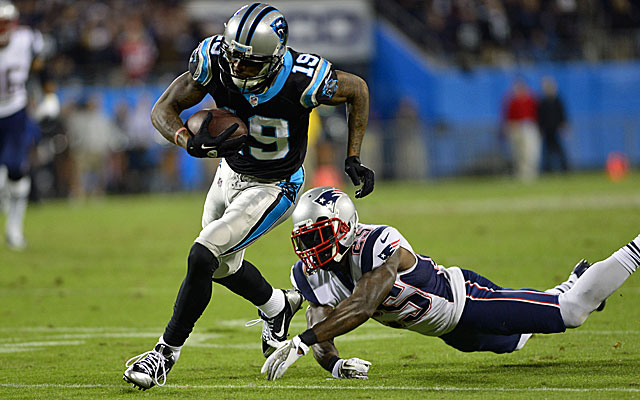 Arizona Cardinals
General manager Steve Keim continues to impress with the moves he's made since taking over running things. He had a great offseason in 2013 and he's doing a nice job this year. I love the addition of left tackle Jared Veldheer . They also got a solid tight end in John Carlson and deep speed in Ted Ginn . Grade: B
Atlanta Falcons
Their goal was to get bigger and tougher on their defensive and offensive lines. And they did. They added guard Jon Asamoah to the offensive line and Tyson Jackson and Paul Soliai to the defensive line as they transition to more 3-4 looks. That's three big bodies. They also re-signed four of their own, which will help. Grade: B+
Baltimore Ravens
This team gets it. They made keeping their own a priority and pretty much did just that. They re-signed tight end Dennis Pitta , left tackle Eugene Monroe , receiver Jacoby Jones and linebacker Daryl Smith . All four are critical starters. They also needed a veteran receiver and added Steve Smith from Carolina. He is 35, but he can help for a year or two. The biggest loss was defensive end Arthur Jones , who they hated to lose. Grade: B+
Buffalo Bills
The Bills got a nice value signing in Ravens corner Corey Graham , who can play in the slot and outside. I also like the move to sign Brandon Spikes to a one-year deal to play middle linebacker. Now they can move Kiko Alonso outside, where he will flourish. They signed depth with linebacker Keith Rivers and running back Anthony Dixon . They also re-signed tight end Scott Chandler and kicker Dan Carpenter . They lost safety Jairus Byrd to the Saints, which has to hurt. They chose to give Aaron Williams , the other safety, a contract extension. Grade: C
Carolina Panthers
They have done very little while losing what some say is a lot. They lost both starting receivers in Steve Smith and Brandon LaFell and starting corner Captain Munnerlyn and safety Mike Mitchell . Ted Ginn also left. But Smith is aging -- he had just four 20-plus catches last season -- and LaFell is just a guy. Munnerlyn is solid, but not special. Mitchell was on a one-year deal. The only signing of note was former Saints safety Roman Harper . He's a box safety who struggles in coverage. They did tag and sign defensive end Greg Hardy , which was their best move. Grade: C+ (Hardy brings it up)
Chicago Bears
They let Julius Peppers walk, but they signed a nice (cheaper) replacement in Willie Young . I like that move. They also signed Lamarr Houston from Oakland, and those two will be a big boost to the Bears front. This week, they also brought back end Israel Idonije on a one-year deal. They also re-signed corner Charles Tillman , defensive tackle Jay Ratliff and center Roberto Garza . The added some lesser free agents -- four safeties -- but they might not offer much. Grade: C+
Cincinnati Bengals
The Bengals haven't signed one player yet and lost two key ones in defensive end Michael Johnson and left tackle Anthony Collins. They can handle the loss of Collins more than Johnson. I did like the re-signing of linebacker Vincent Rey , who was a restricted free agent. This has been a ho-hum free agency for the Bengals, but that's what can happen when the roster is deep. Grade: I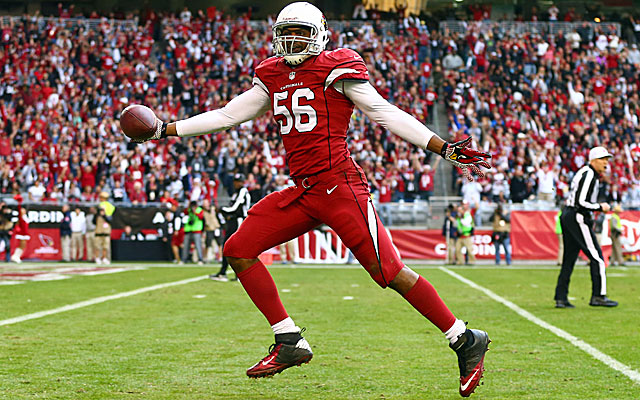 Cleveland Browns
They got older, which I never like. But for a year or two, they also got better. They signed veteran safety Donte Whitner and linebacker Karlos Dansby , who will be an upgrade over D'Qwell Jackson , who they let go. Dansby, though, is 32. They added a runner in Ben Tate on a two-year deal, which was fair. He has talent, but he's also a back and you don't sign backs. They also added slot receiver Andrew Hawkins. What happens with Alex Mack ? Grade: C+
Dallas Cowboys
The Cowboys were going to get an F, but they forced me to change that when they signed Henry Melton late Tuesday. Melton, who is coming off a torn ACL, was on his way to becoming a dominant defensive tackle for the Bears before the injury. He fits what the Cowboys want to do. The Cowboys have major cap problems, which is why they were forced to release DeMarcus Ware . That had to hurt. Their only other two signings were defensive end Jeremy Mincey and defensive tackler Terrell McClain . They also re-signed kicker Dan Bailey . But the cap has crippled their chances of activity. Even so, the Melton signing raises their grade. Grade: D+
Denver Broncos
Some will rip the Broncos for being too aggressive, but they have to be with the Peyton Manning window shutting soon. I get why John Elway went after veteran players. That's not normally something I condone, but I do here. I think DeMarcus Ware has two good years left and will provide a nice pass-rush balance to Von Miller . Aqib Talib will steady the corner, giving them a physical man-cover player. Safety T.J. Ward brings a tough mentality to the back end and Emmanuel Sanders gives them versatility at receiver. They did lose receiver Eric Decker and guard Zane Beadles , but they can be replaced. Grade: B+
Detroit Lions
The Lions signed receiver Golden Tate away from Seattle, which is a good move. He will be perfect to complement Calvin Johnson . He's better than I first thought he was. They also re-signed tight end Brandon Pettigrew , which I liked more than some Lions fans, as well as center Dominic Raiola . It was a solid period for the Lions. Grade: B
Green Bay Packers
The Packers re-signed corner Sam Shields , outside linebacker Mike Neal and nose tackle B.J. Raji and still found a way to sign defensive end Julius Peppers. Some say they overpaid for Shields, but I think it's a good signing. As for Peppers, it's really only a one-year deal. It bucks the trend for general manager Ted Thompson of not signing big-name free agents, so he must really like Peppers. I like the way Thompson handles his team. Grade: B+
Houston Texans
The Texans haven't done much, which makes it tough to give them a grade. They also lost a couple of defensive starters. They did re-sign tight end Garrett Graham after letting Owen Daniels go. He is their only real signing of note. Grade: I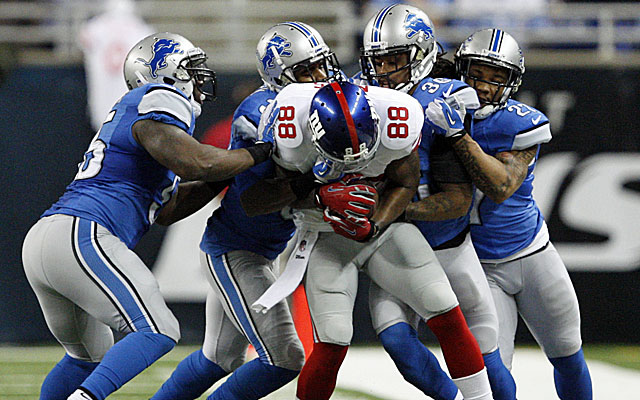 Indianapolis Colts
I like some of the Colts moves and don't like others. They think linebacker D'Qwell Jackson will add a much-needed veteran presence to the defense, but I just didn't see the speed last year with Cleveland. I think Arthur Jones is a heck of a football player and will help their pass rush. I love Hakeem Nicks on a one-year deal. He has a ton of ability and he should be motivated with only a one-year contract. He will put up big numbers with Luck. Their best move: Re-signing corner Vontae Davis . Yes, it was a lot of money. But he had to come back. Watch. Grade: B-
Jacksonville Jaguars
They set out to get better on their defensive line and did a nice job in doing so. They landed Red Bryant (Seahawks), Ziggy Hood (Steelers) and Chris Clemons (Seahawks) to give their front some pop. They also re-signed Jason Babin . Linebacker Dekoda Watson is a sleeper. He will play some with his hand down. They needed a guard, but might have overpaid for Zane Beadles. I don't like signing backs, but they needed somebody, which is why Toby Gerhart was signed. They still need help inside on the offensive line. They also signed receiver Tandon Doss from the Ravens. Grade: B
Kansas City Chiefs
It looks as if the Chiefs took some big hits with their free-agent losses. They lost both right guards and defensive tackle Tyson Jackson. But all are replaceable. They did lose left tackle Brandon Albert, but they can offset that by moving Eric Fisher from right tackle to the left side. Their only signings were defensive tackle Vance Walker , linebacker Joe Mays and guard Jeff Linkenbach. Not much. Why not a receiver? They have talent on the roster, so it's hard to rip them for letting some players go. Grade: C-
Miami Dolphins
The Dolphins had to get better on the offensive line and did that by signing left tackle Brandon Albert and guard Shelley Smith . They had very little up front. Albert was a big-ticket item, and some scouts wonder if he's worth it. Nose tackle Earl Mitchell is a big body with potential, but he was just a guy with the Texans. Signing small corner Cortland Finnegan was a boom or bust move. He could end up being a steal. They also re-signed defensive tackle Randy Starks and corner Brent Grimes , the latter a big-money deal they had to do. Grade: B+
Minnesota Vikings
I think Rick Spielman made one of the better moves when he signed defensive tackle Linval Joseph . He is 25 and weighs 320 pounds, and gives the Vikings a power player in the middle. They needed corner help and added Captain Munnerlyn from the Panthers and Derek Cox from San Diego. Cox struggled last year, and was benched, but he's worth a look. They also re-signed defensive end Everson Griffen , giving him a big contract based on potential rather than production. That doesn't bother me. Grade: B+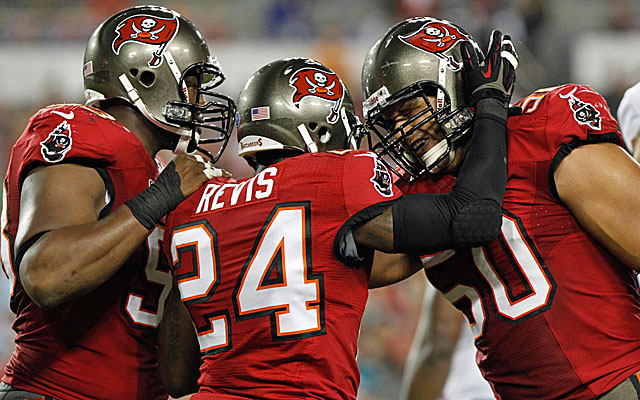 New England Patriots
They landed one of the big fishes in free agency when they signed corner Darrelle Revis to a one-year deal. It's weird that it's a one-year deal, but he is a nice pickup for a team that needed corner help after losing Talib to Denver. It is for $12 million a year, though. They also added Seattle corner Brandon Browner , who will serve a four-game suspension to open the season for violating the league's substance-abuse policy. They also signed receiver Brandon LaFell (Carolina). Another key move for them was re-signing slot receiver Julian Edelman . Grade: B+
New Orleans Saints
The Saints were up against the cap, but they made a big splash by signing safety Jairus Byrd. He will add range to the secondary, which they needed. He did cost a ton. The re-signing of right tackle Zach Strief was huge for the line. They also signed Tampa Bay fullback Eric Lorig. Why? Grade: C+
New York Giants
The Giants added a lot of players and only two big-ticket players in guard Geoff Schwartz and corner Dominique Rodgers-Cromartie . Both will start, and center J.D. Walton will likely start at center. That's two starters on the offensive line, which is huge. I also like the signing of corner Walter Thurmond . I don't like paying backs, but Rashad Jennings gives them some depth. They also re-signed several of their own, including starting linebacker Jon Beason and brought back receiver Mario Manningham . Grade: B+
New York Jets
The big signing for the Jets was receiver Eric Decker from Denver. He is a No. 2 receiver who could end up being a No. 1 on the Jets next season. Why Denver didn't push to keep him is the main question about him? They also signed tackle Breno Giacomini from Seattle after losing Austin Howard to the Raiders. That's a wash, although Howard is younger. The concern now is the corner spot. They cut Antonio Cromartie and haven't picked up anybody. Grade: C-
Oakland Raiders
The Raiders took a beating early in free agency with the botching of the Rodger Saffold signing, but they re-grouped and added some decent -- aging -- players. I like the signing of outside linebacker LaMarr Woodley , and Justin Tuck will help after they lost Lamarr Houston. Austin Howard will start at right tackle, so that's a good signing. They also added veteran defensive lineman Antonio Smith and corner Tarell Brown . Both could start. And then this week they added receiver James Jones from Green Bay and guard Kevin Boothe from the Giants. General manager Reggie McKenzie bounced back after a slow start. Grade: B
Philadelphia Eagles
The Eagles added three secondary players, led by safety Malcolm Jenkins . They paid him top dollar, and he will add range to the secondary. Corner Nolan Carroll was also a solid signing. Their biggest moves were keeping their own, which I like. They kept receivers Riley Cooper and Jeremy Maclin , which will help offensive continuity. They also traded to get running back Darren Sproles from the Saints, a move applauded by many but I think is a bit odd. He's an older back and they have LeSean McCoy . Grade: B-
Pittsburgh Steelers
The Steelers usually aren't that active in free agency, and this year was no different. They did sign nose tackle Cam Thomas (Chargers) and safety Mike Mitchell, the latter a move I like. They also lost several veterans, but none would be considered a player they had to keep. Keeping outside rusher Jason Worilds was key. Grade: C
St. Louis Rams
The Rams haven't done anything in free agency in terms of bringing in outside player, but they did re-sign guard Rodger Saffold after the fiasco in Oakland. They don't have a lot of cap room and have two first-round picks, so the strategy works. Grade: I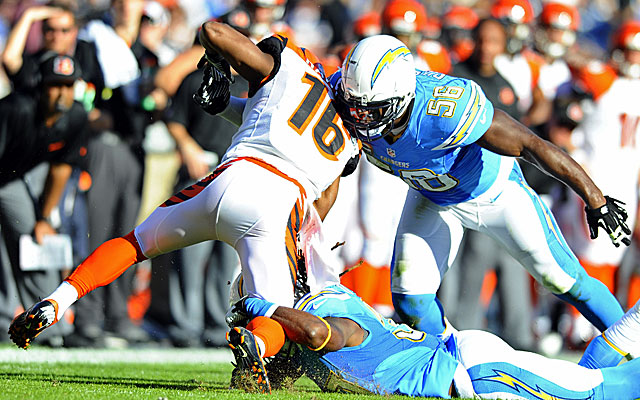 San Diego Chargers
This is a team I had trouble figuring out. Their first move was a smart one, which was to re-sign linebacker Donald Butler . They also did the wise thing re-signing guard Chad Rinehart . After that? Why do they need running back Donald Brown from the Colts? Their other signings, including linebacker Kavell Conner and quarterback Kellen Clemens , look like backups. Corner Brandon Ghee could end up being a sleeper signing. Grade: D
San Francisco 49ers
The 49ers made two moves in the secondary, signing Antoine Bethea to replace Donte Whitner and getting Chris Cook as a backup corner on a one-year deal. Bethea has more range than Whitner, which I think will help. Cook is a bigger corner. They also traded for quarterback Blaine Gabbert and tackle Jonathan Martin . Grade: C+
Seattle Seahawks
When you win a Super Bowl, teams come after your free agents and that's what happened here. They lost some good players and the only player they signed from another team was receiver Taylor Price . But the key signing was keeping defensive end Michael Bennett . He makes this class. I also like the re-signing of defensive tackle Tony McDaniel . Grade: B-
Tampa Bay Buccaneers
They are the class of 2014. They loaded up on good players, which I mentioned above, and they played the cap the right away by getting rid of Revis. Grade: A
Tennessee Titans
The Titans have added a lot of bodies, but did they get much bang for their buck. Michael Oher comes over from the Ravens to play right tackle, but he struggled with Baltimore. I do like the signing of defensive lineman Al Woods . Wesley Woodyard is expected to start at inside linebacker and Dexter McCluster will amp up the offense. They also re-signed safety Bernard Pollard and defensive end Ropiati Pitoitua. Grade: C
Washington Redskins
Once upon a time, the Redskins were huge players in free agency. Now they are a lot smarter. They signed seven free agents and four of them should be starters: Defensive tackle Jason Hatcher , receiver Andre Roberts , corner Tracy Porter and guard Shawn Lauvao . They also re-signed linebacker Perry Riley and corner DeAngelo Hall , two starters. I like what Washington did without a huge splash. Grade: A-
Show Comments
Hide Comments
Can Roberto Aguayo, the Bucs' maligned second-round pick, beat out Nick Folk?

John Mara says Colin Kaepernick's protest led to a ton of letters from emotional fans

These 11 players could have a Dwight Freeney-type impact for the right team
Last week, Mark Davis revealed that he had refunded and re-sold about 1,000 tickets

Vick's legacy with the franchise that drafted him remains complicated

Navy SEAL Kyle Milliken, who died during a raid in Somalia, met Brady at Gillette Stadium in...