Ted Wells report: Jonathan Martin appalled by racist messages
Jonathan Martin wasn't the only target of racial slurs by his teammates. An assistant trainer of Japanese heritage also was targeted.
• 3 min read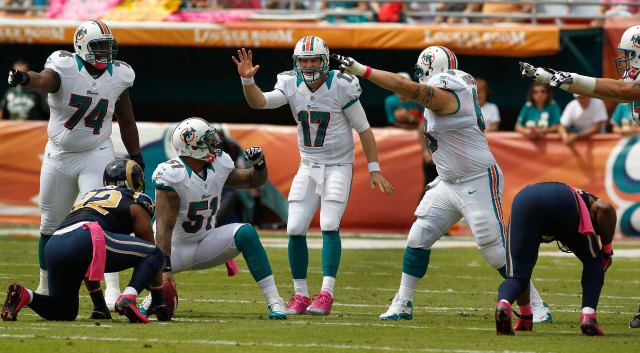 Wells report: Harassment details | Martin considered suicide | Coach involved | Racist messages | Incognito lawyer response | NFL, NFLPA, Dolphins to 'review'
With all the taunting done by Dolphins offensive linemen Richie Incognito, John Jerry and Mike Pouncey against Jonathan Martin, an anonymous player and an assistant trainer, an ugly trend of race-baiting emerged in the newly-released Ted Wells report.
And not just against Martin, but against the assistant trainer, who was born in Japan.
Incognito sent Martin a voicemail message on April 6, 2013 which he called Martin a "half n----- piece of shit."
Wells reported that Martin was appalled by that message and said Incognito had never used that racial slur against him before. A few weeks later, Incognito addressed Martin in a text message as "shine box." Martin felt that was derogatory, and Martin sent a text message in which he complained about Incognito's "racist shit." Later that night, Martin said Incognito made jokes about slavery and that he called him a n----- to his face.
In other text messages, Martin said Incognito referred to him as a "liberal mulatto bitch," "stinky Pakistani," and "darkness."
Writes Wells: "In addition, Jerry and Pouncey sometimes taunted Martin by accusing him of not being 'black enough.' Martin believed that these comments were made to deride his upper-middle-class upbringing, reserved nature and intellectual interests."
The assistant trainer also took plenty of abuse because of his heritage. Incognito, Jerry and Pouncey admitted they called the trainer "Jap" and "Chinaman" and, according to Martin, sometimes referred to the trainer as "a dirty communist" or a "North Korean" or a "f---ing chink." Incognito admitted to making those remarks.
Wells wrote they "spoke to him in a phony, mocking Asian accent, including asking for 'rubby rubby sucky sucky,' and called his mother a 'rub and tug masseuse.' Martin and others informed us that Incognito and Jerry taunted the Assistant Trainer with jokes about having sex with his girlfriend."
On Dec. 7, 2012 -- the anniversary of Pearl Harbor -- Incognito, Jerry and Pouncey put on Japanese headbands that featured a rising sun and that the trainer had given them and joked about harming him in retaliation. The trainer told Martin he found those remarks derogatory.
More from the report:
Martin and another player we interviewed both believed that the Assistant Trainer awkwardly laughed along with some of the racial insults, even though he was in fact offended. And both players seemed offended by the flagrant racial harassment of the Assistant Trainer.

In a text message sent on November 4, 2013, Martin told a friend: "I always felt so bad for [the Assistant Trainer] ... it was really racist."

Martin claims that a number of Dolphins employees saw how the Assistant Trainer was humiliated but did not intervene, including his supervisor, head trainer Kevin O'Neill, who allegedly even laughed at some of the racial insults. As far as we know, none of the players, including Martin, confronted Incognito, Jerry or Pouncey about the racist comments  directed at the Assistant Trainer or demanded that they cease.

When interviewed about these matters, the Assistant Trainer initially pleaded that he not be required to answer certain questions, implying that he could not be forthright because he was concerned about losing the trust of the players.
The trainer also told investigators that Incognito was a friend and that he had never offended him. But soon after Martin left the team, the trainer sent him a text message reading, "Hey I understand how [y]ou feel man... They are relentless sometime.... Some day I wanna do exactly what you did today."
As the investigators concluded, "The ceaseless racial ridicule directed at the Assistant Trainer was appalling and plainly over the line in any workplace."
Incognito told investigators he was never motivated by any kind of racial animus and that his language had to be "evaluated in the context of his unique friendship with Martin." Wells also writes that presumably Jerry (who is black) and Pouncey (who is biracial) "would not have followed Incognito's lead if they thought he had selected Martin for abuse out of racial animus."
Follow Josh Katzowitz on Google+
That's a really, really nice birthday present and a really, really strong message

The former second-team All-Pro is coming back to football and is immediately a free agent

The former NFL wide receiver is not worried about retiring as a member of the Panthers
The leaders of the quarterback class of 2015 are heading into the back half of their rookie...

The Colts quarterback says everything is fine, nothing to see here, folks, move along now

Sherman thinks that all quarterbacks on all NFL teams get treated better than anybody else