Ten things from NFL Week 11 that intrigue me
How will Peyton Manning play on his injured ankle? How will the Chiefs corners match up against those receivers? Can the 49ers' passing game show some life?
Will the San Francisco 49ers passing game show some life? With Colin Kaepernick struggling, the 49ers are 32nd in the league in passing heading into their game with the Saints. New Orleans has a big-time offense, so you would think the passing game would be in play. But the Saints can't stop the run, and the 49ers can run it. That should help open up the passing game.
Denver Broncos QB Peyton Manning playing on his injured ankle: Aside from his neck injury, Manning never misses games. He will play here with the injured ankle, but how much will it impact the way he throws? He isn't mobile, but he does a nice job moving around in the pocket. Will he still be able to do that?
Kansas City Chiefs corners against Broncos receivers: The Chiefs love to have their corners get up and play tight man coverage. Brandon Flowers , Sean Smith and Marcus Cooper all like to get their hands on receivers. The Broncos counter with Wes Welker , Demaryius Thomas and Eric Decker . Welker is tough to get hands on in the slot, while Thomas is big and strong and Decker is a combination of the two. This should be fun.
Cleveland Browns CB Joe Haden vs. Cincinnati Bengals WR A.J. Green : I love these types of corner-receiver battles. Both are among the best at their positions and Haden is good in press-man coverage. Haden did a nice job on Green in the first meeting. Can he do it again?
How will Scott Tolzien play in his first NFL start? The Green Bay Packers are struggling in a big way without Aaron Rodgers , which was to be expected. Now Tolzien makes his first start on the road against the Giants. Can he handle it? He did some good things last week in relief, but now there is tape on him.
Carolina Panthers front seven against New England Patriots QB Tom Brady : The Panthers did a nice job against the 49ers last week, but Brady is another step up in terms of the passing game. They have to get pressure on him or he will have success down the field throwing the ball.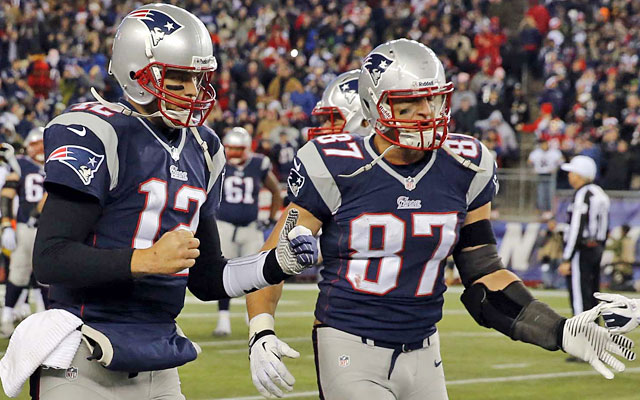 Panthers MLB Luke Kuechly vs. Patriots TE Rob Gronkowski : Kuechly made a big-time play on a deep throw down the middle to San Francisco's Vance McDonald last week. He has the speed and the power to stay with Gronkowski. Let's hope we see them matched a lot.
What will Seattle Seahawks WR Percy Harvin bring in his first game back? He makes his Seahawks debut after missing 10 games of the season with a hip injury. And it comes against his former team in the Vikings, so you know he wants to show out. But shouldn't expectations be tempered some? He is coming off a major injury. Who knows what he will look like?
New York Jets QB Geno Smith vs. Buffalo Bills QB EJ Manuel : Smith and the Jets won the first meeting between these two rookie passers, so what happens here? Smith and the Jets are coming off a bye, while Manuel is coming off a tough performance against the Steelers. Does he rebound to even the score?
Washington Redskins defense vs. Philadelphia Eagles QB Nick Foles : When the Eagles blew out the Redskins in the season opener, it was Michael Vick at quarterback. Now it's Foles' shot to face a Redskins defense that has issues. Foles has been on a bit of a roll, so it will be interesting to see if it can continue.
Show Comments
Hide Comments
Bryant will have his progress reviewed again before the coming season

From Jadeveon Clowney to Odell Beckham, here's the option year prognosis for each 2014 first-round...

Gruden's team took Cadillac Williams instead of Rodgers in the 2005 NFL Draft
Agent claims Smokin' Jay Cutler's 'skill set is as good as any quarterback' in the NFL

A 23-year old woman alleges that Conley raped her in a Cleveland hotel room, and he strongly...

The Bengals are setting a sky-high asking price for their backup quarterback