Ten things that intrigue me about NFL Week 5
Russell Wilson vs. Andrew Luck, the Patriots without Vince Wilfork and Matt Schaub are all on my list of intriguing things this week.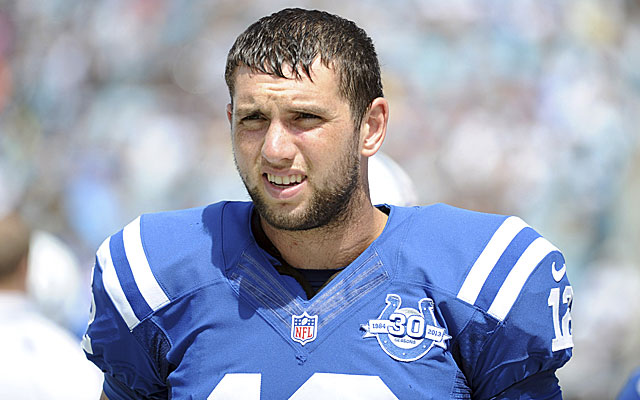 Russell Wilson vs. Andrew Luck .  This battle of second-year quarterbacks should be fun to watch. Both are off to good starts, and both can throw it and run it. Luck will be facing a better defense, which will make it tougher, but Wilson is on the road. 
Dallas Cowboys defense vs. Peyton Manning and his receivers. The Cowboys gave up more than 400 yards to the receiver-needy San Diego Chargers . Can you imagine what Manning and his slew of weapons is thinking heading into this one? The Cowboys play the Tampa-2 and Manning worked against that his entire career in Indianapolis in practice. 
How does Matt Schaub bounce back? Schaub got off to a hot start last week against Seattle, but that late-game pick-six, the third he's thrown in as many weeks, was a killer. Can he bounce back against a good San Francisco 49ers defense? 
Can the Atlanta Falcons cure their red-zone woes? The Falcons are 29th in scoring inside the 20, which is inexcusable for a team with as many weapons as they have and Matt Ryan playing quarterback.  The New York Jets are solid up front on defense, so they will offer a stiff challenge as the Falcons try and get it fixed.
Matt Stafford and Aaron Rodgers dueling it out at Lambeau. Both offenses are in the top-five in the league in passing. With Calvin Johnson on one side and Rodgers on the other, you have arguably the two best at their positions in the league. They should light up that scoreboard.
49ers right guard Alex Boone and right tackle Anthony Davis against J.J. Watt . Boone and Davis are both tough guys in the trenches who don't back down. But Watt is the best down lineman in the league. He can't be single-blocked. The 49ers will have to double him. 
New England Patriots CB Aqib Talib vs. Cincinnati Bengals WR A.J. Green . Talib did a great job on Atlanta's Julio Jones last week. Green and Jones are compared a lot since both are third-year players who are at the top of their position group. I expect Talib on Green a lot in man coverage.
Can Joe Flacco bounce back after his five-pick game against the Buffalo Bills ? Flacco really struggled last week, but his receivers didn't help him much either. Drew Brees carved up the Miami Dolphins last week, but Flacco isn't in that class. He needs help from his receivers this week.
Tennessee Titans beefed-up offensive line vs. Kansas City Chiefs front. The Titans spent big money to land guard Andy Levitre as a free agent and drafted guard Chance Warmack in the first round. They did so for games like this one against the Chiefs. Kansas City is good up front. The Titans have to be good on their line to counter. 
How do the Patriots defend the run without Vince Wilfork ? Wilfork is a big part of what the Patriots do on defense. He is good against the run, setting the tone for their defense. Without him, will Cincinnati be able to run inside?  
Show Comments
Hide Comments
Brett Hundley was apparently on the block during Day 2 of the draft

The Bills fired their GM Sunday morning, then cleaned house

Get ready to start hearing a lot about Sam Darnold and Josh Rosen
College players who didn't get drafted are now free to sign with any team in the NFL

Benjamin has had weight issues going back to college

As one exec put it, 'We don't know what the hell they were doing'