Texans RB Arian Foster: 'I watch zero football'
Arian Foster came out of nowhere in 2010 to become one of the NFL's best backs. But as often happens when the carries mount, he eventually succumbed to injuries.
Arian Foster came out of nowhere in 2010 to rush for 1,616 yards. Over the next two seasons, he finished with 1,224 and 1,424 yards and established himself as one of the NFL's best young running backs.
But as often happens when the carries mount, Foster succumbed to injuries; a bad back limited him to  eight games in 2013, and he saw action in four games in 2015 before tearing his Achilles tendon. Foster will be 30 before he next season and now more than ever he has come to grips with the fleeting nature of what it means to be a professional athlete playing a brutal sport.
"I watch zero football. I swear," Foster told actor and sports fan Michael Rapoport on the I Am Rapaport podcast (via the Houston Chronicle). "Of course, I used to be a super fan growing up. Once you see the business side, you see it differently. I'm pondering entering the last couple, 3-4 years of my career and I'm thinking about what life will be like after football and I'm looking at the game differently. I look at it more like, 'I hope these guys come out healthy because they've got families.' It's not just entertainment to me any more. I see the men and the humans behind it. It's a vantage point that not a lot of people get to see. I still do enjoy the game. I love it, but it's just hard for me to watch it from a fan perspective."
Foster, who has always come across as wise beyond his years, spoke to the double-standard that exists for fans when talking about players and owners.
"If an owner cuts a guy because of salary cap reasons or whatever, we're like, 'That's a good business move,' but if a guy wants a trade, and he's publicly demanding a trade or he publicly does something where he wants to go to another team, he's looked at as a bad person or a locker room rioter, he's not a team person and it's [bull crap]," Foster said. "He's doing what is best for him and his family. It's a business move. People don't think about that. They don't look at you as a human anymore once you make a certain amount of money."
Foster also revisited his comments from the 2014 season when he said that if the league was truly serious about player safety there would be no Thursday night football.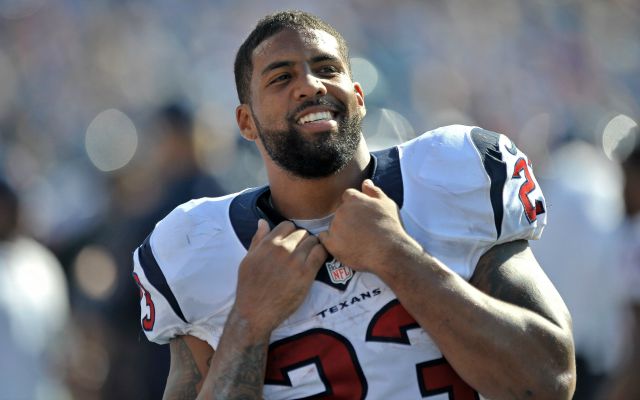 "If they really gave a [crap] about us, they would not have Thursday night games," Foster said. "It's the worst. you don't even practice [that week], all you do is have walk-throughs, because that's all you can do. Physically, you can't do anything else.
"I don't want it to sound like I'm complaining. I'm not complaining, I love what I do. I'm very ... I don't want to say privileged because that's disrespectful to the work I've put in and everybody else put in, but I'm just very grateful for the opportunity to play in the NFL."
One of the funniest moments in the 83-minute podcast: when Foster talked about being an undrafted rookie with the Texans with $5,000 to his name. He decided to treat himself to a $37 dinner at Applebee's, which prompted a call from a family friend, who also was serving as Foster's business manager.
"I spent $37," Foster said. "He called me, 'Yo, what the [hell] is wrong with you, man.' I'm like, 'What do you mean?' He said, 'You just spent $37 on Applebee's. Who do you think you are?'"
Show Comments
Hide Comments
The Cowboys' draft picks since 2002 have been to 17 more Pro Bowls than the next closest t...

The Cardinals, however, don't sound enthused about his return

According to NFL Network's Michael Silver, the Browns might want to trade up to draft a franchise...
The projected top-20 pick could fall out of the draft with teams having little time to gather...

Bryant will have his progress reviewed again before the coming season

From Jadeveon Clowney to Odell Beckham, here's the option year prognosis for each 2014 first-round...