Texans rookie DT Louis Nix still recovering from knee surgery
Texans coach Bill O'Brien provided a reason Saturday why third-round pick Louis Nix still hasn't practiced.
• 1 min read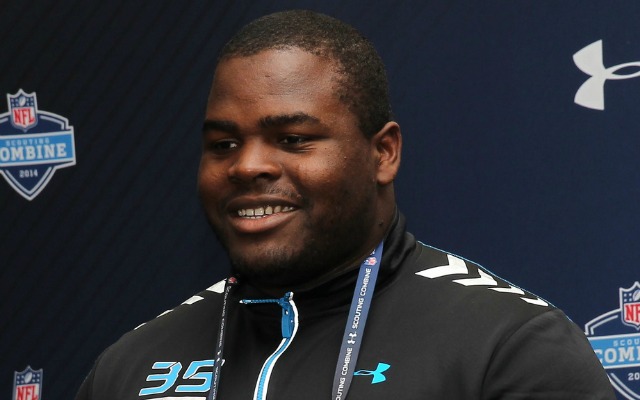 More NFL: Photos |  Videos & GIFs |  Training Camp updates | Manziel watch
When the Texans drafted Notre Dame defensive tackle Louis Nix in the third round, the move was praised by CBSSports.com's Pete Prisco, who called the decision "a great pick" and wrote "can you imagine him choking off the run with J.J. Watt?"
But he hasn't been practicing because he's on the Physically Unable to Perform list, and on Saturday, coach Bill O'Brien said it's because Nix is still recovering from offseason knee surgery.
"We felt like we wanted to make sure that we could have a healthy Louis Nix and not have to manage him throughout the season," O'Brien said. "As an organization we decided to do that surgery or arthroscopic surgery before training camp and so I believe from what I hear from our medical people that he's working well and he's becoming closer and closer to being able to be back out there at some point."
Nix -- who was one of the most entertaining interviews during the entire NFL combine -- didn't have a great 2013 season after a standout 2012 campaign. In part, it was because he was a little heavier last year and because he had knee issues that ended his season. Knee issues that also probably knocked him out of the first round of the draft and into the third.
Nix, though, isn't the only rookie Houston defensive linemen who has had to sit out. No. 1 overall pick Jadeveon Clowney, who underwent sports hernia surgery in June, left practice Saturday with what appeared to be a right leg injury.
O'Brien later said Clowney hadn't specifically tweaked anything at practice.
"We're just trying to manage him," O'Brien said. "He's coming off surgery and we're just trying to manage him. He's out there and wants to go every rep. I'm sure just like all of the guys, after seven practices I'm sure he's a little sore and we'll just continue to manage him."
Show Comments
Hide Comments
Plus Nick Saban sends a ton of talent to the NFL, the Browns find a QB and more from Rounds...

The Vikings' Latavius Murray and Bengals' Jeremy Hill also get put on notice with Cook, Mixon...

Here's everything you need to know about the 2017 NFL Draft
Here's a recap of Round 2 and Round 3 in the 2017 NFL Draft

Here are the 25 best prospects still available after three rounds of the 2017 draft have w...

The fans in Philadelphia did their best to make the 2017 NFL Draft more fun