Texans WR Andre Johnson: I don't care what fans think
Boo all you want Texans fans. Wide receiver Andre Johnson said he doesn't care about what fans think and that fans don't understand what players go through.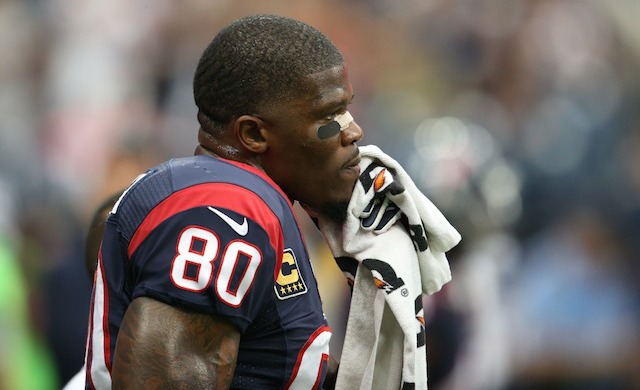 It was a rough day to be a fan of the Houston Texans. The Texans blew a 20-3 halftime lead against Seattle and ended up losing to the Seahawks 23-20 in overtime. 
One of the biggest plays in the game came in the fourth quarter when Seahawks cornerback Richard Sherman picked off Texans quarterback Matt Schaub. Sherman returned the interception 58-yards for a touchdown, tying the game at 20 with 2:40 left in the fourth quarter. 
As you can imagine, the fans at Reliant Stadium in Houston weren't too thrilled with Schaub's pick, so they started to boo him. It wasn't just Schaub that was getting booed either, the fans booed the entire offense on the Texans next offensive possession. 
Houston wide receiver Andre Johnson doesn't seem to mind being booed because he doesn't care what the fans think. 
"Fans are going to be fans," Johnson said, via ESPN.com. "You have some that are loyal. You have some that are fair-weather, and they only come around when you win. I've been here when it was 2-14 and there was hardly anybody in the stands, so I really don't care about what fans think. A lot of them don't understand what players go through. They can talk about what they want to talk about."
It's probably a good thing that Johnson doesn't really 'care about what fans think' because some might not like him after reading his comments and some might even boo him. Although they might not boo him because he's the Texans leading receiver. Johnson led all players in the game on Sunday with nine catches for 110 yards. 
Show Comments
Hide Comments
The Steelers quarterback is focused on 2017 now

The former 49ers coach admits it was his fault

Johnson talked to Roger Goodell a few times before the rule change on TD celebrations was...
Franchise QBs are the only road to success nowadays; unfortunately, they're impossible to...

The wide receiver isn't in the best shape of his life after a down 2016 season

Colleen Smith joins Jen Welter and Kathryn Smith as women who have held NFL coaching posit...