The Lions load up on college coaches fired unceremoniously in 2015
Golden will coach the tight ends while Edsall will serve as the new director of football research-special projects.
• 1 min read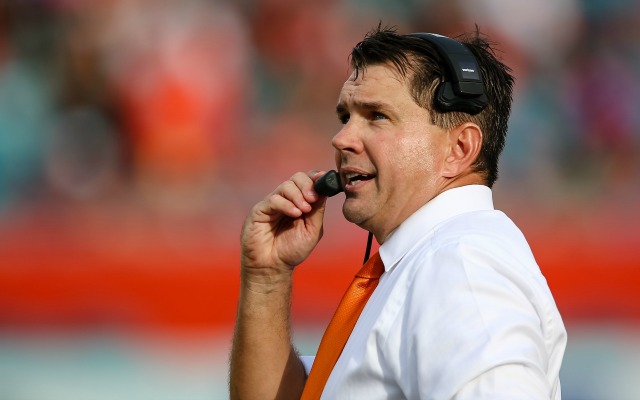 To turn around a seven-win team, the Lions are turning to two former college coaches. On Monday, one day after the Lions hired Randy Edsall, the team announced that Al Golden will join the coaching staff.
Edsall, who amassed a 92-97 record as the head coach of Connecticut and Maryland, will serve as the new director of football research-special projects. Meanwhile, Golden will coach the team's tight ends. As the head coach of Temple and Miami, Golden went 59-59. Golden's Hurricanes were 4-3 when he was fired in 2015. 
Both Edsall and Golden were fired midseason by Maryland and Miami, respectively.
The Lions appear to be piecing together quite a staff of former head coaches who didn't enjoy a ton of success at the collegiate level (and that's putting it nicely). The two hires join Ron Prince -- who coached Kansas State and compiled a 17-20 record in four seasons -- and, of course, Lions head coach Jim Caldwell. In eight seasons at Wake Forest, Caldwell was a woeful 26-63.
While Golden's role is clear, Edsall's isn't. This is how the Lions' website described Edsall's job with the team:
"The football research department assists in all aspects of game preparation, and also provides information to the coaching, personnel and football administration departments to help improve the team's decisions in the draft, free agency and on gameday."
As for Golden -- a former tight end -- he'll be tasked with getting the most out of Eric Ebron, the Lions' former first-round pick who's struggled in his first two seasons, totalling 72 receptions, 785 yards, and six touchdowns.
Show Comments
Hide Comments
Our Latest Stories
This is the best thing Affleck and Damon have done together since 'Good Will Hunting.'

If you see a guy who looks like Dak Prescott, it's probably Dak Prescott, even if he says he's...

The Seahawks cornerback has been outspoken on many issues, both social and professional
J.J. Watt's dad reveals that his son's injury might've been worse than we thought

President Obama encourages both sides to listen to the opponents' viewpoint

The stats are lying -- the Vikings don't have Eli Manning's number